Pakistan polls: PTI's Shah Mehmood Qureshi missed PM post twice but may become foreign minister
Vice-president of Pakistan Tehreek-e-Insaf (PTI) Shah Mehmood Qureshi, who won Multan's NA-156 seat by defeating rival Pakistan Muslim League-Nawaz (PML-N) candidate Amir Saeed Ansari with 93,497 votes, might become the country's next foreign minister.
Vice-president of Pakistan Tehreek-e-Insaf (PTI) Shah Mehmood Qureshi, who won Multan's NA-156 seat by defeating rival Pakistan Muslim League-Nawaz (PML-N) candidate Amir Saeed Ansari with 93,497 votes, may become the country's next foreign minister at a crucial time. Born in Murree, Qureshi was a member of the Pakistan National Assembly from 2002 to 2018 and had been the Minister of Foreign Affairs of Pakistan between 2008 to 2011.
Aayi Aayi PTI! Vice Chairman Pakistan Tehreek-e-Insaf @SMQureshiPTI wins NA 156, Multan! #JeetayGaKaptaan pic.twitter.com/McElATl7M6

— PTI (@PTIofficial) July 25, 2018
The seasoned politician has had experience in serving three leading political parties of Pakistan since 1986, even though he had started his career by being selected to the Provincial Assembly of Pakistan on a non-party basis during the regime of Muhammad Zia-ul-Haq.
Qureshi was no stranger to politics when he started. The PTI leader's father was the Governor of Punjab around the middle of 1980s. Talking about his background, a few years back, Qureshi had told Time: "Lineage is still important, but it is no longer paramount. Now everybody has to win the vote." He has also gone on to deny claims that he has ever used religion to procure votes since there have been reports of Qureshi's family being the caretaker of the Multan's Shrine of Bahauddin Zakariya which has ensured votes for the family during the elections.
A decade ago, Qureshi had held the post of the foreign minister and back then, he was keen on maintaining peace with neighbouring countries, including India. Following the 2008 Mumbai terror attacks, Qureshi was sympathetic to an India eager for justice but he was clear on his warning against war. "We do not want to impose war, but we are fully prepared in case war is imposed on us," he had said.
The PTI leader had said that his country is peaceful and would like to maintain peace and security in the disputed region. Qureshi had almost got the top job of being the prime minister twice. According to Herald magazine, a journalist from Lahore and political commentator Sohail Warraich had said that Qureshi had been "grooming himself for the job ever since he joined politics".
Warraich also said that Qureshi was one of the most well-read leaders of the country, hailed from a famous religious family, knew foreign affairs and economy like the back of his hand — things which were enough to make him the prime minister. A polyglot and astute politician, it might be interesting to watch Qureshi handle interactions with Indian leaders at a time when cross-border tensions are at a peak.
Throughout the elections, Qureshi had been quite confident about the PTI winning two-thirds of the majority and said that the party was a "political reality in the country", The Nation reported.
According to latest trends, Pakistan Tehreek-e-Insaf (PTI) was leading on 111 seats, followed by the incumbent Pakistan Muslim League-Nawaz of jailed leader Nawaz Sharif on 67. As many as 12,570 candidates were in the electoral fray for a total of 849 seats of national and provincial assemblies in the country's 11th general election.
World
Imran Khan's Pakistan Tehreek-e-Insaf failed to fulfill the promises it made to Khyber Pakhtunkhwa in 2013 elections, and that could hurt its prospects on 25 July since Pashtuns have a notion to not give a second chance to a party that doesn't perform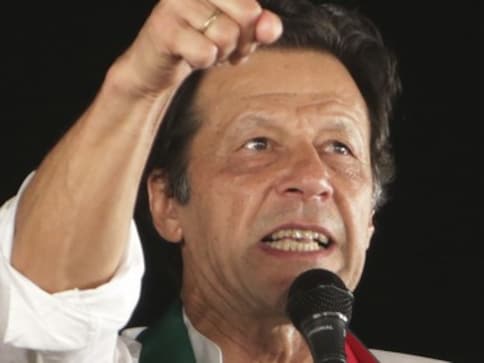 World
The Pakistan Tehreek-e-Insaf (PTI), which emerged as the single largest party but short of simple majority in the National Assembly elections, was yet to seek formal support from smaller parties or Independents to form the next government.
World
Cricket star-turned-politician Imran Khan is hoping to become Pakistan's prime minister after 20 years of being dismissed at the polls, as the country prepares to vote in a tense election pitting him against the party of jailed ex-premier Nawaz Sharif.