Pakistan polls: Analysts predict tough competition between Nawaz Sharif's PML-N and Imran Khan's PTI ahead of 25 July election
With elections just around the corner in Pakistan, analysts in Islamabad believe that the real competition in the 25 July polls could be between jailed former prime minister Nawaz Sharif's PML-N and Imran Khan's Pakistan Tehreek-i-Insaf.
Islamabad: With elections just around the corner in Pakistan, analysts in Islamabad believe that the real competition in the 25 July polls could be between jailed former prime minister Nawaz Sharif's PML-N and Imran Khan's Pakistan Tehreek-i-Insaf.
According to the data released by the Election Commission of Pakistan, 3,459 candidates are running for 272 general seats of the National Assembly, while 8,396 candidates are contesting for 577 general seats of the four provincial assemblies.
Apart from the PML-N and Pakistan Tehreek-i-Insaf (PTI), Pakistan People Party (PPP) of slain leader Benazir Bhutto, Mutahida Majlis-e-Amal (MMA), a group of right-wing religious parties, and many other parties have also fielded their candidates for the elections.
Analysts believe that former cricketer Khan, who had alleged that 2013 elections were rigged, could have better chances if his party performs well in Punjab, which elects more than half of the members for the parliament.
Punjab is a stronghold of Sharif's PML-N. The party, despite the conviction of Sharif in a corruption case on 6 July, is very powerful especially in central and northern Punjab, from where at least 95 National Assembly seats are up for grabs.
Any party getting the lion's share in Punjab usually controls the National Assembly and grabs the coveted post of the prime minister.
PTI is stronger in south Punjab which elects around 45 lawmakers for the federal parliament.
In an article published in Dawn, Zahid Hussain, a political author and journalist based in Islamabad, made a detailed analysis of the expected performance of the leading parties in the upcoming elections.
He said PTI will be able to hold its ground in the northwestern province of Khyber Pakhtunkhwa (KP), which it ruled from 2013 to 2018, and could even expand its tally. Though, it faces a challenge from MMA and secular Awami National Party of the followers of Khan Abdul Ghaffar Khan.
Other political parties like the PML-N and PPP are also in the field but a four-way electoral battle is expected in most of the constituencies. The PML-N is likely to retain some seats from the Hazara region of Khyber Pakhtunkhwa that has traditionally been an extension of Punjab politics.
"The real battleground is Punjab that could make or break Imran Khan's dream. It is certainly not going to be an easy battle despite the alleged pre-poll management tilting the balance in the PTI's favour," according to Hussain.
In Punjab, despite the large-scale defections from PML-N ranks, it is not going to be smooth sailing for PTI given the existing political polarisation that seems to have intensified after Sharif's conviction and imprisonment, he said.
"But there is no indication of the PML-N losing ground in its bastion despite some high-profile defections and alleged meddling of the 'angels' persuading candidates to switch sides," Hussain said apparently referring to the powerful military which hugely impacts the country's politics.
There may not be a groundswell of mass sympathy for the PML-N after the imprisonment of Sharif and his daughter Maryam, but there is no evidence of any major cracks yet in the party's popular support base either, he said.
PTI seems to have made some inroads into the PML-N powerbase, yet it is difficult for it to dismantle the fortress and it will be banking on some independents getting elected, but there will not be many from central Punjab. It may still stay in contention even if it manages to get 25 out of 95 from central and northern regions because of its potential advantage in KP and south Punjab.
In Sindh, PTI reached an electoral adjustment with the Grand Democratic Alliance (GDA) a conglomeration of disparate anti-PPP groups. The PTI is hoping to have some electoral presence in the province where the PPP appears unassailable.
The disintegration of Karachi-based Mutahida Qaumi Movement (MQM), that has dominated the politics of urban Sindh for almost three decades, has provided an opportunity for the PTI to grab a few more seats from Karachi.
As far as the south-western province Balochistan is concerned, the electoral game is entirely different because tribal chiefs known as electables hold sway irrespective of which party they belong to.
The emergence of the establishment-backed Balochistan Awami Party on the scene following the Senate elections has brought a new element to provincial electoral politics. The PTI seems to have already established some understanding with the group during the Senate chairman's election early this year.
This year's election are being described as one of the most controversial in the recent history of Pakistan as the people believe that the time of Sharif's conviction suited the rival PTI which used it to bolster chances in the polls by blaming him for corruption.
Find latest and upcoming tech gadgets online on Tech2 Gadgets. Get technology news, gadgets reviews & ratings. Popular gadgets including laptop, tablet and mobile specifications, features, prices, comparison.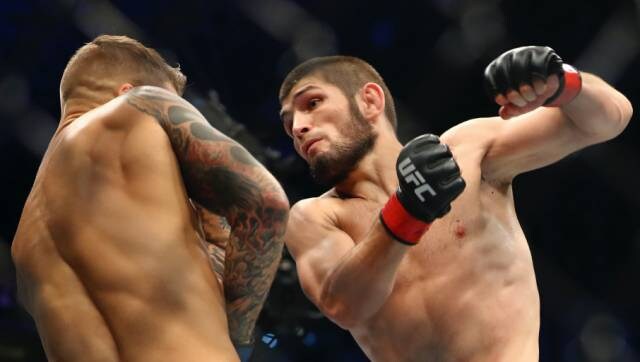 Sports
Unbeaten Khabib Nurmagomedov puts his lightweight title on the line against Justin Gaethje at UFC 254 to be held at Yas Island in Abu Dhabi.
Sports
Since her last bout, against Wu Chiao Chen on 28 February, Phogat claims to have worked hard on Muay Thai and Brazilian jiujitsu besides improving her boxing skills, and she aims to 'shock' her Cambodian opponent on 30 October.
Sports
Bhimani was one of the most recognised English voices of the 1980s.