Pakistan observes Black Day for Burhan Wani: Please remind them of the Taliban
Pakistan Prime Minister Nawaz Sharif on 15 July declared slain Hizbul commander Burhan Wani as a 'martyr' and announced that 19 July would be solemnised as black day to express solidarity with the people of Jammu and Kashmir.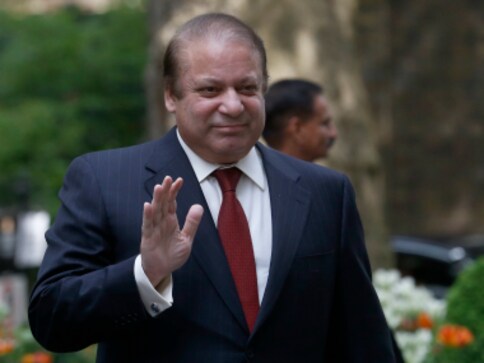 Pakistan prime minister Nawaz Sharif on 15 July declared slain Hizbul Mujahideen commander Burhan Wani as a "martyr" and announced that 19 July would be solemnised as black day to express solidarity with the people of Jammu and Kashmir.
The Pakistani government later changed the date to 20 July, in view of the fact that 19 July is observed every year in renewal of the historical resolution of Kashmir's accession to Pakistan. Addressing a special cabinet meeting in Lahore on 15 July (Friday) to discuss the situation in Kashmir, Sharif termed the "movement of Kashmiris as a movement of freedom".
"Pakistan would continue to extend moral, political and diplomatic support for Kashmiris in their just struggle for right to self-determination," PM Sharif said. "The Prime Minister termed Burhan Wani as martyr of the independence movement," Radio Pakistan reported.
Sharif's comments that dwelt on how Indian "brutalities" would give impetus to the freedom struggle and "Kashmiri people will get their right to self-determination for which the whole Pakistani nation is standing behind them", drew sharp criticism from the Indian leadership.
"Completely and unequivocally" rejecting the Pakistan cabinet's decision, New Delhi in a statement said, "We hope that Pakistan will desist from further interfering in India's internal affairs and destabilising the situation in South Asia through support to terrorism and other subversive acts."
Burhan's killing was protested by thousands of Kashmiris, many of whom died after clashing with security forces. The violence in Kashmir, which claimed over 40 lives, was one of the worst seen in years. The BJP-PDP government in Jammu and Kashmir and the BJP government at the Centre came under immense criticism for "ineffeciently" handling the situation and for using excessive force on "innocent" civilians.
Despite all this, the Pakistan prime minister's "martyr" comments and him criticising brutalities by the Indian government are unconvincing and borderline hypocritical. Because PM Sharif should shoot a quick glance in his own backyard before coming to the aide of "innocent" Kashmiris. And if according to Sharif, Burhan is a martyr, then the Taliban militia, that has been the cause of chaos and disruption in northwestern Pakistan should win accolades for their fight of azadi too.
The Taliban emerged in the late 1980s and early 1990s in northern Pakistan after the Soviet troops withdrew from Afghanistan. Pakistan has repeatedly denied that it was the architects of the enterprise, however, there is very little doubt that many Afghans who initially joined the Taliban were educated in madrassas based in Pakistan.
Taliban and its breakaway faction Pakistan Taliban have perpetrated vicious attacks on Pakistani soil. Starting from the Peshawar school attack, which claimed lives of 132 schoolchildren till the very recent attack in a Lahore park March this year, which claimed almost 74 lives. What was perhaps the most criticised of all Pakistani Taliban attacks was when schoolgirl Malala Yousafzai was attacked on her way home in the town of Mingora in October 2012.
Even though Pakistan in recent years has adopted a less-tolerant line against Taliban militants, Sharif, after being elected as Pakistan's PM in May 2013, said that talking to Taliban militants is one of his government's priorities. Facts prove otherwise though. Pakistan was one of only three nations, after Saudi Arabia and the United Arab Emirates (UAE), which recognised the Taliban when they were in power in Afghanistan from the mid-1990s till 2001. It was also the last country to break diplomatic ties with the Taliban, reported AP.
Moreover, Sharif calling a man who has been dubbed the "most-wanted terrorist" in the Kashmir Valley a 'martyr' has raised a few eyebrows when the same prime minister is unable to control the terror that Taliban unleashes on Pakistan soil.
Twenty-two-year old Burhan, who was gunned down by armed forces, was credited with reviving and "legitimising" new age insurgency in South Kashmir. He was the most-wanted terrorist in the Kashmir Valley. Army veterans have agreed that with Burhan's inspiration, militancy travelled to North Kashmir. "His Robin Hood image inspired a new phenomenon: The attempted protection of terrorists by local mobs at encounter sites and large-scale eulogising of even neutralised Pakistani terrorists at their funerals."
An exiled Kashmiri leader and spokesperson of the United Kashmir People's National Party (UKPNP) Nasir Aziz Khan even alleged that Burhan was part of the proxy war that Pakistan waged in Kashmir since 1998. "Kashmiris are pro-peace and peace loving people and they believe in peace and harmony. If we look into history, 4,000-6,000 years ago, Kashmiris whether they were Hindus and Muslims, they were living with peace and harmony. But unfortunately since 1998, Pakistan has started a proxy war in Kashmir, are using the religious sentiment of the Kashmiri people and Burhan Wani was also part of that movement — I mean the proxy war of Pakistan," Khan told ANI.
An article in The Indian Express quoted a Kashmiri police officer as saying: "There are so many stories woven around Wani that he has become a legend across this region. For almost 15 years, Kashmiri youngsters refrained from joining the militant ranks. Burhan brought the militant movement back to youngsters here… Earlier, local recruits would be sent across the border for arms training. After Burhan became known, we have witnessed a new situation. There are more than 60 local militants active in south Kashmir who have trained locally."
Add to this the fact that the top leadership in Islamabad is portraying the Hizbul commander as a "martyr" and is calling for a plebiscite in the Valley due to "India's human rights violations".
This op-ed piece by Raj Daluja published in the State Times summarises it well:
"Terror had taken the very vitals of its own mentor... On the one side, Pakistan, as a nation, had failed to respond to the situation and on the other hand it did launch a military campaign against terrorists responsible for the dastardly act. They were the same lunatics, which Pakistan has been using against India by sending them as Mujahids to Kashmir, not only to kill but also to train and indoctrinate terror monsters like Burhan, who was charged with the responsibility of glamourising terror to woo young people of the Valley."
Pakistan is well within its rights to observe a black day in honour of Burhan Wani, but Sharif should not grudge other nations when they take Islamabad's terror-fighting claims with a pinch of salt.
Apart from giving the message that Pakistan sides with homegrown militants, Islamabad, by openly aligning themselves with "terrorists," sends out the message that it has the willingness to tolerate the terror diktat of insurgents religiously. This is highly problematic.
India
Those sacked are Altaf Hussain Pandit, chemistry professor at Kashmir University, Mohammed Maqbool Hajam, teacher in the school education department, and Ghulam Rasool, a constable
India
The encounter broke out between security forces and terrorists at the Brar area of Bandipora
Education
Khan, who had the distinction of being the first woman to be appointed as Dean of Student Welfare at the university a few years ago, has been appointed as vice chancellor for a three-year term