Pakistan: Hundreds of Pashtuns protest against arrest of Fata Political Alliance chief Arif Khan Wazir, threaten nationwide sit-in
Hundreds of supporters of the Pashtun Tahaffuz Movement joined activists and political party workers to protests against the arrest of Fata Political Alliance chief Arif Khan Wazir and three other PTM leaders in Wana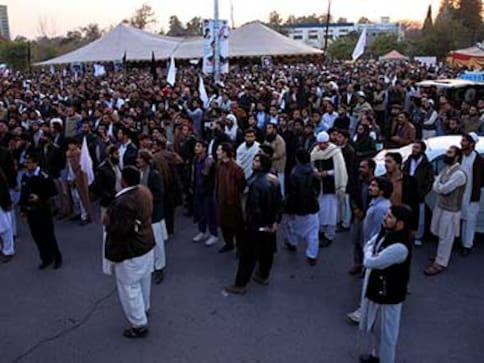 Hundreds of supporters of the Pashtun Tahaffuz Movement (PTM) joined activists and party workers on Monday to protest the arrest of Fata Political Alliance chief Arif Khan Wazir and three other PTM leaders in Wana, according to several media reports.
According to a report in Dawn, protesters across party lines demanded an end to the victimisation of Pashtuns. According to the report, PTM announced nationwide protests in front of press clubs in Peshawar, Quetta, Lahore, Karachi, Islamabad, Zhob, Swabi, Loralai, Qilla Saifullah, Bannu, Ziarat, Dera Ismail Khan, Swat and Hyderabad.
The report added that if their demands aren't met, the protesters would march to Islamabad and hold a nation-wide sit-in. This is the second major Pashtun protest this year after there was an outcry in January against the killing of Naqibullah Mehsud.
According to Reuters, Mehsud was gunned down by police in Karachi. An inquiry ruled that it was not a case of extrajudicial killing. The killing, initially described by police as a shoot-out with terrorist suspects, sparked peaceful protests across the country by members of the 30 million-strong Pashtun community, who say hundreds of their young men have been "disappeared".
Rights groups say such disappearances have been common for the past decade. The PTM, which has been organising these protests, compiled a list of approximately 1,200 missing persons after speaking to families.
The Hindu reported that young Pashtuns from Pakistan's restive tribal areas have been staging protests in major cities against the situation in the restive border belt of the country. These tribal areas, situated on the Pakistan-Afghanistan border, see tribals caught in the crossfire between militants,  Pakistani security forces and US drones and Pashtuns are protesting against inhuman treatment by both terrorists and security personnel.
According to Reuters, Pashtuns believe the insurgency has led to security forces treating them all as potential militants, leading to the further victimisation of the community.
According to a report in The Hindu, since Pashtuns live in Federally Administered Tribal Areas (FATA) bordering Afghanistan, they  face stringent security checks and have no access to internet and cellphones. Pashtuns also cannot air their grievances in Pakistani courts as these areas do not come under the Pakistani Constitution. This has lead to Pashtuns' grievances going largely unreported.
But after January's peaceful protests, tribal people and other marginalised communities have been holding a slew of peaceful protests. Human rights' activist Diep Saeeda told Dawn the protest would continue and added that a daylong sit-in in Lahore would be held on 31 March to denounce the disappearance and extrajudicial killings of young Pashtuns. "We will continue to protest against coercive tactics used to silence activists," she said.
With inputs from agencies
also read
World
Cash-strapped Pakistan's economy has been in a free fall mode for the last many years, bringing untold pressure on the poor masses in the form of unchecked inflation, making it almost impossible for a vast number of people to make ends meet.
World
The Counterterrorism Department of Pakistan made several requests to the Federal Investigative Agency for the closure of the accounts in question. They also provided the details of these accounts, along with screenshots of illegal activities
World
In summer, the nomads move goat herds from the plains of Punjab to the high grasslands in the Kashmir valley, and then onwards to the adjoining Gilgit Baltistan through the Shounter Pass