Pakistan general elections explained: Key political parties, their history and what it would mean for India
Regarding, India-Pakistan relations, many argue that a PML(N)-led stable civilian government is the best bet for New Delhi
Pakistan is set to see its second-ever democratic transition of power, without a military rule in between. The nation will elect a new government on 25 July, after the last democratically elected government completed its full term on 31 May. Over 100 political parties are in the fray for 272 seats in the National Assembly, which are filled through a vote. A party needs to win 172 seats to form a government on its own.
The main competition on 25 July will be between the incumbent Pakistan Muslim League — Nawaz (PML-N), former cricketer-turned-politician Imran Khan's Pakistan Tehreek-e-Insaf (PTI), the Bilawal Bhutto Zardari-led Pakistan People's Party and independent candidates. The latter could play the role of power brokers like it was seen in the 2013 polls. There are other regional parties and alliances too like the Grand Democratic Alliance formed by five political parties Pir Paghara's Pakistan Muslim League-Functional (PML-F), Quami Awami Tehreek (QAT), National People's Party (NPP), Pakistan People's Party Workers (PPPW) and People's Muslim League Pakistan; extremist groups like the revived Muttahida Majlis-e-Amal (MMA), Allah-o-Akbar Tehreek (a political wing of Jamaat-ud-Dawa (JuD) and a front of Lashkar-e-Taiba), and the Milli Muslim League (MML).
There are also regional parties like the Balochistan Awami Party (BAP), the Balochistan National Party (BNP), and Awami National Party (ANP) of Bacha Khan's followers and well-known religious groups like Jamaat-e-Islami. Here are brief profiles and history of the key parties contending the 2018 General Election in Pakistan.
Pakistan Muslim League (Nawaz)
Led by thrice-elected former prime minister Nawaz Sharif's family, PML-N started as the most popular party in Pakistan. Opinion polls conducted by Gallup Pakistan and Pulse Consultant in October last year said the ruling party and its leader Nawaz were the most popular amid voters in Pakistan. However, much has changed since October 2017.
The party's fortunes now lie in hands of Nawaz's brother Shehbaz Sharif after the country's Supreme Court disqualified the former from holding a public office (or running for elections) in April this year. The partyt, reprotedly has fallen out of favour with the country's powerful military, and the senior leadership including Nawaz's daughter Maryam are now in jail follwing their conviction in a corruption case. During the run-up the party has also witnessed growing unrest within the party, defection, and intra-party disputes.
The party's roots can be traced back to the ancient All India Muslim League, which became the Muslim League (ML) post the Partition. PML-N and many other parties subsequently splintered off from what was originally ML. However, the modern history of the party starts with 1985 general elections when then-prime minister Muhammad Khan Junejo organised the supporters of then-president Zia-ul-Haq's dictatorship into a single party, known as Pakistan Muslim League. Later, PML splintered into two parts — PML-N (supporters of Nawaz) and PML-J (supporters of Junejo).
Today, PML-N remains the largest surviving faction of the original PML, or ML. However, over the years, its ideological compass has been moving back and forth between the Zia-led agenda of an Islamic state with a liberal economy, to a liberal democracy with moderate religious views.
The PML-N of today talks about taking action against religious extremists, militant organisations, and its leaders have been openly calling out the military for its interference in the country's polity. Of late, the party has jettisoned its religious, Islamic state agenda for more socialist policies and a liberal discourse. It likes to showcase the infrastructural projects, poverty reduction plans, and job creation schemes conceived and initiated by the party over a period of time.
Regarding, India-Pakistan relations, many argue that a PML-N-led stable civilian government is the best bet for New Delhi as Nawaz, in his last regime, thawed out sufficiently to allow a resurgence of the dialogue process. Though as prime minister, Nawaz never challenged the army in matters relating to Kashmir and foreign policy, the party of late could be seen asserting itself against what it calls the systematic targetting of its leadership by the judiciary, on the behest of the army. However, Shehbaz, in the run-up to the election, has made several anti-India comments. Whether they were just poll rhetorics or actual policy of the PML-N, remains to be seen.
PML-N draws its support from the politically important Punjab province, and with Shehbaz – a former chief minister of the state – at the helm, it enjoys a firm grasp on Punjab politics. However, the party is expected to face stiff competition from cricketer-turned-politician Imran Khan led-Pakistan Tehrik-e-Insaf (PTI), which is hopeful of replacing the dynastic party in power. The party suffered a period of eclipse when a Nawaz-led government was overturned in 1999 in a coup by then-army general (now on exile) Pervez Musharraf. Nawaz spent the next seven years in self-imposed exile, under an agreement with Musharraf's government, returning in 2007 to lead his party's campaign in the 2008 general election. It got 91 seats in the 2008 elections, coming up as the principal Opposition party, and it came to power with 166 seats (six short of a majority), and with the support of Independent MLAs in 2013.
Pakistan Tehreek-e-Insaaf
The party led by Imran Khan is expected to be the most important player in these elections alongside PML-N. PTI, which was launched in 1996 by the widely popular former cricketer, came to the fore with a promise of change and reversing the status-quo in politics. It surfaced as a challenger to both PML-N and PPP at a time when Pakistan's troubled democracy followed a bi-partisan system.
However, early on, soon after its foundation it found little electoral success. The party failed to open its account in 1997 elections, was limited to just one seat won by Imran in 2002, and it boycotted the 2008 elections arguing that an elected parliament has little meaning under a president in military fatigue.
Then in 2013, Imran's party managed to win 28 seats, along with the provincial elections in Khyber Pakhtunkhwa, the north-western frontier province which borders Afghanistan. In terms of vote share, PTI won more popular votes than the PPP even though its seat share was marginally less than the latter. In 2018, Imran is posturing as the PM-hopeful, expressing confidence that his party will oust the corrupt rulers. But to achieve his dream, the Oxford-educated cricketer will have to wrest power from the two main political dynasties that have been in power for decades between periods of military rule.
The PTI is hoping to garner support mainly on the anti-corruption plank, and on the promise to invest in education and healthcare. Imran promises to herald a 'naya Pakistan' as he talks about equal rights for religious and ethnic minorities. The party is largely identified as a three way, centrist party, mainly because it opposes both, the liberal and left of PPP and is slightly more religious and conservative than PML-N. But the party on its own does not specify any ideological inclinations, as it simply states it wants to create a corruption-free welfare state.
About India, Imran's stand has changed over time. As a cricketer, philanthropist and an early politician, he advocated engaging the moderate voices in two countries. However, recently Imran said that engagement with India was not possible under Prime Minister Narendra Modi. He is also being seen warming up to Pakistan's powerful military. PTI's then-president Javed Hashmi claimed Imran had told him he was collaborating with army chiefs to oust the PML-N government, a charge vehemently denied by the party and Imran. While Hashmi has since joined PML-N, speculations have, nonetheless, grown over Imran's links with the military leadership.
Pakistan People's Party
A party dominated by the influential Bhutto family, PPP is identified as a left-liberal party which rose to prominence in the 1970s through its vehement opposition to military rule. The party, until recently, was considered the most influential party in Pakistan, and it last wielded power in 2008 in a coalition government. However, its clout fell considerably after the ouster of the then prime minister Yousuf Raza Gillani in 2012 following corruption allegations. The party wields influence in Pakistan's Sindh province. It won the provincial elections in 2013 and also became the main Opposition party by winning 31 seats.
However, apart from Sindh, the once influential party is perceived to be struggling for a come-back. According to The Diplomat, it still wields influence in southern and the Seraiki segments of the Punjab province, but its voter base has been considerably eroded in other parts of Pakistan.
The party was founded in 1967 by Zulfiqar Ali Bhutto to establish Pakistan as an egalitarian state and to oppose the dictatorship of General Ayub Khan. It was voted to power on four occasions, including in 2008, when it won 124 out of 272 seats, largely due to a swell in support following the assassination of party leader and Zulfiqar's daughter, Benazir Bhutto. It was once a force to reckon with in Pakistan, largely due to the charismatic leadership of Zulfiqar and Benazir, and because of its pro-poor, anti-dictatorship ideology.
However, after a complete five-year stint in power, the first-ever in Pakistan, the party was routed in the face of anti-incumbency and allegations of corruption and poor governance. It could win only 31 seats as opposed to PML(N)'s 166. The party is currently commanded by Benazir's widower and former Pakistan president Asif Ali Zardari. However, Benazir's son, Bilawal Bhutto Zardari is being seen as the face of the party and its campaign.
The 29-year-old heir apparent of the party is known to have taken a tough stance on Kashmir conflict, and Pakistan's relations with India. He opposed Nawaz's move to start a dialogue with India, alleging that it hurt the Kashmiri movement for independence. He also once claimed that he will take back "every inch of Kashmir" from India if his party comes to power.
In the run-up to this election, the party talks about socialist schemes on the lines of Benazir Income Support Programme (BISP) apart from strengthening the economy and alleviating poverty. In his speeches, Bilawal talks about the threats of Islamic extremism as he claims that PPP will never allow Pakistan to be dragged towards religious extremism.
Milli Muslim League/ Allah-o-Akbar Tehreek 
A new entrant in the fray this year is Milli Muslim League, the political front of blacklisted Islamic organisation Jamat-ud Dawa, which in turn is purportedly the charitable front of militant organisation Lashkar-e-Taiba. The party was founded in 2017 with the intention to make Pakistan "a truly Islamic and welfare state." The party's vision as stated on its website is to make Pakistan's ideology in line with what Muhammad Ali Jinnah envisioned it to be.
However, its electoral ambitions hit a roadblock when the United States declared it a Foreign Terrorist Organisation (FTO) in April this year. In a simultaneous move, seven members of MML central leadership body were also designated as foreign terrorist. Pakistan's election body too asked the group to get interior ministry's clearance, and subsequently denied it registration.
However, MML has fielded 79 candidates for the National Assembly and 181 for the provincial assemblies and they all would be contesting under the umbrella of a little known, but a registered political entity, Allah-o-Akbar Tehreek (AAT). MML has an active website with its ideology and political goals spelled out, even as AAT leader Ihsan Bari denies an alliance with any party. He conceded that MML is "supporting" its candidates but said that all candidates contesting on its tickets were its own members. The said list of candidates also includes names of JuD chief, and Mumbai attack mastermind, Hafiz Saeed's son and son-in-law. In the unlikely event of MML coming to power, or becoming a part of any ruling coallition, Pakistan's relatioship with India can be expected to go further downhill, as action against Saeed and curbing LeT activities on its soil are some of the key demands New Delhi places before Islamabad.
Awami National Party
A leftist, progressive party founded by Pashtun leader Abdul Wali Khan, son of freedom fighter Abdul Ghaffar Khan (also known as Bacha Khan), Awami National Party (ANP) has always been under attack by militants, according to this article, published in Firstpost.
"Pakistan Tehrik Taliban (TTP) targeted ANP because of its policies of opposing militants ideology, in which, more than 850 workers including top leadership were killed," it adds.
According to the article, ANP is the only alternative to Imran's PTI in the Khyber Pakhtunkhwa provine. "ANP has consistently taken a categorical stand against terrorism while PTI has left no stone unturned in appeasing the terrorists," the article adds.
The party came to power in 2008, but was ousted by Imran's PTI in 2013. Seeing the poor performance of PTI, ANP is being touted to make a return in this election.
Entertainment
Humayun Saeed will be essaying the role of Princess Diana's former companion, Dr Hasnat Khan in Season 5. For the uninitiated, Elizabeth Debicki features as Princess Diana in The Crown.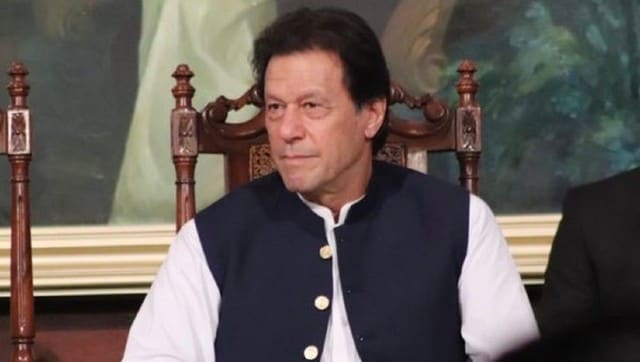 World
The main themes of the National Security Policy are national cohesion, securing an economic future, defence and territorial integrity, internal security, foreign policy in a changing world and human security.
World
Imran had on Tuesday said that despite 'unprecedented challenges', his government had to face during its three years in power, Pakistan's economic condition was still better than many countries of the region, particularly India