Pakistan general elections 2018: Punjab to be highly-charged contest, but electricity woes loom large over federal capital
Pakistan's Punjab has been a hotbed of political developments given that it houses the federal capital Lahore and is being contested with strategic vigour.
Pakistan's Punjab region has been a hotbed of political developments given that it houses the federal capital Lahore and is being contested with strategic vigour by all the three major political parties of the state in the upcoming general elections on 25 July. While the Pakistan Tehreek-e-Insaaf (PTI) is looking to gain a stronghold by capturing big constituencies like Lahore and Multan, the ruling Pakistan Muslim League (Nawaz) (PML-N), which considers this region as its bastion, will have a tough time retaining its seat, given Nawaz Sharif's imprisonment.
Punjab, a province with eight division and 36 districts, is the country's second largest by area and the most populous, with an estimated population of about 11 crore as per the 2017 census. Back in 1947, at the time of Partition, Punjab was divided into two regions with Pakistan getting 56 percent by area and India 44 percent.
Geography
Punjab is bordered by the Indian states of Jammu and Kashmir to the northeast, Punjab and Rajasthan to the east, the Sindh province to the south, Balochistan and Khyber Pakhtunkhwa provinces to the west, and the capital city of Islamabad to the north. While, Lahore is located in the east-central region, near the border with India.
Demographics
The province is almost entirely Muslim, with a small Christian minority and while Punjabi is the mother tongue of the majority of the population, the main written language is Urdu, followed by English. Some major ethnic group in the region include the Jats, the Rajputs, the Gujars and the Awans.
Meanwhile, agriculture is still the chief source of income and employment in Punjab.
Political Scenario
Punjab, having a 51 percent share of the 272 contestable seats in the parliament, is being touted as the main political battleground in the upcoming elections. According to Geo TV, "Punjab is a test case not just for the PML-N but for all the major political parties and the party that sweeps this province has a chance of forming the government."
Punjab is also PML-N's home turf since Sharif was born and raised here. In 1985, he contested from Lahore and was elected the chief minister of the province. From 1990s onwards, whenever Sharif was sworn in as the prime minister of the country, his younger brother took over as the head of the province. And thus the province has by and large stayed with the Sharif brothers, even when the central government belonged to a rival party.
In the last elections, PML-N bagged 117 seats out of 148 in the national Assembly from Punjab. But the party is now facing internal squabbles and grassroot issues with the disqualification of Sharif by the Supreme Court following charges of corruption. On 9 April, five sitting PML-N lawmakers left the party to demand for a separate province in Punjab.
But, Muddassir Rizvi, the head of programs at the Free and Fair Election Network (FAFEN) told Geo TV that PML-N should focus on central Punjab "which has shown a consistent trend in its support". The political inclination of the voters here is usually towards the party. While he cautioned that, "South Punjab has never been the stronghold of any one party. Its politicians have a habit of changing loyalties."
Central Punjab, on the other hand, enjoys a sizeable 82 seats out of Punjab's total 141 general seats in the parliament and has remained PML-N's stronghold since the 1990s.
Meanwhile, for competition, the Pakistan Peoples Party (PPP) has also been sprucing up its campaign in the province. The party has held several big rallies in Jhang and Multan regions in recent months and two political gathering were organised in Lahore this year. But PPP too is marred by mass defection of cadre with many of its members shifting to Imran Khan's PTI.
According to the Geo TV report, after the 2008 polls, the PPP had won 45 seats in the national Assembly from Punjab. But in 2013, it suffered its poorest showing, only winning two NA seats. Whereas, the PTI managed to bag eight seats and it continues to gather new entrants into its folds, from the PML-N and PPP, boosting its chances of a better show this year.
Candidates in fray
According to the final list issued by the Election Commission of Pakistan, 4,242 candidates are contesting in Punjab and according to the data shared by the commission, 4,036 are contesting for general seats whereas, 32 non-Muslims and 174 women are also in contest.
According to The Express Tribune, PTI has fielded 173 candidates for the National Assembly and 290 for the provincial assembly seats while party chairman Imran Khan will be contesting on four national assembly seats. In National Assembly (NA) -131 (Lahore), Imran will be challenged by former railways minister Saad Rafiq of PML-N. While party's Aleem Khan will be pitched against Speaker Ayaz Sadiq, Yasmin Rashid is expected to face Sharif's daughter, Maryam Nawaz.
Whereas, according to The Nation, PML-N has fielded candidates on 115 seats and has left out 27 constituencies. In Punjab, the PML-N has not fielded any candidates in Rawalpindi constituencies of NA-59 and NA-63 where party's disgruntled leader Chaudhry Nisar Ali Khan is going to contest as an independent. Similarly, in Multan constituency the party has also not fielded any candidate, according to the report.
Former prime minister Shahid Khaqan Abbasi would be contesting from NA-57 (Murree) and from NA-53 (Islamabad-II), a newly carved out constituency in the federal capital. The Murree seat is considered to be his home as he had won past several elections from the area and earlier his father Khaqan Abbasi had won from this constituency.
In NA 58 (Gujar Khan), Raja Javid Ikhlas would be the PML-N candidate. In the last elections, he had defeated former prime minister Raja Pervaiz Ashraf from this constituency with a big margin. But PPP is expected to again field Raja.
PML-N's Hanif Abbasi would be contesting from NA-60 (Rawalpindi) against Awami Muslim League (AML) chief Sheikh Rashid Ahmad, who has the backing of PTI. On another Rawalpindi seat (NA-62), PML-N candidate Danial Chaudhry, scion of Ch Tanvir Khan, would be contesting against Rashid, the winner from last year.
In NA-60 (Rawalpindi Cantonment seat) PML-N's Malik Ibrar would be contesting. He won this seat with a thin margin against PTI's Hina Manzoor in the last election but this time he would be facing PTI candidate Amir Kayani.
According to The Nation's report, "In a clear sign of rapprochement, PML-N has not fielded any candidate in the four constituencies where former interior minister Ch Nisar Ali Khan has announced to contest as an independent candidate." Nisar, who had been at odds with PML-N chief Nawaz Sharif over what the former calls policy matters, was denied party ticket for these elections.
He later filed his nominations for two national assembly (NA-59- Rawalpindi-III, NA 63- Rawalpindi-VII) and two Punjab Assembly constituencies (PP-10- Rawalpindi-V, PP-12- Rawalpindi-VII). To appease Nisar, PML-N has awarded a provincial assembly ticket from Attock (PP-3) to his brother-in-law and former MPA Malik Asif.
Meanwhile, former Punjab chief minister Shehbaz Sharif  will be contesting for NA-132 (Lahore-X) and from NA-129 (Lahore-VII), former speaker of NA Ayaz Sadiq will take on PTI's heavyweight Aleem Khan whereas Hamza Shehbaz will take on PTI's Nouman Qaiser.
Former interior minister Ahsan Iqbal—who was shot in the shoulder—will take on PTI's singer-turned-politican Ibrarul Haq for NA-78 (Narowal-II) whereas PTI's Usman Dar will once again compete against ex-foreign minister Kh Asif. In Faisalabad, ex-Punjab Law Minister Rana Sanaullah will vie for NA-106 (Faisalabad-VI) against PTI's Nisar Jutt whereas ex-minister for power and water Mumtaz Ahmed Tarar will take on PTI's Farrukh Habib for NA-108 (Faisalabad-VIII). And in NA-81 (Gujranwala-III) PML-N's Khurram Dastgir Khan has been given the ticket, Duniya News reported.
Issues in Punjab
According to the Geo TV report, temperatures in Punjab reach up to 50 degrees Celsius and thus "Pakistan's energy shortfall of over 4,000 MW has been a wobbling economic activity" of which one of the worst affected provinces is Punjab, which also consumes the most electricity.
Soon after assuming power in 2013, the PML-N government has been tackling the crisis and has since failed to meet many deadlines to end power outages. "In 2017, then-prime minister Sharif promised to end the rolling blackouts by December 2017. Yet, on 16 May, a large part of Punjab and the Khyber Pakhtunkhwa were plunged into darkness for eight hours, due to a fault in a power transmission line. Unscheduled load-shedding usually result in protests by enraged citizens across the country, including Punjab," Geo TV reported.
However, having realised that their core base of supporters is in Punjab, the Sharif brothers' have "strategically located their mega development and infrastructure projects in the province". For example, the rapid bus transit system was launched by the PML-N government in Lahore, Multan and Rawalpindi and Pakistan's first metro train, locally known as the Orange Line Metro, was also introduced by the Sharif government.
Latest developments
Recently, the interim Punjab government gave a four-month budget for the province after a meeting of the caretaker prime minister Nasir ul-Mulk with Punjab's caretaker chief minister Dr Hasan Askari.
The last PML-N government of Mian Shahbaz Sharif had not given the budget for 2018-19 fiscal and left the task up to the next elected government. Thus, the caretaker government announced the budget under Article 126 of the Pakistan Constitution which says — "Notwithstanding anything contained in the foregoing provisions relating to financial matters, at any time when the provincial assembly stands dissolved, the provincial government may authorise expenditure from the Provincial Consolidated Fund in respect of the estimated expenditure for a period not exceeding four months in any financial year, pending completion of the procedure prescribed in Article 122 for the voting of grants and the authentication of the schedule of authorised expenditure, in accordance with the provisions of Article 123 in relation to the expenditure."
According to the Pakistan Observer, the budget committee had approved the proposal of a 10 percent increase in the salaries of government employees, besides approving to review the house rent. It also gave approval of a 10 percent increase in the pension of retired government employees and approved the estimates of recurring expenditures of four months of the upcoming fiscal year.
Find latest and upcoming tech gadgets online on Tech2 Gadgets. Get technology news, gadgets reviews & ratings. Popular gadgets including laptop, tablet and mobile specifications, features, prices, comparison.
Sports
Bhimani was one of the most recognised English voices of the 1980s.
First Cricket News
Misbah was named head coach and chief selector last year in October after the board released foreign coach Mickey Arthur and his support team.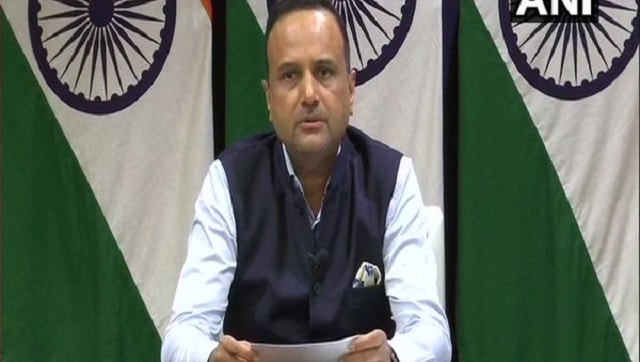 India
In an interview to an Indian news website, Imran Khan's advisor Moeed Yusuf had claimed that India had sent messages to Islamabad expressing a desire for conversation