Pakistan polls: Imran Khan's aggressive views may drastically impact Islamabad's foreign policy if he becomes PM
Because of Imran Khan's extremist views and problematic statements, many are concerned about what will happen to Pakistan's foreign policy.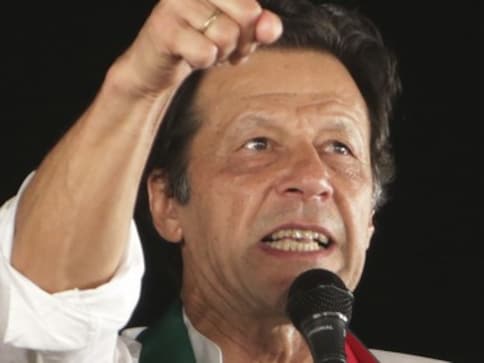 Critics consider him unfit for office. Some call him "Taliban Khan" because of his repeated calls for talks with violent insurgent groups. He has also been criticised for pandering to Islamist hardliners over blasphemy. Others openly accuse him of having links to the army.
But Pakistan Tehreek-e-Insaf (PTI) chief Imran Khan is a step closer to becoming the country's prime minister, as his party leads in 114 seats, as per unofficial trends.
Because of Khan's extremist views and problematic statements, many are concerned about what will happen to Pakistan's foreign policy if the former cricketer-turned-politician becomes prime minister.
This is especially important because Pakistan's foreign relations are not in great shape today. Both the United States and Afghanistan have accused Pakistan of allowing Taliban militants to operate out of its region. Pakistan's stronger ties with China have threatened to push the country into a debt crisis, according to Foreign Policy. And in the last week of June 2018, Pakistan was placed back on a terror financing watchlist by the Financial Action Task Force (FATF).
At a time when India-Pakistan relations are especially strained over issues like Kashmir and state-sponsored terrorism, Khan has accused India of trying to "weaken" the Pakistan Army and "conspiring" with former prime minister Nawaz Sharif.
What is more worrying for India is that Khan seems to have the support of the powerful Pakistan Army. As this article in The Indian Express states, even though India was not mentioned a lot during the election campaign, the PTI manifesto did propose a solution to the Kashmir issue as per UNSC resolution.
The fact that India or Kashmir did not have a prominent place in Khan's poll campaign shows that the former cricketer-turned-politician, like most of his predecessors, may also agree that foreign policy with respect to India should remain in the hands of the military, as this Financial Express article states.
Former Indian High Commissioner to Pakistan TCA Raghavan, however, believes that Khan becoming Pakistan's prime minister will not have any dramatic effects on the country's ties with India. "There are chances of a coalition and there is no doubt that he will be engrossed in domestic issues," News18 quoted him as saying.
Raghavan also said that Khan's anti-India statements "are very common in Pakistan politics. We have to separate political rhetoric from what he actually does when he is in power."
As far as Pakistan-US ties are concerned, Khan had said that US president Donald Trump's policy on Afghanistan was "deeply flawed". He said US attacks against militants in Pakistan will not end the protracted war in Afghanistan, now in its 17th year and the longest US military engagement.
Trump "neither understands the history of Pakistan nor the character of the Afghan people", Khan had said. He had criticised the US drone strikes in Pakistan, saying they killed innocent people and have failed to bring success.
"Drone attacks lead to collateral damage. If (they) were such a successful strategy, they would be winning the war," Khan had said.
In fact, Khan has been opposing the US drone campaign in Pakistani regions since 2008. The Foreign Policy article further says that Khan has been "one of the most virulent opponents" of the US war on terror.
Khan had also demanded an immediate removal of "excessive US diplomatic, non-diplomatic, and intelligence personnel from Pakistan" after the Trump administration said it was suspending security aid to Pakistan until it took action against the Afghan Taliban and the Haqqani network.
The PTI chief has also criticised Pakistan's turn towards China, which has invested billions of dollars in the country.
According to Financial Times, PTI has said it wants to reconfigure China's plans to invest $60 billion in Pakistan's infrastructure under the China Pakistan Economic Corridor (CPEC) and publish more details about its financing, something which is likely to irk China.
The Wire also points out that China has had a much more comfortable relationship with PML-N, the key reason being Khan's reservations about the CPEC, even though he had said that he had no problems with CPEC but its implementation.
Of course, it still remains to be seen whether Khan's statements and views will be reflected in Pakistan's foreign policy if he comes to power. After all, rhetoric is often subdued once politicians attain power.
World
The former Pakistan prime minister said that the relations between US and Pakistan are not like the US-India relationship, which he calls a 'very civilised relationship', while Pakistan was 'used as a hired gun in the war on terror'
Explainers
From vaccination rates among the elderly to the lower efficacy of China's vaccines to a lack of natural immunity among the populace, Beijing has plenty of reasons not to do away with the world's most restrictive COVID-19 controls
World
Khan ,70, is in the crosshairs for buying gifts, including an expensive Graff wristwatch he had received as the premier at a discounted price from the state depository called Toshakhana and selling them for profit