Pakistan Election: From Wasim Akram's support for Imran Khan to Shoaib Akthar's tweet, cricketers react to tomorrow's polls
Imran Khan, the captain of the 1992 Cricket World Cup-winning Pakistan side has found support from his former teammates who have thrown their weight behind the PTI leader.
Pakistan's cricketer-turned-politician Imran Khan hopes to oust the two prominent political dynasties in Wednesday's election by riding on his promises of anti-corruption, investment in education and healthcare, and providing equal rights for religious and ethnic minorities.
Khan, the captain of the 1992 Cricket World Cup-winning Pakistan team has found support from his former teammates who have thrown their weight behind the PTI leader, who is working to become the country's prime minister when the results are announced.
Pakistan bowling great Wasim Akram was among the most vocal supporters of Khan's brand of politics
It was in your leadership skip @ImrankhanPTI that we became world champions in 1992. It is in your leadership that we can again become a great democratic country. #voteforkapatan#nayapakistan

— Wasim Akram (@wasimakramlive) July 21, 2018
Akram went on to add how Khan's elevation to the PM post will be the change Pakistan needs
A cricketer who became a politician? Or a man who was born to serve this nation, protect our people and lead us in to our own. And one day they will say, that this same man was once a phenomenal cricketer. The time is now for change, Our country Our history! #VoteForKaptaan

— Wasim Akram (@wasimakramlive) July 24, 2018
Akram's bowling partner and another legendary Pakistan pacer Waqar Younis also rallied behind his former captain
Will it be Easy ??? Nope..
Will it Worth it ??? Absolutely..
Enough is Enough..Time to bring Change #PAKISTAN All the Best in the upcoming elections Skipper,,We are all behind you @ImranKhanPTI

— Waqar Younis (@waqyounis99) July 19, 2018
Younis expressed his admiration for his skipper's honesty and believed this was Pakistan's need of the hour
You have got what it takes Skipper @ImranKhanPTI but it will take everything you have...No one can doubt your Honesty and thats what is require in our country...An honest LEADER #BehindYouSkipper — Waqar Younis (@waqyounis99) July 21, 2018
While Akram and Younis were clear about their choice in the forthcoming Pakistan general election, Shoaib Akhtar didn't exude the same enthusiasm. His rather cryptic message was more focussed on calling out Pakistan citizens to exercise their right to vote
Do you think IMRAN KHAN is our future prime minister??
But hey do go out & vote & take control of our future by electing the right guy for our country ..

— Shoaib Akhtar (@shoaib100mph) July 22, 2018
Even former Pakistan captain Mohammad Hafeez didn't express his political affiliation. However, he chose to use the medium to urge the people to come out and vote on 25 July
Pakistan 🇵🇰 Zindabad #Election2018 👍🏼 pic.twitter.com/eRfYb6TuON — Mohammad Hafeez (@MHafeez22) July 23, 2018
Pakistan pacer Umar Gul joined Akthar and Hafeez in sticking to call for a safe and smooth election
A request to everyone to go out and vote tomorrow 4 #PakistanElections2018 It's our responsibility to vote for the right person, who u think would work for a prosperous #Pakistan May these elections go on smoothly n safely inshaAllah and May we unite for a better future 🇵🇰

— Umar55 (@mdk_gul) July 24, 2018
On Wednesday, Pakistan will undergo general elections after the last democratically elected government completed its term on 31 May. This will be only the second time that Pakistan has a democratic transition of power without the interference of the country's military.

It is a three-pronged race between the incumbent Pakistan Muslim League - Nawaz (PML-N), Khan's Pakistan Tehreek-e-Insaf (PTI) and Bilawal Bhutto Zardari's Pakistan People's Party for the 272-seat strong Pakistan National Assembly.
Find latest and upcoming tech gadgets online on Tech2 Gadgets. Get technology news, gadgets reviews & ratings. Popular gadgets including laptop, tablet and mobile specifications, features, prices, comparison.
India
Besides the 'all weather friendship' of China with Pakistan, Turkey has emerged as the only country that brazenly supports Pakistan at all multilateral forums.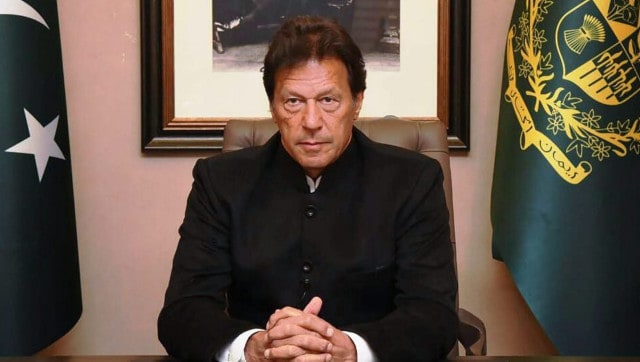 World
A resolution was passed in Pakistan's National Assembly asking the 57-member states of the Organisation of Islamic Cooperation to boycott French goods
India
Science & Technology Minister Fawad Chaudhry made the comment in the National Assembly a day after an Opposition leader had said that Imran Khan dispensation had pleaded to release Indian Air Force pilot Abhinandan Varthaman