Pakistan has foreign exchange reserves for 'only 18 days' of imports: Why an IMF bailout may not be enough
Pakistan's troubles are only mounting. The country's foreign exchange reserves have dropped to a nine-year low of $3.09 billion. It needs an IMF bailout desperately but even that might not be enough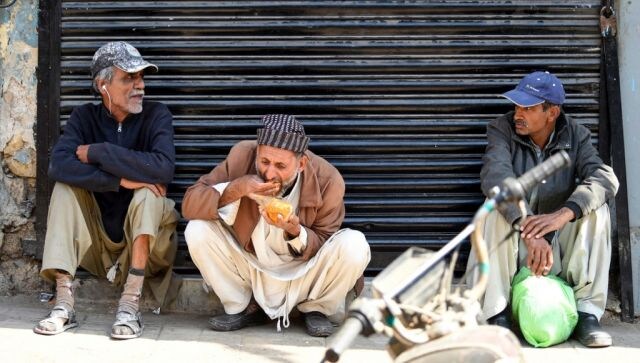 Pakistan is on the brink of collapse. And with each passing day, the situation gets grimmer as the country faces one of its worse economic crises. As it awaits a bailout from the International Monetary Fund (IMF), its foreign exchange reserves held by the central bank decreased by 16.6 per cent to $3.09 billion in the week ending 27 January.
The State Bank of Pakistan (SBP) said on Thursday that the drop in reserves was because of external debt.
According to Karachi-based investment firm Arif Habib Limited (AHL), the reserves are at their lowest since February 2014 and now only cover 18 days' worth of imports, reports the Dawn newspaper. "The country is in dire need of fresh inflows and the resumption of the IMF programme as soon as possible to avoid the crisis," Tahir Abbas, head of research at AHL said.
This is bad news for Pakistan. But what happens from here on? We explain.
What are foreign exchange reserves?
Forex or foreign exchange reserves comprise cash and other assets like gold that are held by central banks and other financial institutions such as the IMF.
Central banks of countries have forex to keep the value of the domestic currency at fixed rates, keep a domestic currency lower than the dollar, maintain liquidity in case of an economic crisis, meet a country's international financial obligations, fund internal projects on infrastructure or industry programmes, and reassure foreign investors, the World Economic Forum says quoting City Index, a financial services provider.
In case of an economic crisis, like the one Pakistan is facing, a central bank can step in and exchange foreign currency for local currency to ensure imports and exports. But with low reserves, this is not possible. Forex is necessary to pay financial debts, one more reason why Pakistan finds itself in trouble.
How bad is the situation in Pakistan?
The forex reserves in Pakistan's central bank have hit a nine-year low of $3.9 billion. There was a drop of $592 million. It is fast depleting.
During the week ending 20 January, the country's reserves fell to around $3.67 billion. The decrease was "due to external debt repayments".
On 26 January, the Pakistani rupee fell 9.6 per cent against the dollar, the biggest one-day drop in two decades. It was valued at Rs 255.43 against the dollar. It has slipped further since. On Thursday, the Pakistan rupee closed at a new historic low of 271.36 against the US dollar, according to SBP data. Overall, the rupee is down 24.51 per cent over the fiscal year that began in July, reports Dawn.
According to the World Bank, Pakistan's total external debt stocks increased to $130.433 billion by end-2021 from $115.695 by end-2020. The country's external debt reached $126.9 billion in September 2022.
Right now, Pakistan's debt-to-GDP ratio is in a danger zone of 70 per cent, and 40 to 50 per cent of government revenue is earmarked for interest payments this year, reports Reuters.
With all this, there is fear that Pakistan is headed for a default.
Also read: Pakistan crisis: Can the country be saved from collapse?
What about the IMF bailout?
Yes, the IMF bailout will help but might not be enough. A delegation of the agency is currently in Pakistan negotiating the bailout. It's nothing new for the cash-strapped nation, which has turned to the IMF 23 times since 1958, the most for any country.
However, the negotiations this year could be the toughest yet.
Under the Imran Khan administration, Pakistan was placed into a $6 billion International Monetary Fund (IMF) programme in 2019, which was increased to $7 billion in 2022. The government and the IMF are negotiating a release of $1.18 billion.
The programme was stalled since November last year as Finance Minister Ishaq Dar refused to meet IMF demands to go with market-determined exchange rates and take steps to reduce fiscal debt. But now it has no choice but to comply.
Even if the IMF reaches an agreement with Pakistan, it will take some time for the money to reach them. Also, the money might not be enough to take Pakitan's forex reserves to a safe level, according to an article in The Indian Express.
Also read: Why did Pakistan import luxury cars worth billions amid economic crisis?
What about debt?
With the bailout, Pakistan's woes might not entirely end. The country has received financial aid of $10 billion from China, the United Arab Emirates, and Saudi Arabia in the form of deposits and credits, the report says.
In January, the UAE agreed to provide a $3 billion lifeline to Pakistan in the shape of a rollover of the existing debt and new financing helping Islamabad avoid defaulting on its loans for a couple of more months. It deferred the maturing $2 billion and handed over another $1 billion in additional loans to Pakistan.
Saudia Arabia agreed to finance oil derivatives worth $1 billion on deferred payments but this is not sufficient to fund even a month of Pakistan's oil imports.
The country's big worry remains China. According to the IMF, 30 per cent of Pakistan's total foreign debt is owed to China, which amounts to roughly $30 billion. This is three times more than its IMF debt and is greater than its borrowings from the World Bank and Asian Development Bank combined, according to a report in ThePrint. It also has to pay up $1.1 billion to Chinese IPPs for power purchases.
Pakistan has agreed to repay the debt in instalments. But IMF expected the government to renegotiate the purchase power agreements. Islamabad attempted it but China refused to budge, according to The Indian Express.
What Pakistan needs then is a restructuring of debt by creditor countries like China and other private institutions. And of course, the large bailout package that can save it from defaulting and going the Sri Lanka way.

What does this mean for the people of Pakistan?
There is more gloom and doom. The year-on-year inflation in January 2023 was recorded at 27.55 per cent, the highest since May 1975, with thousands of containers of imports held up at Karachi port.
To meet IMF conditions, Pakistan has to take stringent steps. It increased the price of petrol by Rs 35 on Sunday. After the hike, petrol would cost Rs 249.80 per litre (local currency) and high-speed diesel Rs 262.80 per litre. The Pakistan government has also prepared two draft ordinances to impose Rs 200 billion in new taxes.
In January, the country faced a nationwide power outage for two days, affecting factories, hospitals, and schools. There is also growing fear that the country might run out of fuel.
It's also facing a food crisis. There is a shortage of wheat and there were reports of the common man fighting over bags of flour, which led to at least one death.
The floods, the political instability, and now the economic crisis have pushed the average Pakistani over the edge. There might be no respite any time soon.
With inputs from agencies
Read all the Latest News, Trending News, Cricket News, Bollywood News,
India News and Entertainment News here. Follow us on Facebook, Twitter and Instagram.
World
The programme to help the people will be implemented soon and a comprehensive strategy is being formulated on the issue
World
The surge in petrol and diesel prices in Pakistan will directly impact the common people because of an increase in transport costs
World
A letter, addressed to the Pakistani prime minister, is circulating on social media in which one "FBR officer" said that he is planning and fully convinced that he must engage in corruption, so that he can earn more money to fulfill his basic needs