'Pakistan doesn't do a damn thing for US': Donald Trump's bluster, unlike Bush-Obama restraint, pushes ties to brink
Under the Trump administration, the US-Pakistan relations have been faltering since 2017, when he first publicly hit out at Islamabad for providing safe havens to 'agents of chaos' who kill Americans in Afghanistan.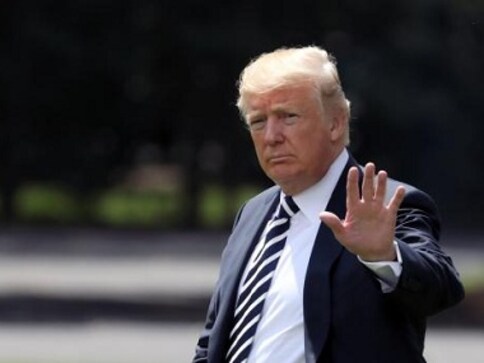 When it comes to Pakistan, US president Donald Trump's uncompromising approach — backed by strong rhetoric — is far removed from that of his predecessors, George W Bush and Barack Obama.
Trump's latest jibe at Pakistan came on Sunday when he defended his administration's decision to stop military aid to the country during an interview to Fox News.
Referring to Al-Qaeda leader Osama bin Laden and his former compound in Abbottabad, Pakistan, Trump said, "You know, living – think of this – living in Pakistan, beautifully in Pakistan in what I guess they considered a nice mansion, I don't know, I've seen nicer."
The compound was demolished shortly after US forces, in a daring helicopter raid, killed Laden there in 2011.
"But living in Pakistan right next to the military academy, everybody in Pakistan knew he was there," he added.
"And we give Pakistan $1.3 billion a year. ... (Laden) lived in Pakistan, we're supporting Pakistan, we're giving them $1.3 billion a year — which we don't give them anymore, by the way, I ended it because they don't do anything for us, they don't do a damn thing for us," he said.
Pakistani prime minister Imran Khan reacted sharply to Trump's latest tirade and said the US should find out why the Taliban has emerged stronger than before, instead of making Pakistan a "scapegoat" for its failures in Afghanistan.
Under the Trump administration, US-Pakistan relations have been faltering since 2017, when he first publicly hit out at Islamabad for providing safe havens to "agents of chaos" who kill Americans in Afghanistan.
After the 2008 Mumbai terror attacks, Obama, too, warned Pakistan on multiple occasions that it must shut down terrorist safe havens. "I've made it clear that even as the United States works with Pakistan to meet the threat of terrorism, safe havens within Pakistan are not acceptable and that those behind the Mumbai terrorist attack must face justice," he had said in an interview.
However, Obama chose a conflicted tone for most of his tenure. In a 2009 address, Obama spoke on his strategy for an "effective partnership" with Pakistan. "We will strengthen Pakistan's capacity to target those groups that threaten our countries, and have made it clear that we cannot tolerate a safe haven for terrorists whose location is known, and whose intentions are clear... Going forward, the Pakistani people must know: America will remain a strong supporter of Pakistan's security and prosperity long after the guns have fallen silent, so that the great potential of its people can be unleashed," he said.
As journalist Barkha Dutt noted in her article for The Washington Post, it was Obama's "contradictory framework" that let Pakistan continue with its "good-terrorist, bad-terrorist distinctions between extremist groups."
Sure, the US withdrew $800 million in aid to Pakistan's military in 2011, but the suspended bit of financial support only represented 40 percent of the $2 billion overall aid.
Even Bush's approach was more or less like that of Obama's.
After a 2007 US intelligence report said that al-Qaeda had become entrenched in a safe haven in Pakistan's tribal region near Afghanistan, he said that the assessment was "one of the most troubling". But Bush offered support for the then Pakistani president, and said he believed Pervez Musharraf was committed to fighting al-Qaeda and Taliban militants.
Trump, on the other hand, has gone all out to ensure that there is no room for ambiguity. At the beginning of 2018, he tweeted on similar lines as his Sunday interview.
The United States has foolishly given Pakistan more than 33 billion dollars in aid over the last 15 years, and they have given us nothing but lies & deceit, thinking of our leaders as fools. They give safe haven to the terrorists we hunt in Afghanistan, with little help. No more!

— Donald J. Trump (@realDonaldTrump) January 1, 2018
One of the major factors for his hardline policy on Pakistan could be his personal opposition to Pakistan's behaviour. He had voiced concerns over the "billions and billions of dollars" of military aid even when he wasn't the president.
When will Pakistan apologize to us for providing safe sanctuary to Osama Bin Laden for 6 years?! Some "ally." — Donald J. Trump (@realDonaldTrump) July 5, 2012
"Get it straight: Pakistan is not our friend. We've given them billions and billions of dollars, and what (cont) http://t.co/O5S4cQV3

— Donald J. Trump (@realDonaldTrump) January 17, 2012
Despite all the controversies and criticism, what sets Trump apart is his attempt to look beyond the bilateral relations and take the leap. What this will do to bilateral ties and peace in South Asia remains to be seen.
With inputs from agencies
also read
World
The government reported last week that the economy added 339,000 jobs in May. Although the unemployment rate increased to a seven-month high of 3.7% from 3.4% in April, it remains low by historical standards.
World
China's cyberspace regulator said on May 21 that Micron, the biggest US memory chip maker, had failed its network security review and that it would block operators of key infrastructure from buying from the company, prompting it to predict a revenue reduction
Explainers
Florida governor Ron DeSantis released a campaign video this week. In one apparently altered image, former US president Donald Trump is seen hugging his bête noire Dr Anthony Fauci, who beams in response. In another, Trump is kissing Fauci on the nose