Pakistan Army pins hope on Beijing as Islamabad and Washington clash over Afghanistan strategy
While Pakistan seems to have pinned its hopes on China, and the latter is making all the right noises, a rise in tensions between Pakistan and the US is not in Beijing's interest
A war of words has erupted between Islamabad and Washington over US' strategy for Afghanistan, which squarely put the onus on Pakistan to end its unrelenting support to a variety of terrorists. Twitter saw several angry Pakistanis condemning US president Donald Trump's speech, particularly at the praise he heaped on India. The fact that India was also asked to "do more" was ignored by most. The fury was apparent as also the fear.
Pakistan government is, however, reacting with caution. Pakistan foreign minister Khawaja Asif postponed his projected visit to the US in a gesture that was presented in by media as an act of defiance. A similar vein of reporting was apparent in the earlier postponing of the visit of Alice Wells, the acting special representative for Pakistan and Afghanistan. The reality, however, it seemed was different.
The Pakistan foreign office needed time to get its act together, before going to Washington to meet obviously the irate officials at the US State Department and Pentagon. Time was also needed to answer Trump's point person for the Afghanistan-Pakistan region. Moreover, the government is being run by an interim Prime Minister, who while seen as competent, would have to look over both shoulders before framing policy.
The US' harsh comments on Pakistan, however, are not a surprise. In the last several months, the Washington media has been agog with rumours of a rift within the US establishment on how to handle Pakistan. That Washington was unhappy with Pakistan was clear. What was unclear though was the extent of arm twisting that was in the wind.
Both the Pakistan foreign office and the deep state, who usually walk in tandem, would have been prepared (to an extent) for trouble ahead.
The tone of defiance was, therefore, set at the National Security Committee (NSC) meeting on 24 August when Pakistan officially rejected US strategy, aid, and unsurprisingly also brought in language on Kashmir.
The Pakistan prime minister chaired the meeting, but the NSC is heavily dominated by top army brass including the chairman of the Joint Chiefs of Staff committee, services chiefs, as well as Inter-Services Intelligence (ISI) Director General Lieutenant General Naveed Mukhtar and National Security Adviser Lieutenant General (retired) Nasser Janjua. This is the second NSC meeting called since Abbasi took over on 1 August indicating the fact that he has wisely chosen to accept the realities of governing Pakistan.
A strategy of defiance was also apparent in the media, where retired generals and brigadiers shook fists and declared that Pakistan would stand up to the US. Conspiracy theories were at large in linking the US threat to the China-Pakistan Economic Corridor. Such far-fetched stories are the stuff of Pakistani (and Indian) media.
A few sensible voices, however, cautioned that antagonising the US was against Pakistani interests since it was the West which had a hand on the tiller of international aid during a time of severe economic stress. Another lone voice also advised that Pakistan should stop viewing everything through the prism of India-Pakistan relations and instead deal with Afghanistan in its own right.
The Pakistan military's usual second line of defense was soon heavily apparent on the streets. The Difa-e-Pakistan Council (DPC), a conglomerate of some 40 extremist and religious groups, staged protests in Lahore, Islamabad, Karachi and even in Pakistan-Occupied-Kashmir.
The name of the speakers at the meetings alone would be sufficient to rile the US since it included Abdul Rehman Makki, designated terrorist, (and now acting head of the Jamaat-ud-Dawa). Unsurprisingly, his speech virtually mirrored the NSC statement calling for an end to US' "fake" loans and calling for the cancellation of the foreign minister's visit to the US. Makki also threatened that every Pakistani would fight against any threat to the integrity of the country.
Also present at the meeting was Saifullah Khalid, head of Milli Muslim League, the political front recently launched by Lashkar-e-Taiba.
Interestingly, the protests in Karachi were also launched by the Imamia Students Organisation, a Shi'ite body usually known to be active in Iran. It seems that Iran is on Pakistan's side in showing the US a clenched fist.
Next came the strategists. Writers like Najam Sethi pleaded that pressuring Pakistan would let loose a reign of terror attacks in the US. This feeds into the Jehadi diatribe. There were also repeated references to the folly of annoying "nuclear-armed Pakistan", the oldest trick in the Pakistani book of defending itself by threatening a break out of nuclear war.
Pakistan's nuclear strategy is closely tied to its terrorism strategy. Both threaten the very irrationality of Pakistan as a reason not to annoy it, or risk conflict or a conventional war.
This myth needs to be exploded. There is nothing at all irrational about Pakistan's war and terror machine. They are both controlled by a highly professional Army, with a very sophisticated media and public relations strategy.
The carefully stitched together approach seems to also use the China card to bolster the Pakistani position.
At present, China and Russia are making all the right noises. Apart from a strong message on "respecting Pakistan's sovereignty" from China's State Councillor Yang Jiechi to the US Secretary of State Rex Tillerson, media made much of the fact that Chinese Special Envoy on Afghan Affairs, Ambassador Deng Xijun was in Islamabad on the same day the US representative was expected to arrive.
While the Chinese representative seemed to have made all the right noises, a rise in tensions between Pakistan and the US is not in Beijing's interest. China sees a continuing threat from the presence of more than twenty terrorist groups in Afghanistan. Apart from this is the fact that a severe instability will threaten its already committed investments in Pakistan which run to the tune of several millions of dollars. Here, the Pakistan military's careful calculations may come unstuck. China would much prefer that the whole Haqqani clan and other related blood brothers retire to the mountains and tend their goats. But that's not going to happen since these groups have moved from goats to Humvees while China was busy defending Pakistan's terrorist credentials.
There is no doubt that the Pakistan Army is preparing to dig in and prepare for the worst. There is also a possibility that Nawaz Sharif was got rid of — on what even his worst detractors will admit was a mere technicality — so that the Pakistan Army could have the run of policy, rather than rely on a prime minister with weak knees. The linchpin of its 'strategy of defiance', however, is China. Russia has little to give, and Iran even less. Chinese wisdom was tested and found wanting at Doka La.
It's anyone's guess whether Beijing will keep its own interests first in advising Pakistan to give up its Afghanistan adventure or indulge in expensive zero sum games.
India
What is needed is transparency, clear guidelines, and the merciless crushing of personal agendas peddled as "facts"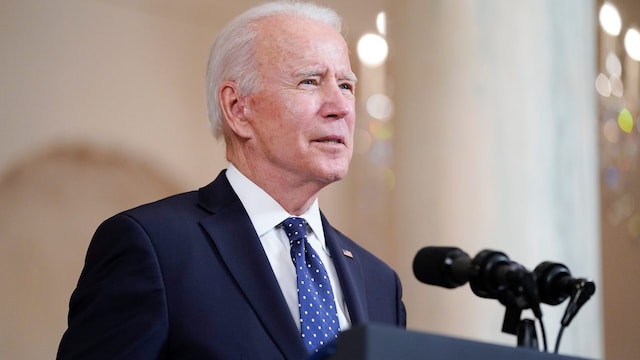 World
The US president is on an eight-day visit to Europe in which he is seeking to rally allies to speak with a single voice on countering Russia and China
Sports
President Joe Biden's administration has declined for months to present its position on a possible boycott.