One dead in Canada's Quebec as spring floods force evacuations
By Julie Gordon OTTAWA (Reuters) - Spring flooding has killed one person and forced more than 1,500 people from their homes in Canada's Quebec province, with waters expected to continue rising Monday due to rising temperatures and more rain forecast for the coming days. Aerial photos showed entire neighborhoods submerged, with television news broadcasting video of residents frantically piling sandbags around their homes to hold back swollen rivers. An elderly woman died over the weekend after rising waters washed out the road she was driving on, according to media reports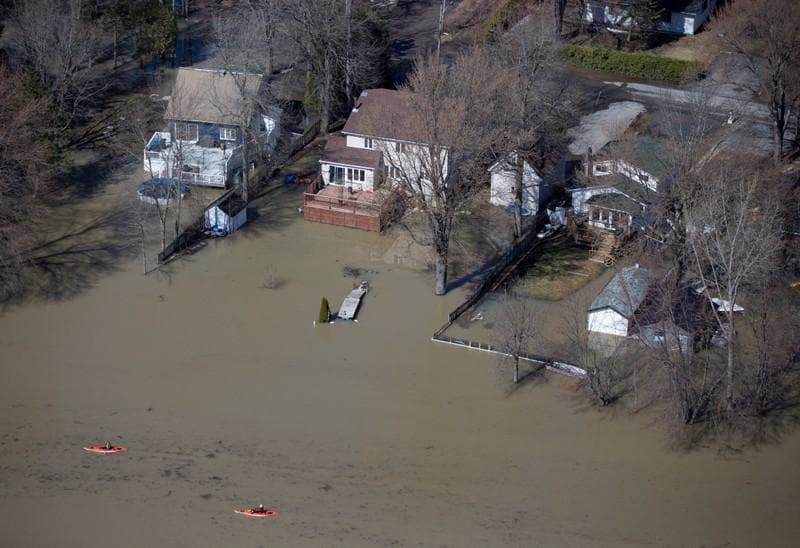 By Julie Gordon
OTTAWA (Reuters) - Spring flooding has killed one person and forced more than 1,500 people from their homes in Canada's Quebec province, with waters expected to continue rising Monday due to rising temperatures and more rain forecast for the coming days.
Aerial photos showed entire neighborhoods submerged, with television news broadcasting video of residents frantically piling sandbags around their homes to hold back swollen rivers.
An elderly woman died over the weekend after rising waters washed out the road she was driving on, according to media reports.
The federal government said it is providing disaster response to Quebec, including hundreds of Canadian Armed Forces already deployed to help with sandbagging and other efforts.
"Citizens can rest assured that help will be provided," said Canada's Public Safety Minister Ralph Goodale in a statement.
It is the second year of major flooding in the last three in Quebec, following massive spring floods in 2017 that caused more than C$230 million ($172 million) in insured damages in Quebec and neighboring Ontario.
A spokesman for Goodale said it was too soon to compare the scale of flooding to 2017, but noted that the frequency and severity of natural disasters has increased in Canada in recent years due to climate change.
The flooding has so far affected nearly 3,000 properties across Quebec, according to the Urgence Quebec website, including homes in the Montreal suburb of Laval and Gatineau, part of the Ottawa capital region.
Separate flooding in the east coast province of New Brunswick has also led to evacuations, though waters were expected to peak on Monday, according to local media reports.
($1 = 1.3350 Canadian dollars)
(Reporting by Julie Gordon in Ottawa; Editing by James Dalgleish)
This story has not been edited by Firstpost staff and is generated by auto-feed.
World
BAGHDAD (Reuters) - Rockets hit near U.S. forces and contractors in Iraq on Wednesday, including an air base north of Baghdad and a military base at Baghdad International Airport, the Iraqi army and security officials said. The army reported at least three rockets hit Balad air base, where U.S
World
By Silvia Ognibene and Silvia Aloisi FLORENCE, Italy (Reuters) -Italian police have arrested a Chinese couple accused of running a leather goods business which exploited immigrant workers it employed to make handbags for a Burberry supplier, according to an arrest warrant seen by Reuters. Tax police in Florence said in a statement that the two Chinese nationals were arrested on Wednesday as part of an investigation into alleged labour exploitation and tax fraud and that restrictive measures had been imposed on two other family members, including a ban on them leaving Italy
World
WASHINGTON (Reuters) - The United States on Wednesday blacklisted four Nicaraguans, including a daughter of President Daniel Ortega, as Washington warned it would continue to use diplomatic and economic tools against members of the leftist government engaged in repression. The U.S. State Department called on Ortega to release detained presidential candidates as well as other civil society and opposition leaders arrested over the past week in what Washington called "an increasing wave of repression." "There are costs for those who are complicit in the regime's repression.