One body found, thousands evacuated, as wildfires continue to rage through California
Thousands of homes were evacuated on Sunday, as two massive wildfires raged in tinder-dry California hills and canyons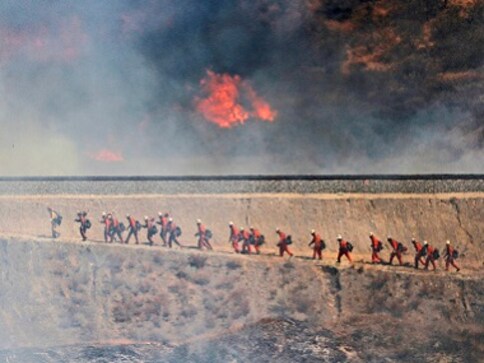 Los Angeles: Thousands of homes were evacuated on Sunday, as two massive wildfires raged in tinder-dry California hills and canyons. Authorities also said one burned body was found in a neighborhood swept by the flames.
Since Friday, firefighters have been working a fire up and down ridgelines that has blackened 31-square miles of brush on the edge of Santa Clarita and the Angeles National Forest. About 300 miles up the coast, crews were battling another blaze across 10-square miles north of the majestic Big Sur region.
The body of a man was discovered inside a burned sedan on Saturday evening outside a home in Santa Clarita, just north of Los Angeles. There was no evidence the death was crime-related, the Los Angeles County Sheriff's Department said, as the investigation continued.
The area was among those ordered to be evacuated as the fire raged through brush withered by days of 100-degree
temperatures as Southern California sweltered through a heat wave.
After flames driven by gusty winds swept through an evacuated neighborhood, firefighters reported that some buildings had been engulfed, but it was not immediately clear whether they were homes, outbuildings or garages, said Nathan Judy, a spokesman for the US Fire Service.
Late on Sunday night, he said the area was still unsafe. "You've still got hotspots in that area, a lot of smouldering stuff," and trees that might fall because their roots had burned, Judy said.
More than 900 firefighters and water-dropping helicopters battled the flames overnight on several fronts. "It's not a one-direction type of fire," Judy said. "It's going in different directions depending on which way the wind is blowing. It's doing what it wants."
Despite firefighters' efforts, the blaze destroyed sets at Sable Ranch in Santa Clarita, which has Old West-style
buildings used for movie locations. "It was a horrific firestorm," owner Derek Hunt told KABC-TV. "At some point, you know you're defeated and you have to step back and save what you can. We fought as best as we could."
Smoke and ash from the fire cast a pall over neighboring Los Angeles. Air quality officials advised people with
respiratory problems to stay indoors. Bengal tigers and a mountain lion were among several hundred animals evacuated, as flames partially ringed the Wildlife Waystation, a nonprofit sanctuary for rescued exotic creatures in Sylmar.
Photos
The world has a new ugliest dog — Mr Happy Face, a Chinese crested-Chihuahua mix. The contest featuring dogs with crooked faces and hairless bodies returned after a two-year hiatus
Photos
Firefighters have been battling wildfires in parts of Spain, as the country faces its warmest early summer in decades, with temperatures breaching the 40 degree Celsius mark
Photos
Over 300 people have been evacuated from their homes after a wildfire flared up over the weekend in forest land northeast of Los Angeles. A team of over 700 fire personnel are fighting to bring the blaze under control