On two-day visit, Jaishankar urges Sri Lanka to build powerful 'pull factor' to woo investors
The external affairs minister assured Sri Lanka's leadership that India will back the country's economic recovery through increasing investments in sectors like tourism, energy and infrastructure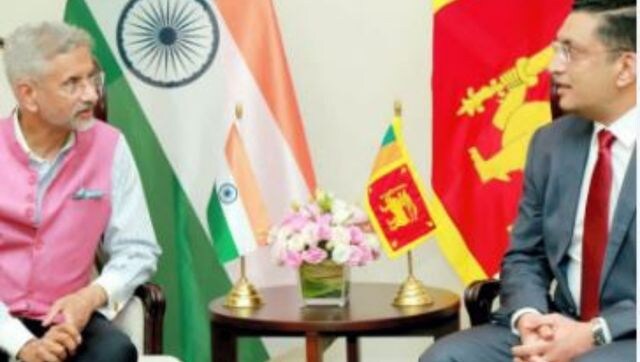 Colombo: External Affairs Minister S Jaishankar on Friday urged the Sri Lankan government to provide a more business-friendly environment to create a powerful "pull factor" as he voiced India's full support for the debt-trapped island nation's economic recovery.
Jaishankar, who is here on a two-day official visit, met Sri Lanka's top leadership, including President Ranil Wickremesinghe, counterpart Ali Sabry and former presidents Mahinda Rajapaksa and Gotabaya Rajapaksa, as well as the opposition leader Sajith Premadasa.
During his meetings, Jaishankar said the primary purpose of his visit to Colombo was to express India's solidarity with Sri Lanka during these difficult moments.
In his press statement, Jaishankar said: "We count on the Government of Sri Lanka to provide a more business-friendly environment to create a powerful pull factor. I am confident that the gravity of the situation is realised by policy makers here."
Later in the day, he interacted with Sri Lanka's business community.
"Discussed the importance of economic growth as a solution to the current challenges. Spoke about creating a more investment-friendly environment," he tweeted.
Earlier, Jaishankar assured Sri Lanka's leadership that India will back the country's economic recovery through increasing investments in sectors like tourism, energy and infrastructure.
"India will encourage greater investments in the Sri Lankan economy, especially in the core areas like energy, tourism and infrastructure," he said.
He highlighted energy security as one of Sri Lanka's most serious challenges.
"This country has enormous renewable energy potential that can become a sustainable source of revenue. It has the capability as well for Trincomalee to emerge as an energy hub," he said.
India is prepared to be a reliable partner on such initiatives, he said, adding that the two countries have agreed in-principle on a renewable energy framework that would take this cooperation forward.
Jaishankar described tourism as the "life blood" of the Sri Lankan economy and promised that the Indian government would take steps to make this sector sustainable.
"There are many more steps we can take to make tourism sustainable. Strengthening connectivity and promoting travel is therefore a very high priority for all of us. Definitely, encouraging Indian tourists to make RuPay payments and utilise UPI would be most helpful," he said.
Talking about bilateral trade, he said amidst the turbulence, it is essential that India and Sri Lanka steady their business relations. The use of rupee settlement for trade is obviously in the mutual interest of both countries, he said.
"I would like to underline that India is a reliable neighbour, a trustworthy partner, one who is prepared to go the extra mile when Sri Lanka feels the need," he said.
Jaishankar said his visit here reaffirmed Prime Minister Narendra Modi's commitment to the "Neighbourhood First" policy.
"We will stand by Sri Lanka in this hour of need and are confident that it will overcome the challenges that it currently faces," he added.
Later, he handed 500 buses of Ashok Leyland to Sri Lanka's Transport Minister Bandula Gunawardane, as part of India's ongoing efforts to support the island nation.
Read all the Latest News, Trending News, Cricket News, Bollywood News,
India News and Entertainment News here. Follow us on Facebook, Twitter and Instagram.
World
India sent financing assurances to the International Monetary Fund (IMF), becoming the first of Sri Lanka's creditors to officially back the crisis-hit island nation's debt restructuring programme
First Cricket News
The tour initially comprised one Test match and two ODIs, but both teams agreed to play a second Test and skip the 50-over games.
World
Sri Lanka's High Commissioner Milinda Moragoda met India's Finance Minister Nirmala Sitharaman during which he discussed steps to attract Indian investments to his country