All you need to know about Merrick Garland, Obama's nominee for US Supreme Court
President Barack Obama announced his nomination of Merrick Garland to the Supreme Court on Wednesday, praising the judge as a brilliant legal mind respected on 'both sides of the aisle.'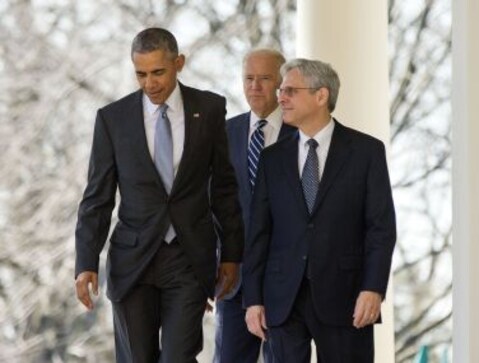 President Barack Obama announced his nomination of Merrick Garland to the Supreme Court on Wednesday, praising the judge as a brilliant legal mind respected on "both sides of the aisle." Garland, 63, has won the respect of Republicans and Democrats, Obama said, insisting the Supreme Court should remain "above politics" as he urged Congress to give his nomination serious consideration.
"I've selected a nominee who is widely recognised, not only as one of America's sharpest legal minds, but someone who brings to his work a spirit of decency, modesty, integrity, even-handedness and excellence," Obama said. He made the announcement in the White House Rose Garden with Garland at his side.
Recounting a stellar career as a prosecutor and judge, Obama said he had a track record "of building consensus as a thoughtful, fair-minded judge who follows the law."
"I said I would take this process seriously and I did. I chose a serious man and an exemplary judge, Merrick Garland," he said.
Little known to the US public, Garland is the chief judge of the US court of Appeals for the DC District, and held out by Obama as "uniquely prepared to serve" in the Supreme Court after the vacancy left by the death of justice Antonin Scalia.
Who is Merrick Garland
Chief judge of the Washington appeals court and a former prosecutor, Garland is a Harvard Law graduate and will be the oldest candidate to be nominated for the Supreme Court since the 1970s.
A 19 year veteran of the DC circuit, Garland clerked for Justice William Brennan — who was a champion of progressive policies such as opposition to the death penalty and support of abortion rights — and spent a few years as a partner in the multinational law firm Arnold and Porter. He also held senior positions in the Justice Department, including a leadership role in the department's criminal division and a stint as Principal Associate Deputy Attorney General.
Garland comes from Chicago, Illinois, just like President Obama and is married with two daughters. He was appointed to the Washington, DC, appeals court by Democratic President Bill Clinton in 1997.
In the immediate aftermath of the 1995 bombing that ripped apart a federal building and killed 168 people, he was dispatched to set up the early stages of the prosecution case, winning acclaim for marshaling massive amounts of evidence that led to the convictions of Timothy McVeigh and Terry Nichols, a report in The BBC said.
A profile on SCOTUS Blog, which covers Supreme Court developments, says he "rarely votes in favor of criminal defendants' appeals of their convictions".
In his address at the White House accepting the nomination, Garland touted his experience prosecuting criminal gangs and the perpetrators of the Oklahoma City bombing in 1995.
What they say about this veteran judge
The President called the long-time jurist and former prosecutor as "one of America's sharpest legal minds".
White House officials said that the former prosecutor "has more federal judicial experience than any other Supreme Court nominee in history".
The nomination comes at a time of bitter political divide when it would be tough for Obama to get through his choice of the judge and sets the stage for an intense showdown by Senate Republicans who have maintained that Obama should not choose Scalia's successor, with less than a year left for his presidency.
The Senators have said they do not plan to vet or hold hearings on the nominee, and say the next President should choose the new judge on the nine-member bench. However, Obama and Democrats are of the view that that with 10 months left, there is plenty of time for the Senate to take up and confirm a new justice.
Not nominated for the first time
This is not the first time that Obama has considered Garland for a Supreme Court position: he was a runner-up in the process that led to the appointments of both Sonia Sotomayor and Elena Kagan, in 2009 and 2010 respectively.
In the course of the 2010 deliberations, Orrin Hatch of Utah, the longest-serving member of the US Senate, called Garland "a consensus nominee" – a fact that Obama might now use as counter-ammunition.
His rulings
With a moderate record and a history of drawing Republican support, which maybe the reason why he has been chosen in an election year, Garland has significant prosecutorial experience, similar to his predecessor Antonin Scalia.
Meanwhile, his views on controversial social issues likely to come before the court are mostly unknown because of his low profile on the appeals court. None of his rulings point to a clear judicial opinion on either abortion or the death penalty. However, Garland's disagreement on gun's policies in the US lead some conservatives to label him a threat to gun rights.
Why Obama nominated Garland
If confirmed, Garland could tip the ideological balance to create the most liberal Supreme Court in 50 years. As The New York Times argues, Garland could bring an additional Midwestern perspective to a court that comes mostly from New York and California. If the Republicans do concede to a vote, Garland is prepared to face a difficult confirmation.
What does Garland's nomination mean for the upcoming presidential elections? 
In brief remarks, Judge Garland emotionally described his legal career as a prosecutor and a judge, saying that "fidelity to the Constitution and the law have been the cornerstone of my professional life." He said that if the Senate confirms him, he promises to "continue on that course."
His age alone is likely to embolden Republican senators in their controversial opposition to confirming anyone, as it will arm them with ammunition against him based on his long record, a report in The Guardian said.
By nominating judge Garland, Obama has essentially dared the Republicans to push for their election-year confirmation fight over a judge many of them have publicly praised. Garland is not an easy nomination to reject, especially if a Democrat were to win the US presidential election slated for November, according to The New York Times.
As Lincoln Caplan of The New Yorker said, "By historical standards, he should be quickly and unanimously confirmed."
India
From 'Ab ki baar, Modi sarkar' to 'Make in India', the Prime Minister Narendra Modi-led National Democratic Alliance has used eye-catching slogans to not only woo voters but also to promote its schemes
World
The lawmakers urged their colleagues in the US Senate and the House of Representatives to pass the bipartisan America's Children Act, which will allow to stay children who immigrated to the country legally, but are yet to get green card because of a massive backlog
India
The Indian Army troops are deployed in Democratic Republic of Congo as part of the MONUSCO (United Nations Mission in the Democratic Republic of Congo)