Obama disputes Trump on rigged election, tells him to 'stop whining' | Reuters
By Ayesha Rascoe and Emily Stephenson | WASHINGTON/COLORADO SPRINGS, Colo.
By Ayesha Rascoe and Emily Stephenson
| WASHINGTON/COLORADO SPRINGS, Colo.
WASHINGTON/COLORADO SPRINGS, Colo. U.S. President Barack Obama lacerated Donald Trump on Tuesday over his repeated assertions that the Nov. 8 election is rigged against him, telling the Republican presidential candidate to "stop whining and go try to make his case to get votes."With opinion polls showing him falling further back in recent days against his White House rival, Democrat Hillary Clinton, Trump has intensified his allegations, although numerous studies have shown that voter fraud in U.S. elections is rare.At a campaign rally in Colorado Springs, Colorado, Trump continued his attack, saying, "The press has created a rigged system and poisoned the minds" of voters.But he also used his speech to unveil a new initiative if elected president: a constitutional amendment imposing term limits for members of Congress.Obama was asked about Trump's voter fraud assertions on Tuesday at a joint news conference in the White House Rose Garden following meetings with Italian Prime Minister Matteo Renzi.He responded with a blistering attack on the Republican candidate, noting that U.S. elections are run and monitored by local officials, who may well be appointed by Republican governors of states, and saying that cases of significant voter fraud were not to be found in American elections.Obama said there was "no serious" person who would suggest it was possible to rig American elections, adding, "I'd invite Mr. Trump to stop whining and go try to make his case to get votes."Trump has raised the possibility for months of illegal activities that could tarnish the November election result, such as votes being cast by dead people, and he has urged his supporters to show up at polling locations on Election Day. He has sharpened his allegations in recent days, even as Republican lawyers called his assertions unfounded.In pointed remarks that were part civics lesson, Obama said that if Trump wins on Nov. 8, "It would be my expectation of Hillary Clinton to offer a gracious concession speech" and "it would be my job ... and escort him over to the Capitol, in which there would be a peaceful transfer of power" at his swearing in.
Trump's vice presidential running mate, Mike Pence, took a softer tone than Trump during a campaign appearance in North Carolina, saying he was "confident" that the integrity of the election will be ensured.But Pence noted that "in recent years we've had instances, proven instances of voter fraud."A number of Republican-led states, citing the need to prevent voter fraud, have passed laws with stricter identification requirements. But several have been struck down by courts that ruled they were designed to hinder minority voting. Trump trails Clinton by 7 points in national opinion polls, according to an average of polls compiled by RealClear Politics.
CONTROVERSIES ECLIPSE POLICY DISCUSSION
Over the last few weeks, Trump, who has never previously run for office, has been embroiled in one controversy after another, eclipsing debate around the sort of policy topics such as taxes, trade, the economy and national security that normally dominate the final push in presidential campaigns.With three weeks left until Election Day and early voting both by mail and in person already under way in many states, Trump has been forced to grapple with the fallout from the dissemination earlier this month of a 2005 videotape in which he was heard bragging about groping women and making other unwanted sexual advances.He has said the remarks were just "locker room" talk and has strongly denied allegations by a string of women who have come forward since the video emerged to say Trump groped or touched them inappropriately, denouncing his accusers as liars and fame-seekers.
The controversies will be the backdrop for the third and final of three presidential debates, to be held on Wednesday evening in Las Vegas.Trump was widely viewed as having been on the defensive during the first debate. He appeared to have improved his performance in the second debate, but according to polling, more voters saw Clinton as the victor.Wednesday's debate, like the first one, will be a traditional format with the moderator posing all the questions. Topics chosen by moderator Chris Wallace include debt and entitlements, immigration, the economy, the Supreme Court, foreign hot spots, and fitness to be president. Trump's repeated warnings of a tainted election have raised concern over potential violence at polling sites and challenges to the result. Pence has said that the election results will be honoured.At Tuesday's press conference, Obama also criticized Trump for his "continued flattery" of Russian President Vladimir Putin, saying "it is out of step with" the country.Trump has praised Putin as a strong leader and on Monday suggested that if he wins next month he might meet the Russian leader before he is even sworn in as president. (Reporting by Ayesha Rascoe in Washington and Emily Stephenson in Colorado Springs, Colo.; Additional reporting by Susan Heavey and Tim Ahmann in Washington; Writing by Richard Cowan; Editing by Caren Bohan and Leslie Adler)
This story has not been edited by Firstpost staff and is generated by auto-feed.
World
Russia is set to host the Taliban and other Afghan factions for talks Wednesday in a move that reflects Moscow's efforts to expand its clout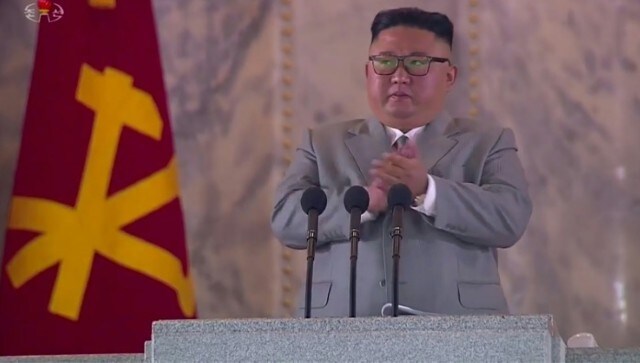 World
Kim also accused South Korea of hypocrisy because it criticises North Korea's weapons development as provocations while spending heavily to increase its own military capabilities
World
Their comments came as Iran has hinted it's ready to return to indirect negotiations with the US in Vienna but has not committed to a date