Norway déjà vu: Indian couple has son taken by US welfare officials
Debashish Saha, 28, a US-based engineer and his wife Pamela, are now facing a criminal investigation by the Morris County Prosecutors Office in New Jersey.
New York: An Indian couple didn't comprehend the jeopardy they were in when they rushed their son, one-year-old Indrashish Saha, to hospital last month after he toppled from his bed. In light of Indrashish's head injuries, the child has been taken into state custody by New Jersey's child welfare workers.
Debashish Saha, 28, a US-based engineer and his wife Pamela, are now facing a criminal investigation by the Morris County Prosecutors Office in New Jersey. The court has ordered the Department of Children and Families (DCF) to take Indrashish under their wings. As a result, his parents are only allowed to visit him for two hours a week under the eagle eye of an official.
The New Jersey court has asked the Sahas to appear with a lawyer on September 14 and suggest names of relatives who should get custody of little Indrashish. The parents fears they are going to lose their only child.
The drastic measure has led to intervention from the Indian government, through its embassy in Washington and consulate in New York who have contacted the US State Department in a desperate attempt to return the child.
"I was not at home when Indrasish fell and almost became unconscious. My wife Pamela called me up in tears and I rushed home to take my son to a doctor and start the treatment," Saha told reporters.
"The child protection team from the division of youth and family services, in New Jersey told us that they will look into how Indrashish fell from his bed. Till they definitely know the reason, they will keep our son," said Saha.
Digging for Answers
A number of emergency hearings took place after Saha brought his son to the Morris Town Memorial Hospital on August 9 for surgery. Emergency room doctors raised the red flag after they discovered not only an obvious injury from the fall from the bed, but a ligament tear near Indrashish's neck and a blood clot in his eye.
The court order notes that the computerized tomography (CT) scan picked up an older subdural hematoma which is usually the result of a head injury. These may go unnoticed for many days to weeks, and are called "chronic" subdural hematomas. In any subdural hematoma, tiny veins between the surface of the brain and its outer covering stretch and tear, allowing blood to pool.
"Various doctors stated that the injuries Indrashish sustained were not consistent with the explanation that Mr and Mrs Saha gave, but were consistent with Shaken Baby Syndrome," noted the court order.
According to child abuse specialists, a child less than two years old shaken for as little as five seconds in a front-to-back motion can develop subdural hematoma and hemorrhaging in both the eyes. In the vast majority of cases there is no visible sign of external trauma.
"I can tell you in general, the DCF removes children from their homes ONLY when there is serious concern about their safety," Kristine Brown, Director of Communications and Public Affairs at the DCF, told The Hindu newspaper.
"The Department will provide services to try to keep families together safely when possible, and reunify families as soon as possible," she added.
Saha said it was a false accusation of abuse as he and his wife never shook their son. He explained that his son had a minor fall on June 2, while they were in India, and the ligament tear and blood clot probably resulted from that incident.
The jury is still out on the question whether the doctors at Morris Town Memorial Hospital may have misdiagnosed the child's problems for any one of a number of conditions that explain intracranial pressure that can result in bleeding in the brain and eyes.
The US "shaken baby" case comes close on the heels of the high-profile Norwegian child custody case involving another Indian couple. Anurup and Sagarika Bhattacharya lost custody of their three-year-old son and one-year-old daughter after Norwegian Child Protection Services removed the youngsters from their home in May, 2011 after authorities branded their behaviour inappropriate.
Find latest and upcoming tech gadgets online on Tech2 Gadgets. Get technology news, gadgets reviews & ratings. Popular gadgets including laptop, tablet and mobile specifications, features, prices, comparison.
Sports
CONCACAF said in a statement the games would now take place next March, saying the decision had been taken in conjunction with world governing body FIFA.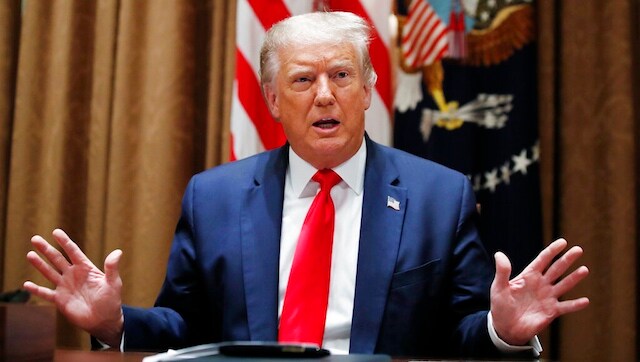 World
Marine General Frank McKenzie said the decision to reduce American troops reflects the Trump administration's confidence in the ability of Iraqi security forces to handle the militant threat in the country
Sports
Djokovic said the official, who was hit in the throat by a ball bashed away in anger by the world number one, had "done nothing wrong at all".