Norway centrists eye moving left in threat to government
OSLO (Reuters) - A small centrist party holding the balance of power in Norway's parliament should consider aligning itself with the Labour-led opposition, the party's leader said on Friday, in a switch that could topple the centre-right government. In a speech, Christian Democratic Party chief Knut Arild Hareide, who for the last five years has backed Conservative Prime Minister Erna Solberg, recommended that a Nov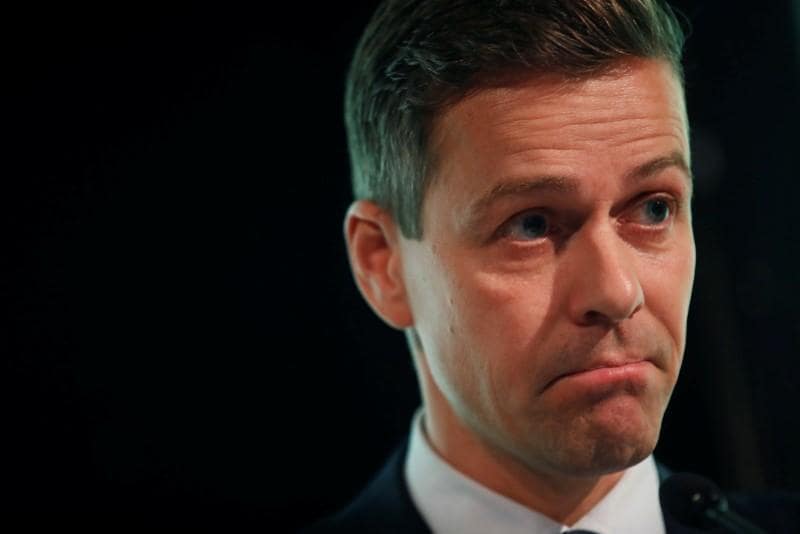 OSLO (Reuters) - A small centrist party holding the balance of power in Norway's parliament should consider aligning itself with the Labour-led opposition, the party's leader said on Friday, in a switch that could topple the centre-right government.
In a speech, Christian Democratic Party chief Knut Arild Hareide, who for the last five years has backed Conservative Prime Minister Erna Solberg, recommended that a Nov. 2 meeting of the party endorse Labour's Jonas Gahr Stoere instead.
The Norwegian constitution does not allow for snap elections, and a switch of allegiance by the Christian Democrats could shift the balance of power to Labour until the next parliamentary election takes place in 2021.
Hareide would seek to form a minority government together with Labour and the Centre Party, while excluding the Socialist Party.
"We'll have an open, democratic process at our party to make this decision," Hareide said.
A centre-left government could impose more restraints on Norway's oil industry by limiting the awards of new exploration acreage, but is unlikely to change the pace of spending from the $1 trillion sovereign wealth fund, the world's largest.
In the 2017 election campaign, which Labour narrowly lost, Gahr Stoere proposed higher public spending to improve public services, primarily paid for by a tax hike.
Solberg separately told a news conference later on Friday that she would continue to govern unless she's voted down by a potential new majority.
She also reiterated her long-standing invitation to the Christian Democrats to join her government if the party were to disagree with its leader.
(Reporting by Terje Solsvik, Editing by Gareth Jones, William Maclean)
This story has not been edited by Firstpost staff and is generated by auto-feed.
India
Danish's photographs were not just documentation, but the work of someone who went down to eye-level, as they say in photographic parlance.
World
ATHENS (Reuters) - Greek police used teargas and water cannon to disperse people who had gathered in central Athens on Saturday to protest against mandatory COVID-19 vaccinations. More than 4,000 people rallied outside the Greek parliament for a third time this month to oppose mandatory inoculations for some workers, such as healthcare and nursing staff.
World
ISTANBUL (Reuters) - Two Turkish soldiers were killed and two were wounded in an attack on their armoured vehicle in northern Syria, and Turkish forces immediately launched retaliatory fire, Turkey's defence ministry said on Saturday. "Our punitive fire against terrorist positions is continuing," the statement on Twitter on said. It did not specify where the attack occurred, but media reports said it was in the al-Bab area.