North Korean leader Kim Jong Un orders military to improve war readiness
North Korean leader Kim Jong Un has ordered his military to expand its combat exercises and strengthen war preparedness as he looks to escalate an already provocative run in weapons demonstrations in the face of deepening tensions with its neighbors and Washington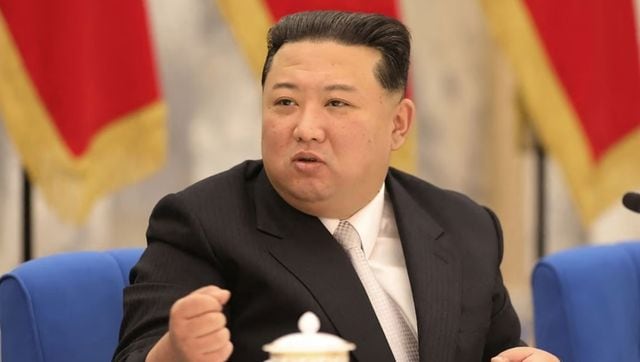 Seoul: North Korean leader Kim Jong Un has ordered his military to expand its combat exercises and strengthen war preparedness as he looks to escalate an already provocative run in weapons demonstrations in the face of deepening tensions with its neighbors and Washington.
Kim presided over a meeting of the ruling Workers' Party's Central Military Commission on Monday and encouraged the armed forces to perform "ever-victorious feats" and display "matchless military strength" to open a new phase in development, the country's official Korean Central News Agency reported Tuesday.
The commission's members discussed a series of tasks aimed at inducing "great change" in the military, including "constantly expanding and intensifying the operation and combat drills" and "more strictly perfecting the preparedness for war," the agency said.
The meeting came amid signs that North Korea is preparing a massive military parade in the capital Pyongyang, to celebrate the 75th founding anniversary of the Korean People's Army that falls on Wednesday. Kim may use the event to showcase the latest hardware from his growing nuclear weapons and missile program that's brewing concern for the United States and its allies in Asia.
The comments from the meeting are the latest warning from Pyongyang that it's preparing to intensify its military demonstrations following a record-breaking year in missile testing. The warnings are in part a response to the United States' expanding military drills with South Korea, which the allies have said are aimed at countering the North's evolving threat.
Last week, North Korea threatened to counter US military moves with the "most overwhelming nuclear force" as it condemned US plans to expand its joint exercise with South Korea and deploy more advanced military assets like bombers and aircraft carriers to the region.
North Korea fired more than 70 ballistic missiles in 2022, including potential nuclear-capable weapons designed to strike targets in South Korea or reach the US mainland. It also conducted a slew of launches it described as simulated nuclear attacks on South Korean and U.S. targets in response to the expanded US military drills with South Korea, which had been downsized during the Trump administration.
During a major political conference in December, Kim called for an "exponential increase" of the country's nuclear warheads, mass production of battlefield tactical nukes targeting South Korea and the development of more powerful intercontinental ballistic missiles that could reach the American homeland.
Experts say Kim's weapons tests and threats are aimed at forcing Washington to accept the idea of North Korea as a nuclear power, which Pyongyang sees as a way to negotiate economic and political concession from a position of strength.
Diplomacy between Washington and Pyongyang has been stalled since 2019, with the two sides remaining at odds over US-led economic sanctions against the North and the North's nuclear program.
Read all the Latest News, Trending News, Cricket News, Bollywood News,
India News and Entertainment News here. Follow us on Facebook, Twitter and Instagram.
World
North Korea boasted about 'twice the air power' of the South before it was hit with crippling sanctions over its nuclear weapons and missile programmes. Today, most of North Korea's fighters and bombers are now either obsolete or near-obsolete
Explainers
Purges are regular in North Korea and are partly carried out to end off alleged coup plots. Studies also show that Pyongyang's leadership use this method to maintain control over the bureaucracy
World
North Korea has executed its army chief of staff, Ri Yong Gil, South Korea's Yonhap news agency reported on Wednesday, which, if true, would be the latest in a series of executions, purges and disappearances under its young leader.