North Korea warns of food crisis, almost halves rations before summit
By Michelle Nichols UNITED NATIONS (Reuters) - North Korea has warned that it is facing a food shortfall of some 1.4 million tons in 2019 and has been forced to almost halve rations, blaming high temperatures, drought, floods and United Nations sanctions in a memo seen by Reuters on Thursday. The release of the undated two-page memo by the North Korean mission to the United Nations comes ahead of a second summit next week between U.S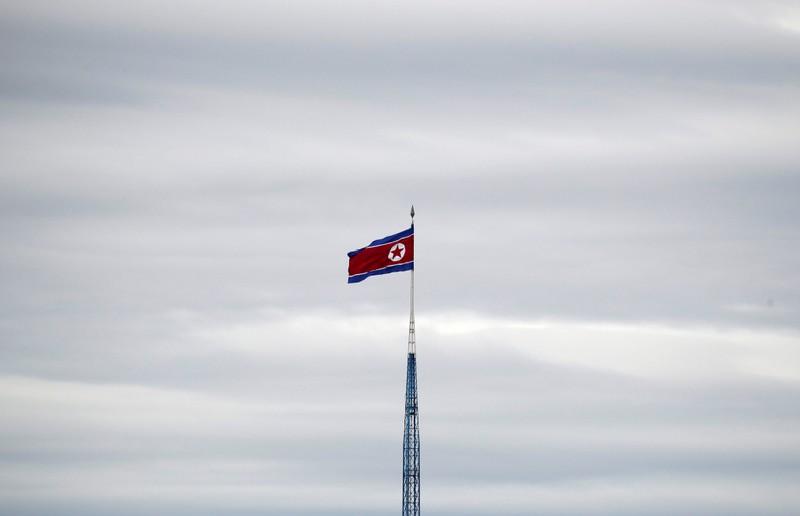 By Michelle Nichols
UNITED NATIONS (Reuters) - North Korea has warned that it is facing a food shortfall of some 1.4 million tons in 2019 and has been forced to almost halve rations, blaming high temperatures, drought, floods and United Nations sanctions in a memo seen by Reuters on Thursday.
The release of the undated two-page memo by the North Korean mission to the United Nations comes ahead of a second summit next week between U.S. President Donald Trump and North Korean leader Kim Jong Un on denuclearisation of the Korean Peninsula.
Washington has been demanding that North Korea give up a nuclear weapons program that threatens the United States, while North Korea has been seeking a lifting of punishing sanctions, a formal end to the 1950-53 Korean War and security guarantees.
The 15-member U.N. Security Council has unanimously boosted sanctions on North Korea since 2006 in a bid to choke off funding for Pyongyang's nuclear and ballistic missile programs.
"The DPRK government calls on international organizations to urgently respond to addressing the food situation," read the North Korean memo, which the country's U.N. mission described as a follow-up to joint assessment with the World Food Programme between Nov. 26 and Dec. 7, 2018. WFP declined to comment.
The official name for North Korea is the Democratic People's Republic of Korea (DPRK).
The memo said North Korea's food production last year was 4.951 million tons, 503,000 tons down on 2017. The United Nations confirmed these figures as official government data provided at the end of January and said North Korea's food production included rice, wheat, potato and soy beans.
North Korea said it would import 200,000 tons of food and produce about 400,000 tons of early crops, but that it would still be left with a gap and from January would cut daily rations to 300 grams (10.5 ounces) per person from 550 grams.
U.N. officials and aid groups in North Korea are consulting with the government to "further understand the impact of the food security situation on the most vulnerable people in order to take early action to address their humanitarian needs," U.N. spokesman Stephane Dujarric said on Thursday.
He said the United Nations and aid groups were only able to help one third of six million people estimated to be in need last year due to a lack of funding. A U.N. appeal for $111 million in 2018 was only a quarter funded, Dujarric said.
The United Nations estimates a total of 10.3 million people - almost half the population - are in need and some 41 percent of North Koreans are undernourished, Dujarric said.
Along with extreme weather, the North Korean memo also blames U.N. sanctions for restricting the delivery of farming materials and hindering fuel supply for the agricultural sector.
Humanitarian aid nearly ground to a halt last year as the United States stepped up the enforcement of the U.N. sanctions, even though the Security Council North Korea sanctions committee has said sanctions "are not intended to have adverse humanitarian consequences for the civilian population."
"While Security Council sanctions clearly exempt humanitarian activities there have been unintended consequences on humanitarian operations," Dujarric said.
(Reporting by Michelle Nichols at the United Nations; Editing by James Dalgleish)
This story has not been edited by Firstpost staff and is generated by auto-feed.
Find latest and upcoming tech gadgets online on Tech2 Gadgets. Get technology news, gadgets reviews & ratings. Popular gadgets including laptop, tablet and mobile specifications, features, prices, comparison.
Business
By Jessica Resnick-Ault NEW YORK (Reuters) - Oil prices strengthened on Wednesday, as OPEC and its allies were seen complying with a pact to cut oil supply in September, even as concerns loomed that recovery in fuel demand will be stalled by soaring global coronavirus cases. Early in the day crude was boosted by a bullish stock market. Even as equities whipsawed on pandemic worries, oil stayed higher, buoyed by expectations that OPEC could staunch a supply glut
Business
By Tina Bellon and C Nivedita (Reuters) - Tesla Inc will further cut the price of its Model S "Long Range" sedan in the United States to $69,420, the electric carmaker's chief executive, Elon Musk, announced in a tweet https://bit.ly/2H0JCP0 on Wednesday. The anticipated drop marks the second time this week Tesla has cut the price for the high-end sedan, following a 4% cut of the Model S's price in the United States on Tuesday to $71,990.
World
By Jeff Mason DES MOINES, Iowa (Reuters) - Under siege over his handling of the novel coronavirus pandemic, President Donald Trump on Wednesday cited what he said was his son's mild bout of the virus as a reason why American schools should reopen as soon as possible. Trump made the comment about his son, Barron, as the president swept into Iowa on a mission to shore up support in battleground states that he won in 2016 but is in danger of losing to Democrat Joe Biden barely three weeks before the election. First lady Melania Trump announced in a statement earlier in the day that the virus that struck both her and her husband had also infected their 14-year-old son