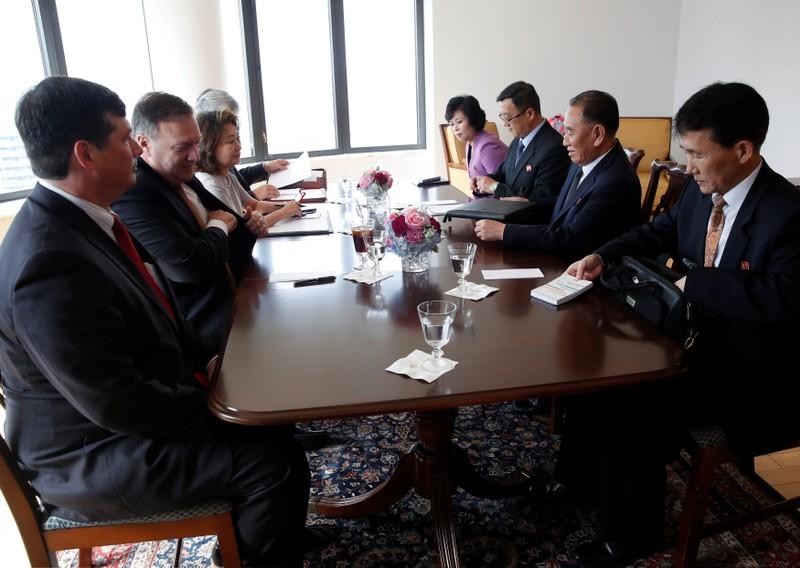 By Steve Holland and Hyonhee Shin
WASHINGTON/SEOUL (Reuters) - A senior North Korean official was expected to visit the White House on Friday to hand over a letter for U.S. President Donald Trump from North Korean leader Kim Jong Un, as the two adversaries try to put a derailed summit back on track.
Kim Yong Chol, a close aide to the North Korean leader, would be the highest level figure from the secretive state to hold talks at the White House since a senior envoy visited former President Bill Clinton in 2000.
The United States previously blacklisted Kim Yong Chol, who once served as a bodyguard to the current leader's father Kim Jong Il, from coming to the United States because of his role in North Korea's military establishment.
A senior U.S. official said Trump was expected to meet the envoy in the early afternoon on Friday and likely would receive the letter.
The Wall Street Journal said the letter was seen as fairly basic, according to one foreign government official who was briefed on the contents. It expresses the North Korean leader's interest in meeting without making any significant concessions or threats, the Journal said, citing a foreign government official who had been briefed on the letter. [nL2N1T30ZE]
After exchanging threats and insults since Trump became president last year, the United States and North Korea have been trying to set up a summit, originally planned for Singapore on June 12, between their leaders at which Trump wants to pressure Pyongyang into giving up its nuclear weapons.
In comments to Reuters on Thursday, Trump played down the chances of a quick breakthrough in the nuclear diplomacy. He said he was hopeful an unprecedented meeting with leader Kim would take place as scheduled but left open the possibility talks would fall through.
Kim's letter is seen as a sign that the summit might be back on after Trump canceled it late last month because of North Korea's "tremendous anger and open hostility."
COLORFUL PAST
The envoy, Kim Yong Chol was previously chief of the Reconnaissance General Bureau, a top North Korean military intelligence agency, and has spent nearly 30 years as a senior member of the country's intelligence community. [nL2N1T11VM]
The United States and South Korea blacklisted him for supporting the North's nuclear and missile programs in 2010 and 2016. He was granted special permission to travel to the United States for meetings this week with top U.S. officials, the State Department said.
Kim Yong Chol was accused by South Korea of masterminding deadly attacks on a South Korean navy ship and an island in 2010. He also was linked by U.S. intelligence to a devastating cyber attack on Sony Pictures in 2014.
North Korea denied any involvement in either incident.
South Korean officials say Kim Yong Chol stormed out of the room during military talks in 2014 when the South demanded an apology for the 2010 attacks.
He served in the military police in the demilitarized zone on the border of the two Koreas. He was also a bodyguard to Kim Jong Il, the former leader and late father of Kim Jong Un, according to North Korea Leadership Watch, an affiliate of the 38 North think tank.
Kim Yong Chol is known to be difficult to work with, sarcastic and not sufficiently deferential to his superiors, Leadership Watch said.
He also has suffered career setbacks. South Korea's intelligence agency said in 2015 Kim Yong Chol was demoted to a three-star general after dozing off during a meeting.
In 2016, South Korea's Unification Ministry said he was briefly sent to a re-education camp for his "overbearing" manner and abuse of power.
In Seoul, U.S. negotiators on Friday expressed optimism after meeting their North Korean counterparts for preparatory talks at Panmunjom, on the fortified border between the two Koreas. [nS6N1R204D]
(Reporting by Steve Holland; Editing by Robert Birsel and Bill Trott)
This story has not been edited by Firstpost staff and is generated by auto-feed.
Firstpost is now on WhatsApp. For the latest analysis, commentary and news updates, sign up for our WhatsApp services. Just go to Firstpost.com/Whatsapp and hit the Subscribe button.
Updated Date: Jun 02, 2018 00:06:37 IST