North Korea making bomb fuel despite denuclearisation pledge: Pompeo
By David Brunnstrom WASHINGTON (Reuters) - North Korea is continuing to produce fissile material for nuclear bombs in spite of its pledge to denuclearize, U.S. Secretary of State Mike Pompeo said on Wednesday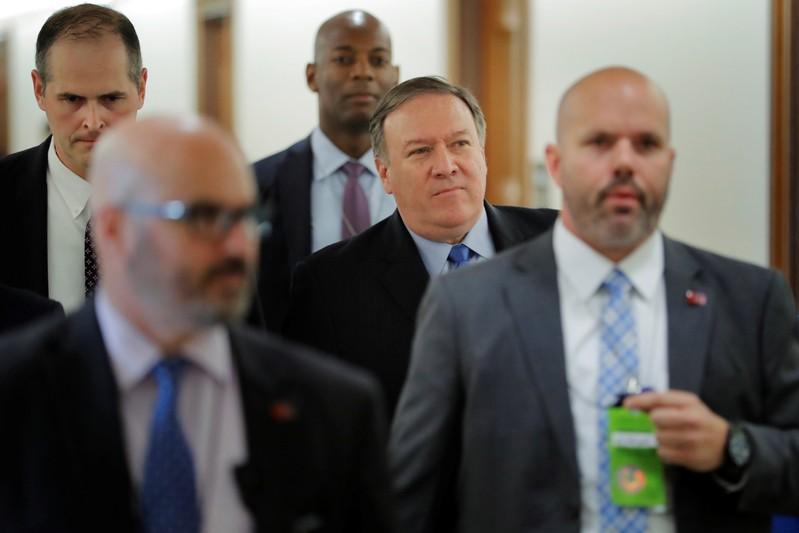 By David Brunnstrom
WASHINGTON (Reuters) - North Korea is continuing to produce fissile material for nuclear bombs in spite of its pledge to denuclearize, U.S. Secretary of State Mike Pompeo said on Wednesday.
Asked at a Senate foreign relations committee hearing whether this was the case, Pompeo responded to Democratic Senator Ed Markey by saying: "Yes, that's correct ... Yes, they continue to produce fissile material."
Pompeo declined to respond when asked whether North Korea was continuing to pursue submarine-launched ballistic missiles or whether its nuclear programme was advancing generally.
He said he would be happy to answer the latter question if necessary in a classified setting but suggested public statements on the issue would not help "a complex negotiation with a difficult adversary."
Pompeo defended what he termed progress in talks with North Korea stemming from an unprecedented June 12 summit between President Donald Trump and North Korean leader Kim Jong Un in sometimes testy exchanges with sceptical lawmakers.
He said the United States was engaged in "patient diplomacy" to persuade North Korea to give up its nuclear weapons, but would not let the process "drag out to no end."
Briefing on his July 5-7 visit to North Korea, Pompeo said he had emphasized this position in "productive" discussions with his North Korean interlocutor, Kim Yong Chol.
He said Trump remained upbeat about the prospects for North Korean denuclearisation, but Kim needed to follow through on his summit commitments.
Pompeo said U.S. North Korea policy was guided by a principle stated by Trump on July 17 that "diplomacy and engagement are preferable to conflict and hostility."
Trump has hailed his summit with Kim as a success, but questions have been growing about North Korea's willingness to give up a nuclear weapons programme that threatens the United States.
Kim committed in a summit statement to work towards denuclearisation but Pyongyang has offered no details as to how it might go about this.
Pompeo left Pyongyang on July 7 saying he had made progress on key issues, only for North Korea to accuse his delegation hours later of making "gangster-like" demands.
Pompeo reiterated that North Korea had agreed to denuclearize. However, he did not respond when asked by Senator Bob Menendez whether Pyongyang agreed with the U.S. definition of denuclearisation, except to say he was fully confident North Korea understood this.
Menendez, the ranking member of the committee, called Trump's meeting with Kim "a reality TV 'summit' that was little more than a photo-op with a brutal dictator."
"We have seen only a vague agreement of promises to make more promises - but with weaker commitments than North Korea has previously made," he said.
The Republican chairman of the committee, Bob Corker, criticized Trump for saying that Kim was "very talented" and that "he loves his people," given the country's serious human rights abuses and the death of U.S. college student Otto Warmbier after imprisonment there.
"Really?" Corker said.
Trump said last week there was "no rush" and "no time limit" on the denuclearisation negotiations, but Pompeo has given varying statements about how patient Washington might be.
Pompeo said after the summit the United States hoped to achieve "major disarmament" by North Korea by the end of Trump's current term in office, which ends Jan. 20, 2021, but subsequently said he would not put a timeline on talks.
On Wednesday, Pompeo conceded that there was an "awful long way to go" but in answer to a question, said the U.S. goal was for North Korea's complete, verifiable, irreversible denuclearisation by the end of Trump's current term in office, which runs until January 2021, "more quickly if possible."
(Reporting by David Brunnstrom, Lesley Wroughton and Daphner Psaledakis; Editing by James Dalgleish)
This story has not been edited by Firstpost staff and is generated by auto-feed.
Find latest and upcoming tech gadgets online on Tech2 Gadgets. Get technology news, gadgets reviews & ratings. Popular gadgets including laptop, tablet and mobile specifications, features, prices, comparison.
Business
By Jessica Resnick-Ault NEW YORK (Reuters) - Oil prices strengthened on Wednesday, as OPEC and its allies were seen complying with a pact to cut oil supply in September, even as concerns loomed that recovery in fuel demand will be stalled by soaring global coronavirus cases. Early in the day crude was boosted by a bullish stock market. Even as equities whipsawed on pandemic worries, oil stayed higher, buoyed by expectations that OPEC could staunch a supply glut
Business
By Tina Bellon and C Nivedita (Reuters) - Tesla Inc will further cut the price of its Model S "Long Range" sedan in the United States to $69,420, the electric carmaker's chief executive, Elon Musk, announced in a tweet https://bit.ly/2H0JCP0 on Wednesday. The anticipated drop marks the second time this week Tesla has cut the price for the high-end sedan, following a 4% cut of the Model S's price in the United States on Tuesday to $71,990.
World
By Jeff Mason DES MOINES, Iowa (Reuters) - Under siege over his handling of the novel coronavirus pandemic, President Donald Trump on Wednesday cited what he said was his son's mild bout of the virus as a reason why American schools should reopen as soon as possible. Trump made the comment about his son, Barron, as the president swept into Iowa on a mission to shore up support in battleground states that he won in 2016 but is in danger of losing to Democrat Joe Biden barely three weeks before the election. First lady Melania Trump announced in a statement earlier in the day that the virus that struck both her and her husband had also infected their 14-year-old son