North Korea confirms leader Kim Jong Un to visit Russia for summit with Putin
SEOUL (Reuters) - North Korean leader Kim Jong Un will visit Russia for a summit with Russian President Vladimir Putin, North Korean state media confirmed. With his Russia visit, North Korea's Kim is seen working to build up foreign support for his economic development plans, since the breakdown of the second U.S.-North Korea summit in Hanoi in February led to stalled talks with Washington on the sanctions relief Pyongyang had sought. State media Korean Central News Agency (KCNA) said the visit will happen 'soon,' but did not elaborate the time or the venue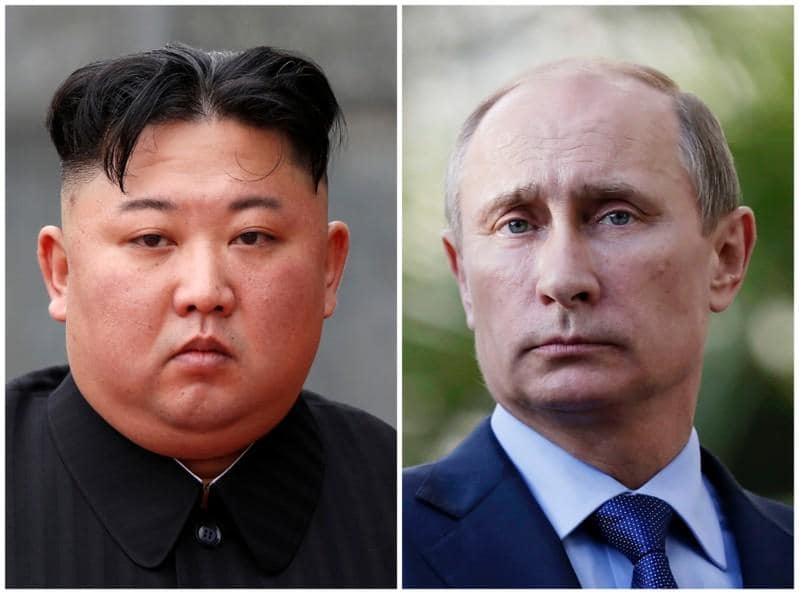 SEOUL (Reuters) - North Korean leader Kim Jong Un will visit Russia for a summit with Russian President Vladimir Putin, North Korean state media confirmed.
With his Russia visit, North Korea's Kim is seen working to build up foreign support for his economic development plans, since the breakdown of the second U.S.-North Korea summit in Hanoi in February led to stalled talks with Washington on the sanctions relief Pyongyang had sought.
State media Korean Central News Agency (KCNA) said the visit will happen "soon," but did not elaborate the time or the venue.
Putin and Kim are on track to meet by the end of April, Kremlin spokesman Dmitry Peskov told reporters on Monday.
Kim Jong Un's chief aide, Kim Chang Son, was seen in Vladivostok on Sunday according to South Korean news agency Yonhap, leading to speculation that the Putin-Kim summit will be held in the city around April 24-25.
NK News, a group that follows North Korea, showed photos on its website on Monday of preparations underway at Vladivostok's Far Eastern Federal University, likely to host part of the summit, with workers installing North Korean and Russian flags.
After the diplomatic failure at the Hanoi summit, Kim is likely looking to prove that he is still being sought after by world leaders, and that he has more options, said Artyom Lukin, a professor at Far Eastern Federal University in Vladivostok.
"Kim does not want to look too dependent on Washington, Beijing and Seoul," he said. "As for Russia, the Putin-Kim summit will reaffirm Moscow's place as a major player on the Korean Peninsula. This meeting is important for Russian international prestige."
(Reporting by Joyce Lee and Josh Smith; Editing by Sandra Maler)
This story has not been edited by Firstpost staff and is generated by auto-feed.
Find latest and upcoming tech gadgets online on Tech2 Gadgets. Get technology news, gadgets reviews & ratings. Popular gadgets including laptop, tablet and mobile specifications, features, prices, comparison.
World
By Tim Hepher and David Ljunggren PARIS/OTTAWA (Reuters) - France said on Friday it would download the black boxes from a Ukrainian airliner downed by an Iranian missile in January, easing a stand-off over where they should be read. France's BEA crash investigation agency said it was acting at the request of Iran, which remains responsible under global rules for conducting a formal accident probe after acknowledging that the Boeing 737 was downed by its forces
World
By Brad Brooks LUBBOCK, Texas (Reuters) - With new coronavirus cases surging in Texas and Florida, officials in both states on Friday ordered bars to close again and imposed tighter restrictions on restaurants, setting back efforts to reopen their economies. Governor Greg Abbott gave bars in Texas until midday Friday to shut, while Florida's Department of Business and Professional Regulation told bars to immediately stop serving alcohol on their premises
World
By Patricia Zengerle WASHINGTON (Reuters) - The U.S. Senate passed legislation on Thursday that would impose mandatory sanctions on people or companies that back efforts by China to restrict Hong Kong's autonomy, pushing back against Beijing's new security law for the city. The measure also includes secondary sanctions on banks that do business with anyone found to be backing any crackdown on the territory's autonomy, potentially cutting them off from American counterparts and limiting access to U.S.