North Korea confirms leader Kim Jong Un to visit Russia for summit with Putin
SEOUL (Reuters) - North Korean leader Kim Jong Un will visit Russia for a summit with Russian President Vladimir Putin, North Korean state media confirmed. With his Russia visit, North Korea's Kim is seen working to build up foreign support for his economic development plans, since the breakdown of the second U.S.-North Korea summit in Hanoi in February led to stalled talks with Washington on the sanctions relief Pyongyang had sought. State media Korean Central News Agency (KCNA) said the visit will happen 'soon,' but did not elaborate the time or the venue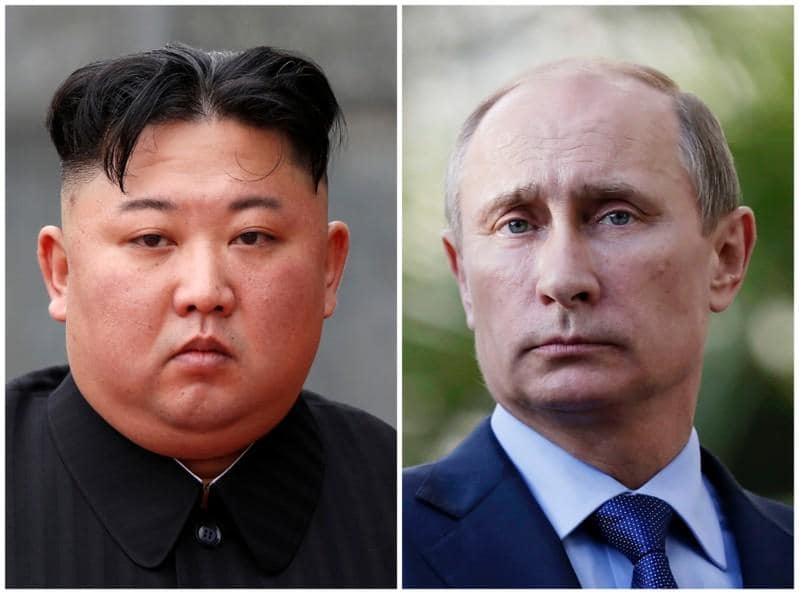 SEOUL (Reuters) - North Korean leader Kim Jong Un will visit Russia for a summit with Russian President Vladimir Putin, North Korean state media confirmed.
With his Russia visit, North Korea's Kim is seen working to build up foreign support for his economic development plans, since the breakdown of the second U.S.-North Korea summit in Hanoi in February led to stalled talks with Washington on the sanctions relief Pyongyang had sought.
State media Korean Central News Agency (KCNA) said the visit will happen "soon," but did not elaborate the time or the venue.
Putin and Kim are on track to meet by the end of April, Kremlin spokesman Dmitry Peskov told reporters on Monday.
Kim Jong Un's chief aide, Kim Chang Son, was seen in Vladivostok on Sunday according to South Korean news agency Yonhap, leading to speculation that the Putin-Kim summit will be held in the city around April 24-25.
NK News, a group that follows North Korea, showed photos on its website on Monday of preparations underway at Vladivostok's Far Eastern Federal University, likely to host part of the summit, with workers installing North Korean and Russian flags.
After the diplomatic failure at the Hanoi summit, Kim is likely looking to prove that he is still being sought after by world leaders, and that he has more options, said Artyom Lukin, a professor at Far Eastern Federal University in Vladivostok.
"Kim does not want to look too dependent on Washington, Beijing and Seoul," he said. "As for Russia, the Putin-Kim summit will reaffirm Moscow's place as a major player on the Korean Peninsula. This meeting is important for Russian international prestige."
(Reporting by Joyce Lee and Josh Smith; Editing by Sandra Maler)
This story has not been edited by Firstpost staff and is generated by auto-feed.
Business
By Stephen Nellis (Reuters) -Apple Inc on Monday said it will offer the ability to store state-issued identification cards digitally on iPhones and that it is working with the U.S. Transportation Security Administration to accept the digital IDs at airports, one of several updates to the software that runs on its devices. It also showed updates to its FaceTime video chat app, adding the ability to schedule calls with multiple attendees and making the software compatible with Android and Windows devices.
Business
LONDON (Reuters) - The bosses of all airlines flying passenger services between Britain and the United States called on Monday for the countries' governments to relax COVID-19 restrictions to reopen travel routes between the two countries. After more than a year of restrictions, the CEOs of American Airlines, IAG unit British Airways, Delta Air Lines, United Airlines and JetBlue Airways Corp said high vaccination rates in both countries meant travel could restart safely. The push for reopening trans-Atlantic routes on Monday comes ahead of meetings between U.S.
Business
BRUSSELS (Reuters) - The European Union's patience towards Britain over Brexit arrangements in Northern Ireland is wearing thin and the bloc will consider its options should Britain continue its "confrontational path", an EU official said on Monday.