North and South Korea to march together at Winter Olympics: History of relations between two nations who are technically at war
North and South Korea have agreed to march together under a single flag at the Winter Olympics opening ceremony, in the latest sign that the crisis may be easing.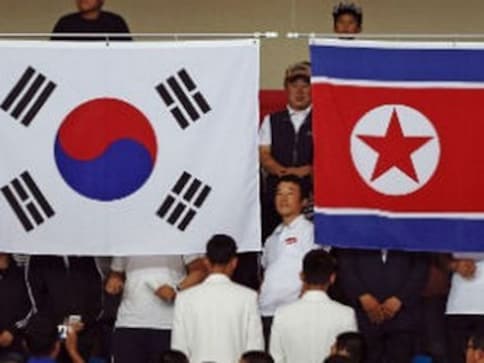 Seoul: North and South Korea have agreed to march together under a single flag at the Winter Olympics opening ceremony, in the latest sign that the crisis on the peninsula may be easing.
The decision comes after months of tensions over Pyongyang's nuclear and missile programme, the latest phase in the turmoil that has persisted since the start of the Korean War.
Here is a timeline of relations between the two Koreas, who remain technically at war:
War but no peace
In June 1950, fighting broke out between the communist North and capitalist South, sparking a brutal war that killed between two and four million people.
Beijing backed Pyongyang in the three-year conflict, while Washington threw its support behind the South — alliances that have largely endured.
The Koreas have been locked in a dangerous dance ever since that conflict ended in 1953 with an armistice rather than a formal peace treaty, leaving them technically at war.
Sending in the assassins
Pyongyang has tested the fragile ceasefire with numerous attacks. The secretive nation sent a team of 31 commandos to Seoul in a botched attempt to assassinate then-President Park Chung-Hee in 1968. All but two were killed.
In the "axe murder incident" of 1976, North Korean soldiers attacked a work party trying to chop down a tree inside the Demilitarized Zone, leaving two US army officers dead.
Pyongyang launched perhaps its most audacious assassination attempt in Myanmar in 1983, when a bomb exploded in a Yangon mausoleum during a visit by South Korean President Chun Doo-Hwan. He survived, but 21 people, including some government ministers, were killed.
In 1987, a bomb on a Korean Air flight exploded over the Andaman Sea, killing all 115 people on board. Seoul accused Pyongyang, which denied involvement.
Direct confrontation
The North's founding leader Kim Il-sung died in 1994, but under his son Kim Jong-il, it continued to prod its southern neighbour.
In 1996, a North Korean submarine on a spying mission ran aground off the eastern South Korean port of Gangneung, sparking 45-day manhunt that ended with 24 crew members and infiltrators killed. A clash between South Korean and North Korean naval ships in 1999 left around 50 of the North's soldiers dead.
In March 2010, Seoul accused Pyongyang of torpedoing one of its warships, killing 46 sailors. Pyongyang denied the charge. November that year saw North Korea launch its first attack on a civilian-populated area since the war, when it fired 170 artillery shells at Yeonpyeong. Four people were killed, including two civilians.
Going nuclear
North Korea has steadfastly pursued its banned nuclear and ballistic missile programmes since its first successful test of an atomic bomb in 2006, as it looks to build a rocket capable of delivering a warhead to the US mainland.
Progress has accelerated under leader Kim Jong-un, culminating in Pyongyang's sixth and biggest nuclear test in September 2017.
Kim has since declared the country a nuclear power.
Lines open
Despite the caustic effect of clashes and the battery of conventional weapons that the North has amassed at the border to threaten Seoul, the two nations have held talks in the past.
Then-North Korean leader Kim Jong-il held two historic summits with counterparts from the South in 2000 and 2007, which eased tensions between the neighbours.
Lower-level talks since then have been much hyped but have failed to produce significant results.
February's Winter Olympics in the South have given the neighbours a pretext to reopen communications after a two-year hiatus.
A special cross-border hotline buzzed into life this month for the first time since 2016, in response to a suggestion by Kim Jong-Un that Pyongyang could send a team to the Games, which the South has billed as its "Peace Olympics".
After a series of meetings, both Koreas agreed not only on Pyongyang's participation, but also announced that their athletes will march together at the opening ceremony of the Winter Olympics next month in Pyeongchang, South Korea.
World
The first missile flew about 350 kilometres (217 miles) at a maximum altitude of around 100 kilometres, while the second missile had a flight range of about 800 kilometres at an altitude of around 50 kilometres, according to Japanese defence minister Yasukazu Hamada
World
A Hyumoo-2 ballistic missile crashed inside an air force base on the outskirts of Gangneung, throwing the city into a panic over speculations of a North Korean attack
World
The four-day exercise on South Korea's east coast will involve more than 20 vessels and an assortment of aircraft, which will conduct drills on anti-ship and anti-submarine warfare operations, tactical manoeuvres and other maritime operations