'No UN vote' can change Jerusalem's status, says Israel's ambassador to India, Daniel Carmon
With India, a growing friend of Israel, joining the UN majority in voting for a General Assembly resolution criticising US President Donald Trump's decision to declare Jerusalem the capital of Israel
New Delhi: With India, a growing friend of Israel, joining the UN majority in voting for a General Assembly resolution criticising US President Donald Trump's decision to declare Jerusalem the capital of Israel, the Israeli envoy in New Delhi said "no UN vote" can change Jerusalem's status.
Ambassador Daniel Carmon in a tweet said
Jerusalem always was Capital of the Jewish people,is&will continue2be the capital of modern Israel.No vote@the @UN #UNGA can change that.
It is encouraging2see that more countries have not agreed yesterday2participate in the continuous politicized exercise of rewriting History https://t.co/a7pMR9WnJO

— Daniel Carmon🇮🇱 (@danielocarmon) December 22, 2017
He retweeted Israel Prime Minister Benjamin Netanyahu's tweet
I do appreciate the fact that a growing number of countries refused to participate in this theater of the absurd. So I appreciate that, and especially I want to again express our thanks to @POTUS Trump and Ambassador Haley, for their stalwart defense of Israel and of the truth. — PM of Israel (@IsraeliPM) December 21, 2017
New Delhi's "yes" vote came as the government's friendship with Israel has grown and Netanyahu is expected to visit India early next year. Prime Minister Narendra Modi had skipped Palestine during his visit to Israel in July this year.
The UN resolution that was passed by a two-thirds majority on Thursday demanded Washington comply with Security Council decisions against changing the status of Jerusalem and declared US and Israeli action on the city "null and void".
It, however, only expressed "deep regret at recent decisions concerning the status of Jerusalem", stopping short of naming the US or condemning it outright.
Defying Trump's threats to cut off aid to countries that voted for the resolution, 128 countries voted for the resolution, while nine countries joined the US and Israel in voting against it.
An unusually large number 35 countries abstained, and 21 others were absent, showing that Trump's threats had some effect.
US Permanent Representative Nikki Haley repeated Trump's warning on aid before the vote describing support for it an "insult" to her country.
"We will remember it when we are called upon to once again make the world's largest contribution to the UN," she said. "And we will remember it when so many countries come calling on us, as they so often do, to pay even more and to use our influence for their benefit."
Palestinian foreign minister Riad al-Malki said that by voting for the resolution, nations would be rejecting attempts at blackmail and intimidation.
He warned that Washington's action could lead to a religious war that "has no boundaries" and only served the interests of extremists.
The Assembly resolution followed the US veto on Monday of a similar resolution in the Security Council introduced by Egypt. All the other 14 Council members voted for it, isolating the US.
The Assembly resolution was sponsored by Yemen on behalf of the Arab Group in the UN, and by Turkey on behalf of the Organisation of Islamic Cooperation (OIC).
Representing the OIC, Turkey's foreign minister Mevlut Cavusoglu said that Jerusalem was the holy city of three monotheistic religions and its historic status had to be preserved.
Referring to the US' threats to withhold aid, he said such "bullying" was unethical and votes were not for sale.
While the Assembly resolutions do not have the legal clout of the Council resolutions, they carry political clout, especially when endorsed by a two-thirds majority.
Previous Council resolutions have said that the status of Jerusalem and territories occupied by Israel after the 1967 war should not be altered unilaterally.
While close US allies like Britain, France and Japan, which had voted for the resolution in Council, again broke ranks with it in the Assembly, there were some surprises. Despite prime minister Justin Trudeau's claims to follow a progressive foreign policy, Canada abstained.
Five of the countries that voted with the US and Israel were tiny Pacific island nations like Micronesia, and two were from Latin America. No country of any significance politically or in size voted for the resolution, even if some of them abstained or absented themselves.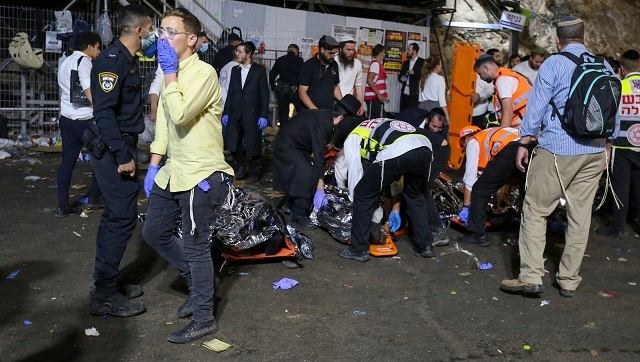 World
The disaster occurred at Mount Meron after midnight at the main celebrations of Lag BaOmer, when ultra-Orthodox Jews convene at the tomb of a prominent rabbi
World
Jaffa, the historic port at the core of the greater Tel Aviv metropolis, is home to around 20,000 Arab residents, remnants of the Palestinian population that lived there before Israel's establishment in 1948. The district has undergone extensive gentrification in recent decades with government encouragement.
Sports
The International Judo Federation imposed a four-year ban after the Court of Arbitration for Sport (CAS) ordered a disciplinary review last month which said a previous indefinite ban was not allowed.