No Christmas mass at Notre-Dame for the first time since Napoleon
PARIS (Reuters) - For the first time in more than 200 years, worshippers will not be able to attend Christmas mass at Notre-Dame cathedral, still being restored after a devastating fire. 'There won't be a midnight mass at Notre-Dame. The last time this happened was during the French Revolution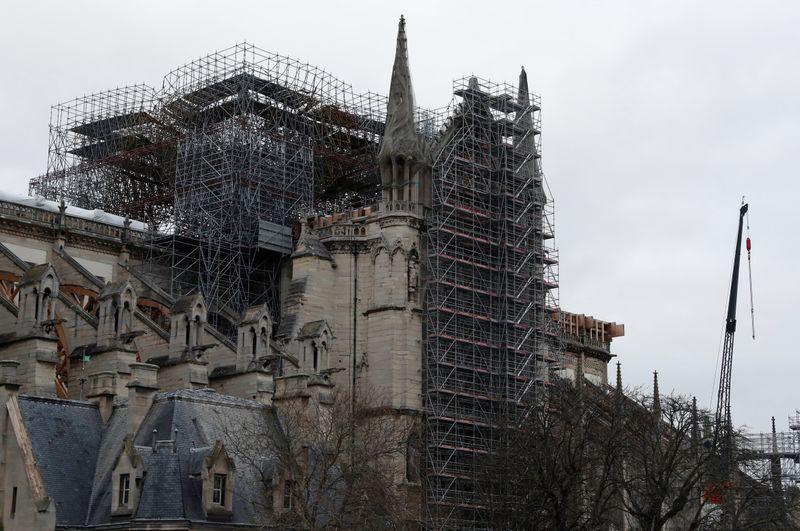 PARIS (Reuters) - For the first time in more than 200 years, worshippers will not be able to attend Christmas mass at Notre-Dame cathedral, still being restored after a devastating fire.
"There won't be a midnight mass at Notre-Dame. The last time this happened was during the French Revolution. Since 1803, there have always been Christmas masses at Notre-Dame," a Paris diocese spokeswoman told Reuters.
The April 15 fire caused the roof and spire to collapse although the main bell towers and the outer walls were saved, along with religious relics and priceless works of art.
"It's painful because we would have liked to celebrate Christmas at Notre-Dame but, at the same time, there is also hope: we're pressing ahead with the rebuilding, for example this huge crane which will help remove this damn scaffolding," said Monsignor Patrick Chauvet, the cathedral's senior administrativecleric.
He was referring to the metal scaffolding, erected before the blaze for maintenance work, that melted in the fire and had to be disentangled from the cathedral's structure before it could be removed.
"Christmas is the celebration of hope. Let's be patient, four more years", Chauvet added, inviting those who used to come to Notre-Dame for Christmas to go to nearby Saint-Germain l'Auxerrois, one of the oldest churches in Paris.
Archbishop of Paris Michel Aupetit, who would normally say Christmas mass in Notre-Dame, will this year officiate at the Grüss Circus in the Bois de Boulogne, the diocese said.
Notre-Dame, which dates back to the 12th century, features in Victor Hugo's novel "The Hunchback of Notre-Dame". It was also there that Napoleon was crowned Emperor in 1804.
(Reporting by Manuel Ausloos and Benoit Van Overstraeten; Editing by Giles Elgood)
This story has not been edited by Firstpost staff and is generated by auto-feed.
Find latest and upcoming tech gadgets online on Tech2 Gadgets. Get technology news, gadgets reviews & ratings. Popular gadgets including laptop, tablet and mobile specifications, features, prices, comparison.
World
VATICAN CITY (Reuters) - Pope Francis said on Saturday he planned to be vaccinated against COVID-19 as early as next week and urged everyone to get a shot, to protect not only their own lives but those of others.
World
By Rich McKay (Reuters) - A man photographed carrying off the Speaker's lectern during the Capitol Hill riots was arrested late Friday, while a top Democratic lawmaker on Saturday called on mobile carriers to preserve social media content related to the riots. Dozens of people have been charged following the storming of the Capitol on Wednesday, with the FBI asking the public for help identifying participants, given the proliferation of images of the riots on the internet.
World
By Sarah Marsh HAVANA (Reuters) - Communist-run Cuba said late on Friday it had signed an accord with Iran to transfer the technology for its most advanced coronavirus vaccine candidate and carry out last-stage clinical trials of the shot in the Islamic Republic. The allies are both under fierce U.S