Nike repurposes footwear components to make face shields and PPE for healthcare workers
By using the face shield, that is produced using a nine-step process, the surgical or N95 masks can be used for a longer time.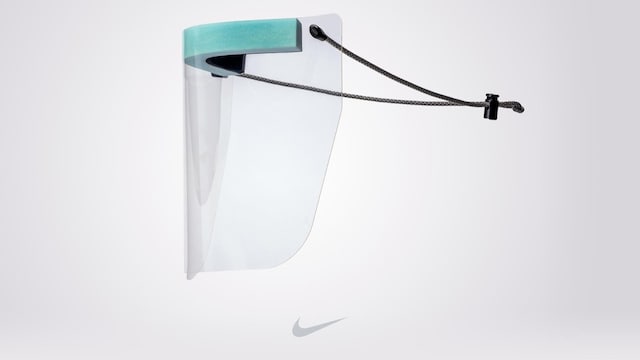 Nike has announced that it is taking steps to help healthcare workers who are battling the coronavirus pandemic.
It is repurposing collar padding once meant for its shoes, cords originally destined for apparel, and thermoplastic polyurethane (TPU) from Nike Air soles, to create personal protective equipment (PPE).
The company, in a blog post, said that its various teams are closely working with health professionals at Oregon Health & Science University (OHSU) to provide PPE in the form of full-face shields and powered air-purifying respirator (PAPR) lenses.
 "Without proper facial protection, healthcare workers are at a higher risk of contracting the virus, which could place substantial strain on the healthcare workforce in the months ahead," says Miko Enomoto, MD, associate professor of anesthesiology and perioperative medicine, OHSU School of Medicine.
She also added that the full-face masks also help prolong the time for which one can safely use a surgical or N95 mask. Nike said the full-face shield is manufactured through a nine-step process.
The face shields are being made through a combined effort of the company's innovation teams and manufacturing groups at its Air Manufacturing Innovation (Air MI) facilities in Oregon and Missouri.
On the other hand, TPU will be used in the manufacturing of new lenses for PAPR helmets, which can be employed in situations with the most airborne pathogen exposure.
India
The fine under this provision of the notification will not be applicable to persons travelling together in private four-wheeler vehicles
India
Delhi continues to see a rise in new COVID-19 cases. The national capital has reported 2,495 new infections in the last 24 hours. The positivity rate stood at 15.41 per cent
World
Tourism hotspot Sanya is a city of more than a million people on the southern island of Hainan, where 483 Covid cases were reported Sunday. All flights out of the city were cancelled over the weekend, with authorities also halting train ticket sales