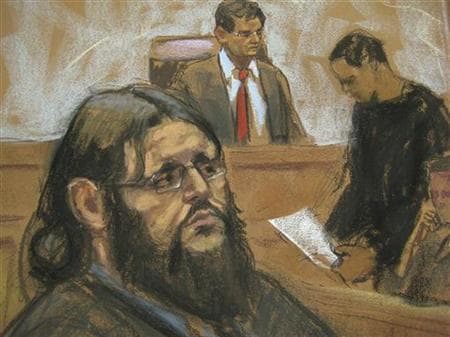 NEW YORK (Reuters) - A Bosnian-born U.S. citizen was sentenced to life in prison on Friday for his role in planning a suicide bomb attack on New York City subways in 2009 at the behest of senior al Qaeda operatives.
Adis Medunjanin, 28, was convicted in May by a federal jury in Brooklyn on nine counts including conspiracy to use weapons of mass destruction, conspiracy to commit an act of terrorism and providing material support to al Qaeda.
Prosecutors had urged U.S. District Judge John Gleeson to give Medunjanin the maximum penalty of life in prison, saying in a pre-sentencing court filing that he "committed a host of heinous crimes aimed at killing and maiming his fellow American citizens in order to alter and take revenge for American foreign policy."
Medunjanin's accused co-conspirator Najibullah Zazi was arrested in September 2009, just days before Medunjanin and a third member of the plot, Zarein Ahmedzay, planned to carry out what U.S. Attorney General Eric Holder called "one of the most serious terrorist threats" to the United States since the September 11 attacks.
During Medunjanin's trial, prosecutors described how the three friends from Queens, New York, made a plan to travel overseas with the intent of joining up with Taliban fighters in Afghanistan. They made it to Pakistan, where they were introduced to an al Qaeda facilitator. That facilitator took them to meet with senior al Qaeda operatives, who provided them with military training and persuaded them to return to the United States to carry out an attack in New York City.
After their return, the three met to discuss their plans for a suicide attack, and settled on a target: New York City subways. Zazi began to assemble explosive devices at his family's home in Colorado, and drove to New York City with the materials in September 2009, prosecutors said. The plan was aborted when Zazi and Ahmedzay became suspicious that they were being monitored.
After federal agents searched Medunjanin's home in January 2010, Medunjanin got into his car and sped erratically across the Whitestone Expressway in Queens, crashing his car into another vehicle in what prosecutors described as a last-ditch attempt to fulfill his suicide mission.
Both Zazi and Ahmedzay pleaded guilty and testified against Medunjanin during his trial. Zazi, 27, is scheduled to be sentenced on December 14, and Ahmedzay, also 27, will be sentenced on May 10.
(Editing by Mohammad Zargham)
Updated Date: Nov 17, 2012 04:00 AM