New times, new ties: India-US defence bill will be closely watched by Pakistan and China
It's now beyond the shadow of a doubt that the US is investing in a long-term strategic partnership with India, and has identified China's growing military assertiveness as a threat.
New York: It's now beyond the shadow of a doubt that the US is investing in a long-term strategic partnership with India, and has identified China's growing military assertiveness as a threat. Since the US and India are not treaty allies, Democratic Virginia Senator Mark Warner and Republican Senate Majority Whip John Cornyn have introduced legislation in the Senate to institutionalise the US-India security partnership.
"The US-India Defense Technology and Partnership bill bestows upon India the status it deserves as a partner in promoting security in Asia and around the world," said Senator Warner on Tuesday after introducing the bill in the Senate.
The legislation seeks to elevate India to the same status as America's allies in the North Atlantic Treaty Organisation, as well as its other major treaty partners like Japan, Australia, New Zealand and Israel, for the purpose of arms-sales notifications. Both China and Pakistan are likely to sit up and take note of the move as many countries have sought and been denied this status.
"As an important partner with a flourishing economy, India has huge potential as a market for American defense manufacturers," noted Senator Warner.
The US-India Defense Technology and Partnership Act underlines the dramatic change in today's political environment. Prime Minister Narendra Modi who is likely to address a joint session of the US Congress in June will further cement bilateral defense ties during his visit to Washington. The Modi government knows it cannot aggressively pursue military modernisation without access to advanced US weaponry and technology. Of course, the prime minister has his work cut out: he has to sell the pact to New Delhi's intractable defense establishment, people who struggled through the era of harsh US sanctions after Vajpayee's government conducted the 1998 nuclear tests.
In a telling sign of a bolder strategic engagement between Washington and New Delhi, the US may be willing to examine the sale or joint production of missile shield systems to help New Delhi guard against nuclear threats. US Secretary of Defense Ashton Carter, who has vigorously pushed for an effective defense partnership over the past eight years, first mooted this idea in 2012. But without key legislation in place, the Americans have had to watch from the sidelines while New Delhi approved the procurement of Russian S-400 systems. Last year, India become the second foreign buyer of the advanced Russian surface-to-air ballistic missile defense system after China.
According to defense analysts, the US is hoping to sell India the Patriot Advanced Capability (PAC)-3 missile defense system but India is more interested in building its own systems than buying some from the US. The 'hit-to-kill' American PAC-3 missile is the world's most advanced and can destroy enemy-fired tactical ballistic missiles carrying weapons of mass destruction, advanced cruise missiles and aircraft. During Operation Iraqi Freedom, a mix of PAC-3 missile interceptors and PAC-2 air defense missiles destroyed a series of short-range ballistic missiles fired by Iraq.
Pakistan and China will obviously follow any US-India anti-missile cooperation with great interest, as cooperation in this area is not only an indication of their shared strategic interests, but also has implications for India which is developing its own indigenous Ballistic Missile Defence (BMD) system to defend against both Pakistani and Chinese missiles. India started its own BMD programme in 1995.
The US-India Business Council (USIBC) hailed Senator Warner and Coryn's leadership in introducing this bill in the Senate. Republican Congressman George Holding from North Carolina introduced similar legislation in the House of Representatives in March.
"The commercial and security imperatives for a robust defense partnership between the US and India could not be clearer. Defense trade has risen from some $300 million to over $14 billion over the last 10 years and there is every reason to expect it to rise further," said USIBC President Mukesh Aghi.
The Indian military is considering purchasing major weapons systems from American companies. The countries are also holding talks on the supply of F-16 and F/A-18 fighter jets for the Indian Air Force.
The Modi government has pursued three "foundational defense agreements" — the Logistic Exchange Memorandum of Agreement (LEMA), the Communication and Information Security Memorandum (CISMOA) and the Basic Exchange and Cooperation Agreement (BECA). The previous UPA government opposed these three agreements as they argued that they would undermine India's policy of nonalignment. The logistics agreement will allow both countries to access each other's supplies, spare parts, and services from military bases and ports, making it easier to coordinate their military activities.
The Modi government has asked the United States to modify the agreements so that India's security and sovereignty are not compromised.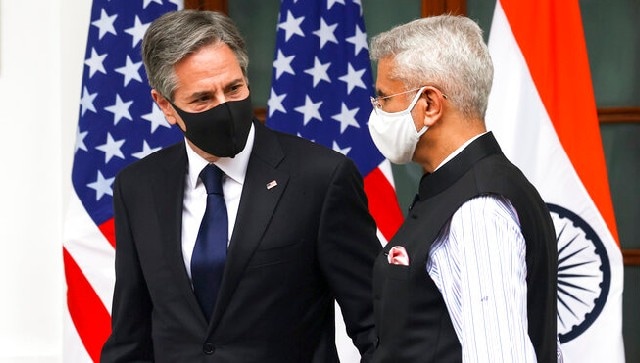 World
On the vaccine front, when asked about when India will get the two US-made vaccines Moderna and Pfizer, Blinken said that there were approvals, regulatory and legal processes required for receiving vaccines, and "that's where things stand
World
Antony-blinken News: Antony Blinken's India visit, US Secretary Of State Antony Blinken Arrives In Delhi On A Two-day Visit To India,will meet Indian Prime Minister Narendra Modi and Foreign Minister S Jaishanka, and Doval Today, Security High on Agenda as Blinken Meets Jaishankar,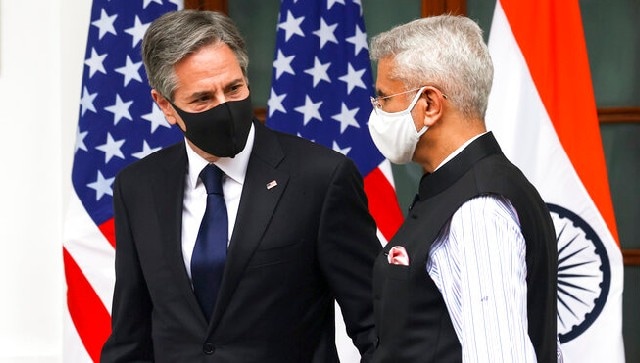 World
At a joint presser held after the meeting, Antony Blinken expressed the Biden administration's intent to grow stronger bilateral ties with New Delhi and stressed on the importance of cooperation on various regional and global issues