New Salvadoran migrant caravan forms; hundreds wait at U.S.-Mexico border
By Nelson Renteria SAN SALVADOR (Reuters) - At least 150 Salvadorans set off on Sunday from their impoverished Central American country in a U.S.-bound caravan, ignoring their likely rejection at the U.S.-Mexico border where a larger caravan of mostly Hondurans has been stalled for days. Guarded by police officers, the men, women and children of the gathering caravan marched through San Salvador's streets to Guatemala-bound buses, loaded with heavy backpacks, water and the knowledge of an arduous 2,700-mile (4,300-km) trek ahead to the U.S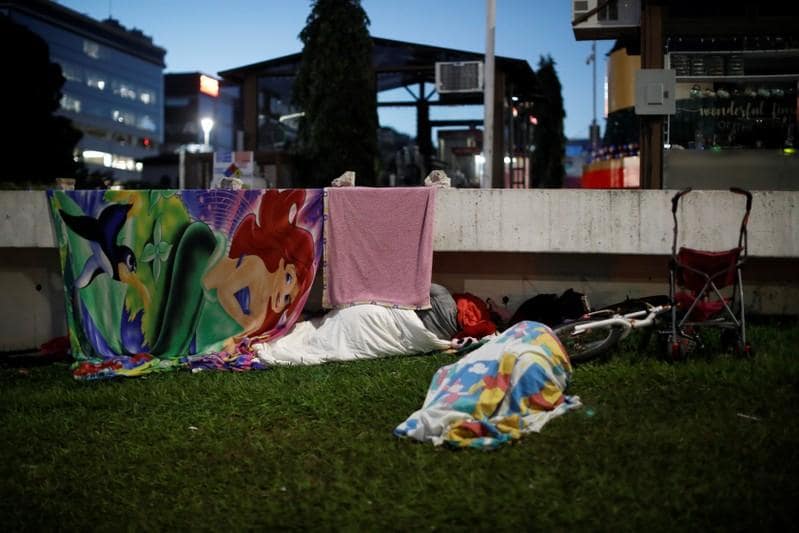 By Nelson Renteria
SAN SALVADOR (Reuters) - At least 150 Salvadorans set off on Sunday from their impoverished Central American country in a U.S.-bound caravan, ignoring their likely rejection at the U.S.-Mexico border where a larger caravan of mostly Hondurans has been stalled for days.
Guarded by police officers, the men, women and children of the gathering caravan marched through San Salvador's streets to Guatemala-bound buses, loaded with heavy backpacks, water and the knowledge of an arduous 2,700-mile (4,300-km) trek ahead to the U.S. border.
The group from El Salvador was at least the fourth caravan to set off since a first, large-scale mobilization in neighboring Honduras, which departed on Oct. 13 from the crime-wracked northern city of San Pedro Sula.
That caravan quickly grew to thousands as it moved north on daily 30-mile (50-km) treks. Many of its members were still winding their way on Sunday through Mexico toward the U.S border, where hundreds of early arrivals have been waiting since last week to cross.
Ahead of the Nov. 6 midterm U.S. congressional elections, President Donald Trump denounced the large caravan as an "invasion" that threatened American national security and sent thousands of active-duty U.S. troops to the border with Mexico. Trump has not publicly focused on the caravan since the election.
Inspired by the public spotlight on the larger caravan, Salvadorans organized themselves on social networks and the WhatsApp application to launch the latest effort.
Among them was Manuel Umana, a 53-year-old farmer from the town of San Pedro Masahuat, who said he decided to join Sunday's caravan to escape MS-13, a brutal criminal gang that controls large parts of El Salvador and neighboring Honduras.
"We are already threatened by the gangs where we live," said Umana, pointing to scars on his face he said gang members had inflicted five years ago. "We no longer can live with these people."
His motives echoed dozens of migrants in the earlier caravans who told Reuters they were abandoning their homes to escape a toxic mixture of violence, corruption and economic insecurity.
El Salvador and Honduras compete for the highest homicide rates in the world, according to official figures. Both countries rank among the poorest in the Americas.
    "It is very dangerous but we have no other alternative. We are determined to do what we need to do," said Umana, before leaving with the rest of the caravan from the Salvadoran capital's central Plaza Salvador del Mundo.
Far to the north on Sunday, in the city of Tijuana that abuts California, hundreds of people from the larger caravan braced for planned protests from local Mexicans both in favor and against them.
Just over the northern border, nearly 6,000 U.S. troops in recent days have stretched barbed wire to dissuade illegal entries.
U.S. immigration authorities, meanwhile, barred passage to dozens of the migrants who in recent days formed orderly lines to enter through the San Ysidro Port of Entry connecting Mexico to San Diego.
(Additional reporting by Lizbeth Diaz in Tijuana; Writing by Delphine Schrank; Editing by Will Dunham)
This story has not been edited by Firstpost staff and is generated by auto-feed.
Business
By Pete Schroeder WASHINGTON (Reuters) - JPMorgan Chase & Co will resume making political donations to U.S. lawmakers but will not give to Republican members of Congress who voted to overturn President Joe Biden's election victory, according to an internal memo on Friday seen by Reuters. The bank was among many corporations that paused political giving following the deadly Jan
Business
(Reuters) - Fintech company Square Inc is considering making a hardware wallet for bitcoin, Chief Executive Officer Jack Dorsey said in a tweet https://twitter.com/jack/status/1400839179513339905 on Friday. As bitcoin and other crypto-currencies have gained in popularity, many companies have emerged to serve a growing need to protect these assets from online theft. Bitcoin wallets can be stored offline or online at cryptocurrency exchanges, venues where bitcoin can be bought and sold for traditional currencies or other virtual coins.
Business
By Foo Yun Chee BRUSSELS (Reuters) -The European Commission on Friday defined the scope of revised copyright rules adopted last year following criticism from governments, including France and Poland, but EU broadcasters and internet activists said there was a danger of censorship. The revamped copyright directive, the first overhaul in two decades, aimed to provide fair compensation for the bloc's $1 trillion creative industry and its 11.7 million employees. A central provision, Article 17, backed by the creative industry, would force Google-owned YouTube, Facebook's Instagram and other sharing platforms to install filters to prevent users from uploading copyrighted materials