New Mexico shooting: Two dead, four injured after gunman opens fire in Clovis, attacker nabbed
Two people were killed and four hospitalized on Monday after a young man opened fire at a public library in the small city of Clovis, New Mexico
Mexico: Two people were killed and four hospitalized on Monday after a young man opened fire at a public library in the small city of Clovis, New Mexico, local officials said.
The man began shooting at the library at around 4.00 pm and was arrested after police surrounded the building.
The killings at such a public place was a tragic blow for the farm town close to the Texas border, said Clovis Mayor David Lansford.
"This is a big blow to our community", Lansford said at a news conference. "Two individuals have lost their lives. Their families will not see them come home."
The names and ages of the victims were not released, but a spokesman for University Medical Center in Lubbock, Texas, said three people were being treated there Monday evening and a fourth was en route.
Spokesman Eric Finley said that two of the patients already at the facility about 100 miles (161 kms) southeast of Clovis were in critical condition.
Police chief Douglas Ford said at the news conference that the man was the suspect. He would not release the alleged shooter's name or age, but said that he gave himself up to police when they arrived on the scene.
Ford would not release details about the victims, other than to say the two people who died were both female. Those injured included two female victims and two male victims, Ford said. He did not say how old they were.
Interim City Manager Tom Phelps told the Eastern New Mexico News that the person arrested was the shooter.
Clovis, with a population of about 40,000, is around 190 miles (306 km) east of Albuquerque. It is home to Cannon Air Force Base.
The base, about eight miles west of the town, is the location of the 27th Special Operations Wing of the Air Force. Officials at the base did not immediately respond to a request for comment.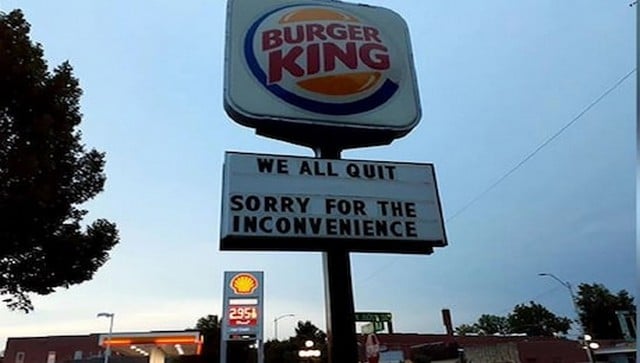 World
Put up by disappointed workers trying to send a message to the management, the sign reads "we all quit" and "sorry for the inconvenience"
Sports
Elavanil finished 16th after shooting 626.5 over six series of 10 shots each, while the more experienced Apurvi settled for the 36th place after aggregating 621.9 at the Asaka Range.
Sports
Alongside the experienced Deepak Kumar, the 18-year-old Divyansh will represent India in the men's 10m air rifle event on Sunday, the second competition day at the Tokyo Olympic Games.