New internet rules to give Pakistan blanket powers of censorship
By Asif Shahzad ISLAMABAD (Reuters) - Pakistan is all set to roll out new internet rules that critics say will give the government wide powers of censorship after rejecting requests from social media companies for consultation.
By Asif Shahzad
ISLAMABAD (Reuters) - Pakistan is all set to roll out new internet rules that critics say will give the government wide powers of censorship after rejecting requests from social media companies for consultation.
Muslim-majority Pakistan already has media regulations that adhere to conservative social customs. Last month, the Pakistan Telecommunication Authority (PTA) blocked TikTok for failing to filter out "immoral and indecent" content.
The new rules were approved initially by Prime Minister Imran Khan's cabinet in February.
They give the PTA "removal and blocking" powers of digital content that "harms, intimidates or excites disaffection" towards the government or poses a threat to the "integrity, security and defence of Pakistan".
A service provider or social media company could face a fine up to 500 million rupees ($3.14 million) for non-compliance, which would in turn trigger a mechanism preventing the uploading and live streaming, particularly related to "terrorism, hate speech, pornography, incitement to violence and detrimental to national security".
A platform has to act within 24 hours or, in case of an emergency, six hours to remove content. The rules also empower the telecom authority to block an entire online system.
PTA spokesman Khurram Mehran told Reuters the rules were meant for a better coordination with foreign-based social media companies, which usually "don't respond to legal requirements".
Any platform that has more than half a million users in the country will have to register with the PTA within nine months and establish a permanent office and database servers in Pakistan within 18 months.
The new rules shocked rights activists who complained that there had been no consultation.
"The expansion of these powers is just horrendous," Nighat Dad, a digital rights activist, told Reuters.
"The consultation never occurred," said Jeff Paine, managing director, Asia Internet Coalition (AIC), a joint forum of social media platforms, urging the government to "work with industry on practical, clear rules".
The AIC said in a statement: "The draconian data localisation requirements will damage the ability of people to access a free and open internet and shut Pakistan's digital economy off from the rest of the world.
"It's chilling to see the PTA's powers expanded, allowing them to force social media companies to violate established human rights norms on privacy and freedom of expression."
(Reporting and writing by Asif Shahzad; Additional Reporting by Umar Farooq in Islamabad; Editing by Nick Macfie)
This story has not been edited by Firstpost staff and is generated by auto-feed.
Find latest and upcoming tech gadgets online on Tech2 Gadgets. Get technology news, gadgets reviews & ratings. Popular gadgets including laptop, tablet and mobile specifications, features, prices, comparison.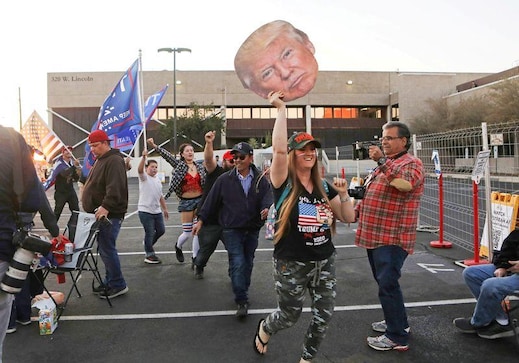 World
By Jarrett Renshaw and Joseph Tanfani (Reuters) - As President Donald Trump seeks to discredit last week's election with baseless claims of voter fraud, his team has bombarded his supporters with requests for money to help pay for legal challenges to the results: "The Left will try to STEAL this election!" reads one text. But any small-dollar donations from Trump's grassroots donors won't be going to legal expenses at all, according to a Reuters review of the legal language in the solicitations
World
RIYADH (Reuters) - Saudi Arabia's King Salman bin Abdulaziz urged the world on Thursday to take "a decisive stance" to address efforts by Iran to develop nuclear and ballistic missile programs, in an annual address to the top government advisory body. "The kingdom stresses the dangers of Iran's regional project, its interference in other countries, its fostering of terrorism, its fanning the flames of sectarianism ..
World
By Jose Sanchez BELIZE CITY (Reuters) - Belizeans headed to the polls on Wednesday to replace a veteran prime minister, with many in the tiny Central American country saying they were ready for change to repair an economy battered by pandemic-driven shutdowns. Dean Barrow, the outgoing prime minister, ran Belize for more than a dozen years.