New defence deal a firm indicator that US regards India as a rising, responsible global power
In other words, contrary to what the critics say, under the LEMOA, India will not fight America's wars and the vice-versa
Strange it may seem, but it is true that the most important outcome of the ongoing visit of Defence Minister Manohar Parrikar to the Unites States has been grossly underplayed. And that is understandable, given the opportunity this development will provide to the Modi government's formidable critics in the days to come.
It is worth noting that over the last one year or so, Parrikar and his American counterpart Ash Carter have interacted on six occasions. This is Parrikar's second official visit to the US. Carter was here in New Delhi in April.
Though Parrikar's visit is strictly on at the moment, the US Department of Defence has already brought out the "joint statement" of the visit. Expectedly, the statement has mentioned how in the sphere of defence, both India and the Unites States have come a long way ever since the two countries signed the New Framework for Defence Cooperation in June 2005.
This June, the summit meeting at Washington between President Barack Obama and Prime Minister Narendra Modi in June resulted in India being designated as "a major defence partner of the United States", thus adding teeth to the two countries' 2012 creation of the Defence Technology and Trade Initiative (DTTI). Being a major defence partner is a framework that is supposed to facilitate innovative and advanced opportunities in defence technology and trade cooperation between India and the US.
In between, by surpassing Russia, the Unites States has become India's biggest arms supplier. Besides, India is now a country with which the United States conducts the largest number of peace-time military exercises bilaterally every year (nearly 70). All these have fitted well into their respective big scheme of things, with United States focusing on "a rebalance to the Asia-Pacific" and India reaching east to extend its reach in the broader Indo-Asia-Pacific region (Act-East policy).
However, in my considered view, the most important part of the joint statement happens to be just two-and-half lines mentioned in its second last paragraph: "They (Carter and Parrikar) also welcomed the signing of the bilateral logistics exchange memorandum of agreement (LEMOA), which will facilitate additional opportunities for practical engagement and exchange."
To begin with, LEMOA is a term that one has heard for the first time in the vocabulary of the Indo-US defence parlance. During his India-visit in April, Carter was using the term 'Logistics Support Agreement' (LSA), which the United States, incidentally, had been pressing India since 2004, along with Communication and Information Security Memorandum of Agreement (CISMOA) and the Basic Exchange and Cooperation Agreement (BECA). CISMOA would allow the United States to supply India with its propriety encrypted communications equipment and systems, so as to first secure peacetime and wartime communication between high-level military leaders on both sides, and then extend this capability to Indian and US military assets, including aircraft and ships. BECA would set a framework through which the United States could share sensitive data to aid targeting and navigation with India.
According to the Americans, the Indo-US strategic partnership can be really meaningful and enhanced once New Delhi signs LSA, CISMOA and BECA. Signing on the LSA has been the first step in that direction. The then United Progressive Alliance (UPA) government led by Manmohan Singh was all for the conclusion of the LSA, but it did not have the courage to go for actual signing, afraid as it was that the opposition and Left-leaning experts will consider it as formalising a military alliance with the US by violating its traditional policy of not allowing foreign military presence (howsoever temporary it may be, on its soil except for purposes of training and joint exercises) and that China will be angered in the process.
With the coming of the Modi government, it was thought that a favourable decision would be taken at the earliest; but that did not happen. The Modi government was also being constrained by the same factors. As a result, the much-anticipated conclusion of the LSA did not materialise during carter's April visit. That time, Parrikar and Carter only agreed "in principle" to sign a "Logistics Support Agreement", the then joint statement said. Now, four months after, we have that agreement; an agreement which the Americans have been pressing for 12 years, since the sixth meeting of the India-US Defence Policy Group (DPG) in June 2004, to be precise.
What then is the LSA, sorry, now LEMOA? It is the India-specific version of the Acquisition and Cross-Servicing Agreement (ACSA) that the US has with many of its North Atlantic Treaty Organisation (Nato) allies. Under this Agreement, the US agrees to provide Logistics Support, Supplies and Services (LSSS) to military forces to countries or organisations in return for the reciprocal provision of logistics support, supplies and services by such governments or organisations to the US military forces.
The LEMOA would come into picture during joint military exercises, training requirements, deployments, unforeseen emergencies, exigent circumstances, peacekeeping and disaster relief operations, and wartime needs as well as exercises to correct logistic deficiencies which cannot be met by a nation on its own, according to available literature. It will provide military commanders' "enhanced operational readiness and cost effective mutual support". It means that the military personnel of India and the US can use each other's equipment (mentioned under LSSS), including food, water, clothing, medical services, accommodation, transportation, petroleum, oils, lubricants, storage services, communication services, and base operations support.
Importantly, all these are paid-services, that is, the country using other's facilities will bear the economic cost. Besides, the agreement prohibits the exchange of major weapons and weapon-platforms such as fighter aircrafts, ships, missiles and bombs, let alone nuclear weapons. Also, every request of one party would be acceded to by the other only after a review. Thus, no party is bound to agree for every respect; it can say no if its national interests dictate so.
What is most significant is that the LEMOA would not permit permanent base rights for the military forces in either country. Nor for that matter it compels one to commit its forces for the military operations by the other. In other words, contrary to what the critics say, under the LEMOA, India will not fight America's wars and the vice-versa. In fact, this point was made very clear by none other than the then External Affairs Minister Pranab Mukherjee (currently our President). He had said: "This (LSA) does not envisage providing military facilities to US forces. Neither does it provide for unqualified Indian support to the US in any armed conflict to which India is not a party." He had also emphasised that the proposed agreement "does not carry any commitment to assist each other during periods of armed conflict".
The point that emerges is that even under LEMOA there is freedom for both the sides to decline any request for logistical support if that is not in one's national interests. So the apprehensions of all those who love US-bashing are highly misplaced. As regards the sensitivities of China and Pakistan (in fact, as I write this piece, there are angry reactions from Pakistan and China to the conclusion of the LEMOA), the lesser said the better. China can hurt India's core national interests by denying it the access to the Nuclear Supply Group, threatening it against carrying out natural explorations in the South China Sea, intervening in Kashmir and arming Pakistan to its teeth, both in nuclear weapons and missiles, but it has a problem if we protect our long term strategic needs by collaborating with friendly countries.
All told, the LEMOA is a firm indication that the US wants to be a partner in increasing the operational outreach of Indian armed forces and that it regards India as "a rising power and a responsible global power", something China will never do.
Find latest and upcoming tech gadgets online on Tech2 Gadgets. Get technology news, gadgets reviews & ratings. Popular gadgets including laptop, tablet and mobile specifications, features, prices, comparison.
India
The strong rebuttal came after Imran Khan spoke about India's internal affairs, including the issue of Jammu and Kashmir, at the high-level General Debate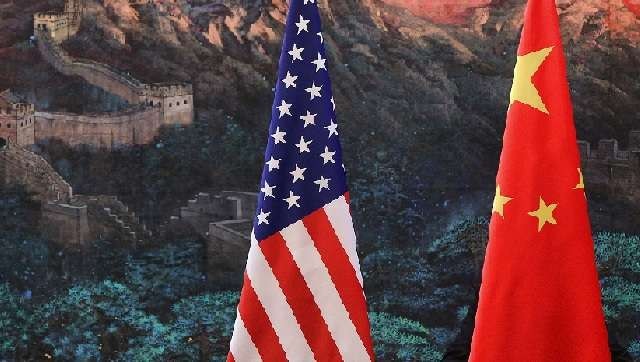 World
China's UN Ambassador Zhang Jun rejected Trump's accusations of China spreading COVID-19 as 'baseless' and said, 'Lies repeated a thousand times still lie'
India
During an India-Denmark meet, Modi said the pandemic has brought forth the need for countries believing in transparency, rule-based order to work together