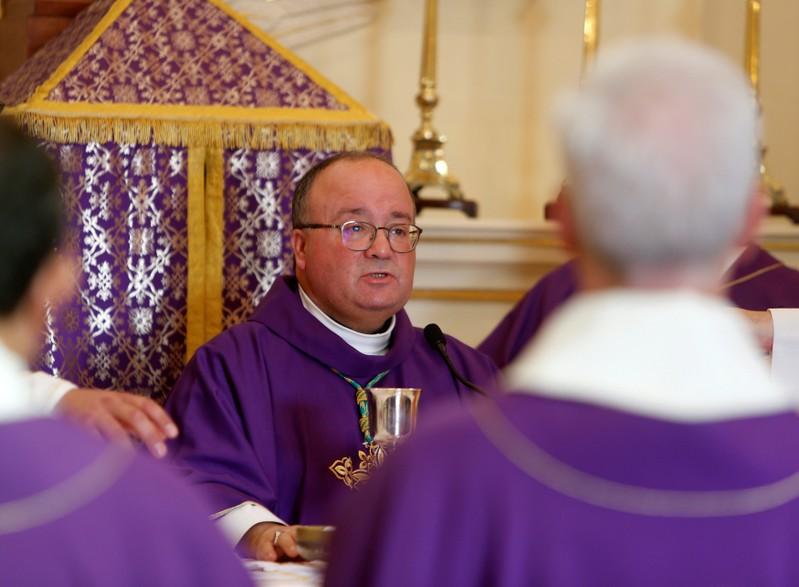 By Aislinn Laing
SANTIAGO (Reuters) - More sex abuse accusations against the Roman Catholic Church in Chile are emerging, including against Pope Francis's own Jesuit order, shortly after the Vatican accepted resignations from three of the country's bishops in the wake of an abuse and cover-up scandal that has seriously damaged the conservative Andean country's most popular religion.
Several people who claim to have been abused by members of the Jesuit and Marist religious communities in Chile said they have requested time with Archbishop Charles Scicluna of Malta, and Father Jordi Bertomeu, a Spanish official from the Vatican, during their week-long "reparation and reconciliation" mission due to start on Tuesday in Santiago.
Scicluna and Bertomeu were in Chile in February to investigate accusations of abuse. They conducted 64 interviews during that visit. The scandal came to a head when the pontiff visited the country in January.
One of the most recent accusers to step forward, Helmut Kramer, a 48-year-old engineer from Santiago, told Reuters on Monday that at the age of 13, he was forced to strip and was fondled by Father Leonel Ibacache, a Jesuit, in meetings held under the pretext of preparing him for baptism and enrollment in the Jesuit school in the northern city of Antofagasta in 1983.
Kramer said in an interview that he told a senior Church official about the abuse several years later, but nothing was done. That official, too, was later accused of sexual abuse by young catholics and was removed from his post in 2013. Ibacache, who also taught in the city of Puerto Montt, was later transferred without public explanation to a school in Santiago.
"I kept quiet all those years. I thought I was the only one in the world who had ever suffered that," Kramer said. "I hope that at least the pope feels ashamed that it happened in his own order."
The Chilean Jesuit order confirmed that it had received several complaints about Ibacache, now in his 90s and retired, and said it had appointed an independent lay lawyer to investigate and appealed to victims to come forward.
"Our commitment is to investigate in depth, objectively and with rigor ... to reach the truth and advance in the way of reparation," the order said in a statement last week.
Jesuit spokesman Felipe Contreras in Santiago said on Monday that Ibacache did not wish to comment. Reuters could not independently reach him.
The cases that have drawn the most attention to date involved Father Fernando Karadima, whom a Vatican investigation found guilty in 2011 of abusing teenage boys in Santiago over many years.
Scicluna and Bertomeu are due to travel to the southern city of Osorno, where some of the biggest protests about abuse and the alleged cover-up in Chile's Catholic Church have taken place.
The pope on Monday accepted the resignations of three of Chile's 34 bishops who were summoned to Rome last month, including Osorno's Juan Barros, who is accused of masking abuses by pedophile priest Fernando Karadima.
Barros has denied covering up abuse but on Monday apologized for his "limitations" for handling the scandal.
Another religious community, the Marist Brothers, has promised "resolute, immediate and practical" measures to handle new abuse accusations.
During a visit to Santiago last week, Luis Gutierrez, the Marist Brothers' global second-in-command, met alleged victims and said he was committed to delivering abusers into the hands of civil authorities.
"It is a tragedy that a mission founded on the honorable objective of offering education should in some cases have caused such harm, pain and suffering," he told reporters on Thursday.
Father Enrique Opazo, a priest based in the seaside resort of Vina del Mar who has been critical of how the Church handled the crisis in Chile, said it was time for "wholesale" change.
"Three is not enough. We need at least 15 or 20 new faces among the bishops," Opazo said in an interview this week. "Let go all of those who had any brush with these things, who covered up or caused pain."
(Reporting by Aislinn Laing and Antonio de la Jara in Santiago; Editing by Caroline Stauffer and James Dalgleish)
This story has not been edited by Firstpost staff and is generated by auto-feed.
Firstpost is now on WhatsApp. For the latest analysis, commentary and news updates, sign up for our WhatsApp services. Just go to Firstpost.com/Whatsapp and hit the Subscribe button.
Updated Date: Jun 13, 2018 00:06:02 IST