Netherlands set to prosecute suspects in MH17 airliner downing
NIEUWEGEIN, Netherlands (Reuters) - International investigators are set on Wednesday to launch criminal proceedings against suspects in the shooting down of Malaysia Airlines Flight MH17 over eastern Ukraine nearly five years ago. The Dutch-led international team tasked with assigning criminal responsibility for the plane's destruction is to inform victims' families of progress in their case on Wednesday morning, followed by a presentation to the media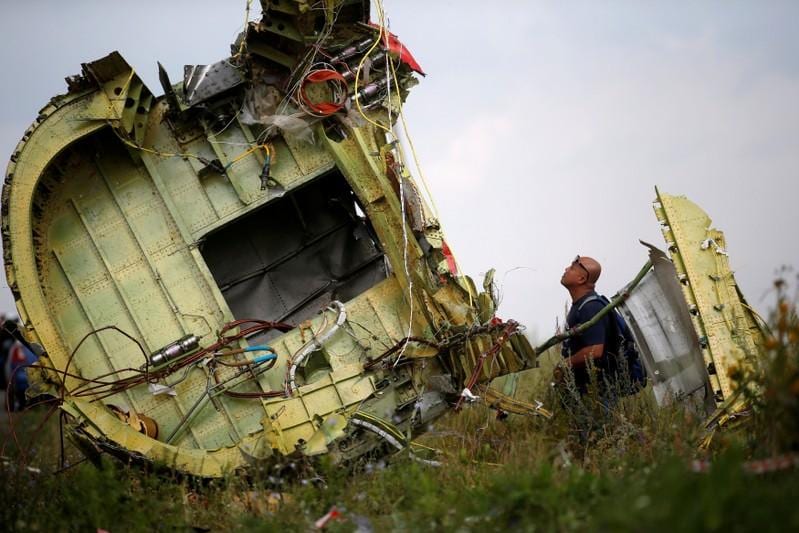 NIEUWEGEIN, Netherlands (Reuters) - International investigators are set on Wednesday to launch criminal proceedings against suspects in the shooting down of Malaysia Airlines Flight MH17 over eastern Ukraine nearly five years ago.
The Dutch-led international team tasked with assigning criminal responsibility for the plane's destruction is to inform victims' families of progress in their case on Wednesday morning, followed by a presentation to the media.
Dutch broadcasters RTL and NOS reported late last week that investigators would reveal the names of individual suspects.. An Interfax Ukraine report on Tuesday quoted Ukraine's Deputy Minister of Foreign Affairs Olena Zerkal in an interview as saying prosecutors would name four "top" suspects.
MH17 was shot out of the sky on July 17, 2014 over territory held by pro-Russian separatists in eastern Ukraine as it was flying from Amsterdam to the Malaysian capital Kuala Lumpur. All 298 people on board were killed.
Most victims were Dutch. A joint investigation team formed in 2014 by Australia, Belgium, Malaysia, the Netherlands and Ukraine found that the plane was shot down by a Russian missile.
The Russian government denies having lent any support to pro-Russia rebels fighting Ukrainian government troops and also denies any involvement in shooting down MH17.
Last year Russian President Vladimir Putin called MH17's downing a "terrible tragedy" but said that Moscow was not to blame and that there are other explanations for what happened.
The governments of the Netherlands and Australia have said they hold Russia legally responsible.
Prosecutors have previously said the missile system that brought down the plane came from the Russian 53rd Anti-Aircraft Brigade, based in the western Russian city of Kursk.
They said their next step would be to identify individual culprits and to attempt to put them on trial.
The Netherlands has said Russia has not cooperated with the investigation and Moscow is not expected to surrender suspects.
Dutch authorities have said suspects may be tried in absentia.
(Reporting by Toby Sterling; Editing by Mark Heinrich)
This story has not been edited by Firstpost staff and is generated by auto-feed.
Find latest and upcoming tech gadgets online on Tech2 Gadgets. Get technology news, gadgets reviews & ratings. Popular gadgets including laptop, tablet and mobile specifications, features, prices, comparison.
Business
(Reuters) - Gilead Sciences Inc is nearing a deal to buy biopharmaceutical company Immunomedics Inc for more than $20 billion, the Wall Street Journal reported on Saturday, citing people familiar with the matter. A deal for Immunomedics, which last month reported positive data from a late-stage study for its breast-cancer drug, could be announced Monday if not sooner, the Journal said https://www.wsj.com/articles/gilead-nears-deal-to-buy-immunomedics-for-more-than-20-billion-11599936777?mod=hp_lead_pos2. Gilead and Immunomedics did not respond immediately to emailed requests from Reuters for comment
Business
SHANGHAI (Reuters) - China banned pork imports from Germany on Saturday after it confirmed its first case of African swine fever last week, in a move set to hit German producers and push up global prices as China's meat supplies tighten. China's ban on imports from its third largest supplier comes as the world's top meat buyer deals with an unprecedented pork shortage after its own epidemic of the deadly hog disease. The ban on Germany, which has supplied about 14% of China's pork imports so far this year, will push up demand for meat from other major suppliers like the United States and Spain, boosting global prices.
Business
CAIRO (Reuters) - Libyan commander Khalifa Haftar has committed to ending a months-long blockade of oil facilities, the U.S.