Netanyahu renews call for challenger Gantz to join him after president Rivlin tasks Israel PM to form new govt
Israel's president on Wednesday tasked Prime Minister Benjamin Netanyahu with forming a new government after last week's deadlocked elections, his office announced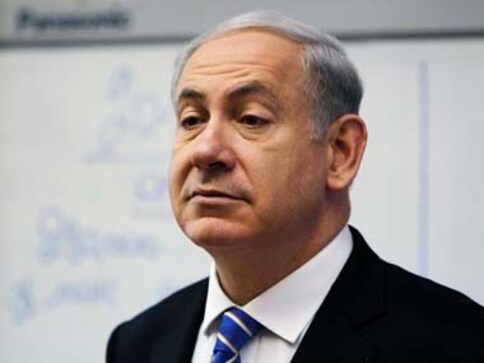 Israel's president Reuven Rivlin has tasked Prime Minister Benjamin Netanyahu with forming a new government after last week's deadlocked elections

The announcement followed a joint meeting between Rivlin, Netanyahu and the premier's challenger Benny Gantz

Soon after the announcement, Netanyahu renewed his call for Gantz to join him in a unity coalition

Netanyahu will have 28 days to form a government, with a possible two-week extension; if all attempts fail, Rivlin can then assign the task to someone else
Jerusalem: Israel's president on Wednesday tasked Prime Minister Benjamin Netanyahu with forming a new government after last week's deadlocked elections, his office announced.
The announcement followed a joint meeting between President Reuven Rivlin, Netanyahu and the premier's challenger Benny Gantz.
Netanyahu will have 28 days to form a government, with a possible two-week extension.
If all attempts fail, Rivlin can then assign the task to someone else.
Soon after the announcement, Netanyahu renewed his call for Gantz to join him in a unity coalition.
Netanyahu made the comments to journalists after accepting President Reuven Rivlin's mandate to try to form a government following last week's deadlocked elections.
But the two sides appear far apart, including on who should lead a unity government.
Rivlin has also been urging Netanyahu and Gantz to form a unity government, but a compromise appears a long way off.
Final results from 17 September elections gave Gantz's centrist Blue and White 33 seats, ahead of Likud's 32 out of parliament's 120.
Neither has a clear path to a majority coalition.
Netanyahu received the endorsement of 55 members of parliament for the post of prime minister after the election, while Gantz received 54.
World
Bahrain, the United Arab Emirates and Morocco all opened ties with Israel under the US-brokered Abraham Accords in 2020, while Egypt made peace with the Jewish state in 1979
World
After the ice cream brand boycotted the sale in Israel-occupied territories, its parent company Unilever reviewed its conduct and finally sold it off to Israeli firm Avi Zinger. The products, however, will still carry the Hebrew and Arabic versions of the brand names, and not the English brand
World
The UN rights office inspected photo, video and audio material, visited the scene, consulted experts, reviewed official communications and interviewed witnesses before concluding the investigation