Nepal earthquake: More than 3,00,000 houses damaged, says UN report
The Nepal earthquake has destroyed over 1,60,000 houses and damaged around 1,40,00 more according to a United Nations report.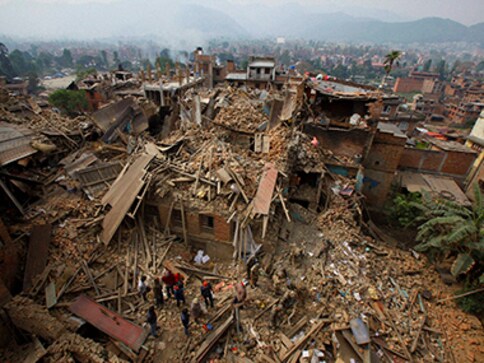 Kathmandu: The number of houses destroyed in quake-hit Nepal is over 1,60,000, nearly twice the number of households wrecked in the 1934's deadly temblor that has been the country's worst disaster of all times.
In worst-affected districts like Gorkha and Sindhupalchowk, the damage is even more extensive, with up to 90 per cent of houses destroyed, according to a situation report released by the United Nation's humanitarian agency OCHA (Office for the Coordination of Humanitarian Affairs).
"According to the government, the earthquake destroyed 1,60,786 houses and damaged 1,43,642 (as of May 1). The government is currently projecting this caseload to increase to a total number of 5,00,000 houses destroyed," it said.
On 25 April, a powerful 7.9-magnitude earthquake, with its epicentre located at about 80 km north-west of Kathmandu, hit the country and left a trail of death and devastation, killing over 7,000 and injuring 14,123 others.
Among the affected districts, Sindhupalchowk has reported the maximum casualties with over 2,000 deaths, and several hundreds have died in Gorkha, where the epicentre of the deadly quake lay that fateful day.
The report has also estimated $415 million as needed for vital humanitarian relief in the quake-ravaged country.
According to the report, the number of houses wrecked in the earthquake 81 years ago stood at 80,893.
The 1934 Great Nepal-Bihar Earthquake, with its epicentre about 9.5 km south of Mt Everest, had killed several thousands people on both sides of the Himalayas and practically flattened Kathmandu Valley besides levelling several districts in Bihar like Munger, Muzaffarpur and Darbhanga, destroying houses and grand palaces.
The 25 April quake has in many ways become an eerie reminder to the 1934 quake, which too has robbed the culturally-rich country of its architectural jewels, including the iconic Ghantaghar (clock tower). The Dharhara tower, a veritable landmark of the city was destroyed in 1934 as well, but was rebuilt later, only to meet a more cruel fate this time.
In Sindhupalchowk, a train of flattened houses sends a chill down the spines of visitors and rescue workers. Tents and tarpaulins can be seen lining the stretch from Kathmandu to Sindhupalchowk, with some even forced to do with a makeshift facility near river and in farm fields. 21-year-old Salu in Dolalghat area in Kavre district says she is still scared to step into her house.
"Our house has developed major cracks and it is right by the river bank. We have left all our belongings inside and we are now sleeping under tents at a community place," she said.
Saroj Shreshta, a 19-year-old business management student here is currently back in his hometown Andheri to assist his family and friends. The hotel owned by his family right next to the Sun Kosi river has now turned into an earthquake shelter.
"Our places used to be filled with visitors and happy foreigners, who loved the location and the natural beauty of the hills and the river. Now, you can only see sad and depressed faces, and most of them scared," Shreshta told PTI.
The International Federation of Red Cross and Red Crescent Societies have reported that 25 National Societies are supporting the Nepalese Red Cross Society providing critical life-saving relief. The report said that they have provided nearly 15,000 tarpaulins and some 1,000 blankets as well as several hundreds of hygiene kits and thousands of water purification tablets.
OCHA's Resident Coordinator in Nepal James McGoldrick told state-run Nepal Television: "The whole culture, centres of years of history on display have been blown away. "And, these were not just buildings but also part of the psyche of the country... But, people of Nepal have shown great resilience and (are) building back their lives."
In Kathmandu Valley, besides the capital - which has lost its architectural grandeur and overwhelming number of houses, Bhaktapur and Patan areas have also suffered major damage where streets by dark appear haunted now, with barely a soul to be seen.
Police said they are patrolling the area to guard houses against theft and some of the heritage structures there. According to the report, 1,383 schools have also been damaged in the quake.
PTI
World
Meanwhile, India's Permanent Representative to the UN, Ambassador Ruchira Kamboj spoke on behalf of the G4 countries including Brazil, Germany and Japan
World
The organisation said that the aim was to update a list used to guide global research and development (R&D) and investment, especially in vaccines, tests and treatments
World
Deuba secured 25,534 votes against his nearest rival Sagar Dhakal, 31, an independent candidate who received 1,302 votes. Deuba has never lost any parliamentary election in the five decades of his political career