Nepal Earthquake: Clogged border crossing causes food for victims to rot
The perishable food items in the relief packages to earthquake-hit Nepal are beginning to rot as the vehicles carrying them have to wait in long queues at a clogged border crossing.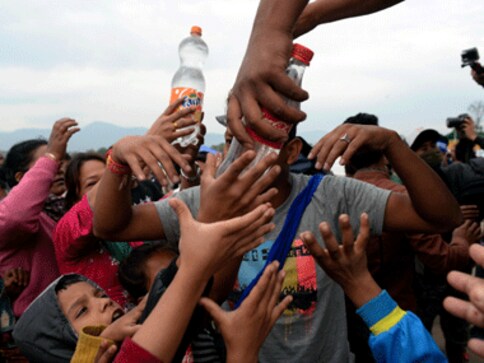 Nepal: Fruit, bread and other perishable commodities have begun to go bad as vehicles carrying relief material to quake-hit Nepal wait at a clogged border crossing.
The better known route to the Himalayan nation from Uttar Pradesh, is the Sunauli border near Gorakhpur. But this route is choked these days as hundreds of transport vehicles, light motor vehicles, and state-owned buses from Uttar Pradesh, Uttarakhand, Bihar and elsewhere wait in the serpentine queues as they carry relief material to Nepal.
This has led to delayed customs clearance as well as delay in passing on relief materials resulting in the rotting of many perishable items like fruits, bread, milk and other commodities, rues a volunteer of the Apna Ghar Ashram, Jodhpur.
He also mentioned that he preferred the Badhni-Krishnagar border to cut on "both time and security formalities".
Mahendra Yadav, head of the Armed Police Force (Customs Section) of Nepal at this outpost, told IANS, "Our customs clearance at Bhansar is completed in a jiffy as there is no maddening rush."
The customs check point officials said there was a steady increase in traffic from other posts as the Sunauli border is "completely choked".
Travellers carrying relief material or ferrying people back from Kathmandu and other areas to safer places, aren't complaining, except for the bad roads in Etwa, which connects the India-Nepal border.
But the Nepalese are stoic. "We are happy that India has come to our rescue. Had there been no help from you people, we shudder to think what would have happened," Dron Prasad Acharya, running an eatery near the check point, told IANS.
Six days after the deadly earthquake in Nepal that left over 6,000 people dead, this entry point district at the India-Nepal border is buzzing with activity. It's busy these days as this route is "more convenient and less chaotic" to Kathmandu, the Nepal capital which bore the brunt of the quake.
IANS
World
Prime Minister Narendra Modi will be visiting the neighbouring country at the invitation of Nepalese PM Sher Bahadur Deuba. It will be his fifth visit to Nepal since 2014
Politics
This will be Prime Minister Narendra Modi's first visit to Lumbini, the birthplace of Gautam Buddha, and his fifth to Nepal since coming to power in 2014. Besides the religious significance of the trip on Buddha Purnima, developmental issues in sectors related to culture, education and hydropower will also be discussed
India
PM Modi reached the temple, which is said to be the place where Lord Buddha attained nirvana, after returning from Lumbini in Nepal