Nawaz Sharif's dismissal strengthens Pakistan Army's control over country's polity, economy and society
While the Nawaz Sharif government got embroiled in one political and corruption controversy after another, the Pakistan Army steadfastly strengthened its grip over the country's polity, economy and society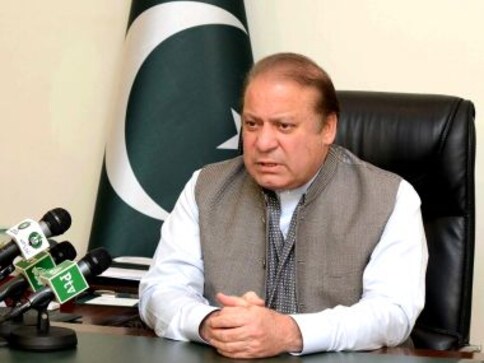 What does Nawaz Sharif's dismissal as prime minister of Pakistan means for the country's polity? Symbolically, a lot. While technically speaking Sharif's Pakistan Muslim League (Nawaz) will continue to retain power, had Sharif completed the tenure, he would have become the only Pakistani Prime Minister to successfully complete his two terms. But there ends the significance of Nawaz Sharif's government, or, for that matter, any civilian government in Pakistan.
In reality, over the last four years, the Pakistan Army had concisely taken steps to weaken the civilian regime to the point of the latter becoming a mere rubber stamp.
The Pakistan Army has generally retained its primacy in foreign and defence policies of Pakistan. But that's not all. While over the last few years, the Sharif government got embroiled in one political and corruption controversy after another, the Army steadfastly strengthened its grip over Pakistan's polity, economy and society.
This was quite a change for Pakistan's army generals, who had faced a decline in stature and influence after a series of incidents in 2011 — the Raymond Davis incident in Lahore, Osama bin Laden raid in Abbottabad and the NATO bombing of a Pakistan Army checkpost in Mohamand Agency — had raised questions over the capability of Pakistan Army to defend Pakistan's territorial integrity and sovereignty, in essence, its existence.
But Pakistan's then army chiefs — General Ashfaq Parvez Kayani and Raheel Sharif — managed to sail through those difficult times and revive the army's image and standing in the eyes of the ordinary Pakistani civilian. Their efforts received a compliment with politicians getting involved in scores of allegations of corruption and nepotism.
While Sharif's government managed to survive, it had to pay the price in the form of ceding space to the army on crucial policy issues including the China Pakistan Economic Corridor where Army's Fauji Foundation is expected to mint more money than any other Pakistani business.
Sharif always has had a tenuous relationship with the army chiefs that he appointed — remember one General Parvez Musharraf who had overthrown him in his coup — but the fact that he managed to sail through General Kayani and Sharif, had offered him a unique chance to become the only civilian prime minister to complete his terms. But his past has now caught up with him.
While the current situation may be enticing for some generals to make a case for military takeover to safeguard national interests, the international isolation which Pakistan currently faces, means that any prospect of a military coup will end up doing more harm than good.
This becomes even more difficult as the army's challenges are getting complicated by increasingly resilient factions of the Tehrik-e-Taliban Pakistan (TTB). The TTB continues to carry out periodic mass-casualty attacks despite Pakistan Army's media wing, Inter-Services Public Relation's self-proclaimed successes in the 'Zarb-e-Azb'. These domestic challenges before Pakistan Army is, in turn, linked to the country's entangled relations with its neighbours on western and eastern borders, particularly on the western border where relations between Islamabad and Kabul have reached their nadir. On the other hand, Pakistan's relations with the United States are already in a tumultuous phase with funding cuts announced recently by the Pentagon. So, there are more challenges for the army than getting involved in another controversy.
To be sure, the Pakistan Army will be clear in sending out the message to the general population that it remains a clean institution (at least on the face of it) and behind the curtains working out an alternative political arrangement so that Pakistan's political vulnerabilities are not exploited by its 'adversaries', creating more challenges for the generals.
World
No end in sight to Islamabad's several and simultaneous crises on many fronts, including, political, security, foreign policy and, most critically, economic
World
The United States Institute of Peace, run with US taxpayers' money, has become a hub of Pakistan apologists and supporters
Opinion
The solution to the international Khalistani problem, now witnessing a rapid resurgence within Indian borders, is to stem the flow of foreign funds and propaganda with the assistance of fellow democracies