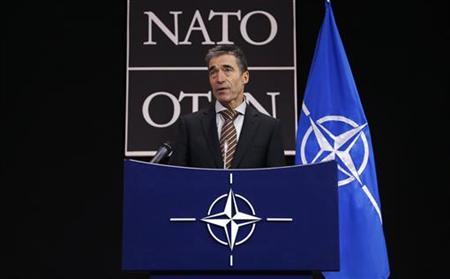 BRUSSELS (Reuters) - The head of NATO said on Thursday he thought the government of Syrian President Bashar al-Assad was nearing collapse, and condemned the use by Assad's forces of Scud missiles to attack rebels.
"I think the regime in Damascus is approaching collapse," NATO Secretary-General Anders Fogh Rasmussen told reporters after a meeting with Dutch Prime Minister Mark Rutte at NATO headquarters. "I think now it is only a question of time."
Rasmussen, confirming comments to Reuters on Wednesday by NATO and U.S. officials, said the alliance had detected the launch of a number of unguided, short-range Scud-type missiles inside Syria earlier this week.
"The use of such indiscriminate weapons shows utter disregard for the lives of the Syrian people. It is reckless and I strongly condemn it," he said.
Syria on Thursday denied that it had used Scud missiles in its fight against what it calls "terrorist groups", a Foreign Ministry statement posted on state news agency SANA said.
Rasmussen urged the Syrian government to "stop violence, to realise what is the actual situation and initiate a process that leads to the accommodation of the legitimate aspirations of the Syrian people".
NATO agreed last week to send Patriot missiles to Turkey to protect it against the threat of missiles from Syria. Rutte, whose country is one of three planning to send Patriots to Turkey, said he expected the missiles to be operational by the end of January. (Reporting by Adrian Croft; Writing by Sebastian Moffett; Editing by Alison Williams)
Updated Date: Dec 14, 2012 00:15 AM