Narendra Modi-Donald Trump meeting: Strong on terror, rich in symbolism, steadfast on path to 'true friendship'
The palpable warmth on display as Donald Trump finally met Narendra Modi for a one-on-one was hard to miss.
The palpable warmth on display as Donald Trump finally met Narendra Modi for a one-on-one was hard to miss. The bonhomie demonstrated by both the leaders, right from the time when Modi and Trump eased into a handshake on the White House portico, was carried through to the joint statement and beyond. The US president, according to reports, declared that he would offer an "intimate toast" to the prime minister and Modi, in turn, gifted Trump the original commemorative postal stamp issued by India in 1965 to mark the death centenary of president Abraham Lincoln.
The president gave a guided tour to the prime minister of the President's residence quarters in White House including Lincoln bedroom, while Modi presented a hamper containing a traditional, handcrafted Himachali silver bracelet, tea and honey from Kangra valley to First Lady Melania Trump.
Pres Trump said he would offer an intimate toast to PM Modi after the press leave the room, but said they had "tremendous success" today. pic.twitter.com/zSLutkzTCF

— Mark Knoller (@markknoller) June 26, 2017
PM presented @POTUS original commemorative postal stamp issued by India in 1965 to mark the death centenary of Prez Abraham Lincoln
(DD) pic.twitter.com/cvWPPBdfbO

— News18 (@CNNnews18) June 26, 2017
The symbolism was so thick that it could be cut with a knife.
It is not unexpected of Modi who bears an innate ability to engage world leaders and charm his way to friendship. The interesting part was Trump's conduct.
Much was said about the prism of transaction with which the self-confessed 'dealmaker' views the world. It was anticipated that the new incumbent at White House who has little time or inclination to understand the nature of investment that US has made over the years to cultivate India, would demand "tweetable wins" from New Delhi and unless Modi is armed with some deliverables to offer, Trump would rapidly lose interest.
It was assumed that the US president lacks an understanding of the grand strategic vision and shared geopolitical interest that drives the trajectory of India-US bilateral ties, and may end up harming the relationship by placing it within the paradigm of narrow transactionalism.
What we saw on Monday, however, was extraordinary. In body language, gesture and behavior and speech, Trump was the perfect, magnanimous host ready to make Modi feel at ease, mindful of the close decadal cooperation between two nations and respectful of the gravity of bilateral ties. He made all the right noises on terrorism, economic cooperation, maritime exercise with India, promised to invest in India's future (as if convinced already that a strong India is in America's interest) and vowed to live up to his campaign promise of being India's "true friend" at the White House. He also made it a point to mention their common affinity towards social media that helps them "hear directly from the elected members."
The rhetoric was delivered in spades. "I have always had a deep admiration for your country and your people, the rich culture and traditions," said Trump, adding, "the relationship between India has never been better and stronger."
It is tempting to put this down to bipartisan support in US to the bilateral relationship — and to a large extent it is true. US-India ties are underwritten by several institutional insurances. Yet Trump's gushing admiration for India and its leader carried a message more interesting than just continuity.
An impression was evident that the US President is appreciative of the fact that unlike its NATO allies, India doesn't hold the Trump administration in quiet contempt and seeks to place no moral burden on him. In other words, Trump's willingness to walk the extra mile for India arose out of an acknowledgement that Modi is not interested in constantly weighing him against his predecessor.
This may explain why the entire Trump troupe was out to greet the prime minister — and Modi, in turn, invited Ivanka to lead US delegation to the global entrepreneurship in India, and also invited the President and his family to visit India.
The prime minister adequately returned the gestures and extended cooperation in areas where the US seeks greater participation from India — such as committing to peacekeeping efforts in Afghanistan and imposing sanctions against North Korea.
The biggest synergy, of course, was on terrorism, and both leaders reserved their strongest words to address it.
Trump said US, in conjunction with India, will target the radical ideology behind terrorism. "The security partnership between the US and India is incredibly important. Both our nations have been struck by the evils of terrorism and we are both determined to destroy terrorist organisations and the radical ideology that drives them. We will destroy radical Islamic terrorism," he said.
Modi said: "Eliminating terrorism is among the topmost priorities for us," and told the media that delegation-level talks discussed "terrorism, extremism and radicalisation and agreed to cooperate on this. Fighting terrorism and doing away with the safe shelters, sanctuaries, and safe havens will be an important part of our cooperation," he said.
In the warm body language, bear hugs, exchange of pleasantries and reconfirmation of the strategic realities that drive both nations towards a close embrace, the meeting delivered plenty of symbolic deliverables. In terms of actuals, Modi has Salahuddin while Trump gets to tout the drone deal. A promising start.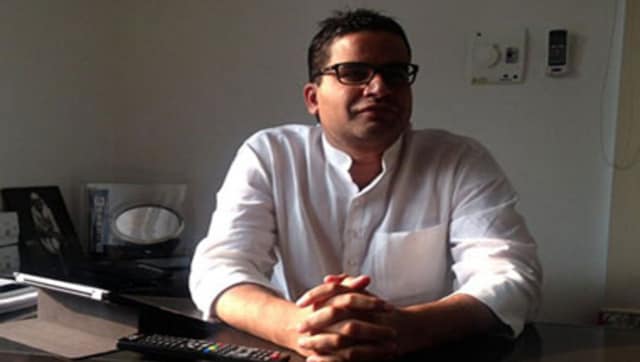 Politics
The newest twist in the tale came on Wednesday when Rahul Gandhi aide Archana Dalmia sent out a tweet giving Kishor a 'warm welcome into the Congress family' only to subsequently delete it
World
The fact inversion about the siege is the latest in Trump's contorted oeuvre of the 'big lie' compendium, the most specious of which is that the election was stolen from him, when it was not
World
Over nearly two hours on Saturday, Trump revisited his touchstones of grievance, leveling allegations of fraud that election officials and judges have systematically refuted or brushed aside.