Narendra Modi and Moon Jae-in talks: Leaders make right noises but not enough meat in pacts to elevate bilateral ties
South Korean president Moon Jae-in is on a political high at home having pulled off a diplomatic coup of sorts in holding the Korean summit and midwifing the Donald Trump-Kim Jong-un meet.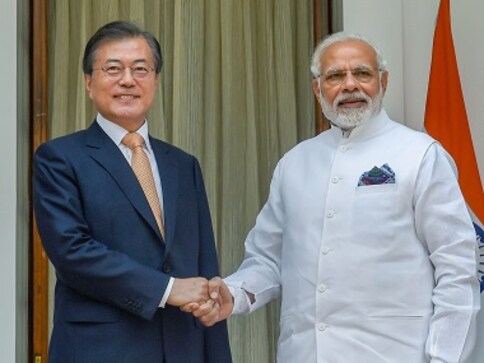 South Korean president Moon Jae-in is on a political high at home having pulled off a diplomatic coup of sorts in holding the Korean summit and midwifing the Donald Trump-Kim Jong-un meet.
He wants to use the political capital in expanding Republic of Korea's (ROK) engagement with India and other south Asian nations and diversify Seoul's relationship instead of remaining fixated on the big four (China, the US, Russia and Japan). He calls it the New Southern policy.
In Prime Minister Narendra Modi, President Moon has found a partner who is stressing on greater regionalism, trying to shift India's inward gaze on to a more sensible international trajectory to achieve great power status.
The two nations are free of geopolitical baggage, possess mutually complementary strengths, boast of robust private sector engagement and have historical and cultural links to flaunt. In recent years, the relationship has been institutionalised within a structured framework with both nations agreeing to hold annual meetings among the ministerial and secretarial levels.
However, if the "special" strategic partnership (upgraded in 2015 from 'strategic partnership') hasn't really taken off and bilateral ties still remain a story of largely untapped potential, a major part of the blame lies on lack of political will. And here, both ROK and India have been culpable.
As National University of Singapore director C Raja Mohan wrote in The Indian Express, "Although Korea has emerged as a large economy and a member of the developed nations, its world view has remained largely riveted on North East Asia. For India, which has begun to adopt the notion of an Indo-Pacific, Korea has not been at top of its regional priorities in Asia."
That may finally be changing. Moon's extraordinary gambit in bringing peace to the Korean Peninsula has paid off. The son of North Korean refugee parents, Moon successfully tapped into twin impulses that drive much of ROK's domestic politics and international behavior: The desire for peace in the Peninsula (linked closely to nuclear disarmament) and unification of Korea.
The Panmunjom Declaration set the ball rolling towards uniting the Koreas, ending formally the long-standing war, "complete denuclearisation" of the Peninsula and implementation of a host of agreements. The Trump-Kim summit, though, seems to have fallen prey to its own rhetoric with US secretary of state Mike Pompeo privately expressing doubts whether Kim will give up his nuclear weapons.
The show of Trump and Kim's bonhomie in Singapore notwithstanding, Washington and Pyongyang now stand further apart than ever on denuclearisation. Pompeo's recent visit highlighted how both nations have completely different interpretations of complete, verifiable and irreversible dismantlement (CVID). However, that hasn't stopped Moon from emerging as the poster boy of peace with a sky-high domestic approval rating. South Koreans, it seems, are wholeheartedly backing their president.
Moon has chosen this moment to double down on engaging with India, a country whom his trade minister has referred to as "the next China". The outreach has been driven in part by China's coercive behaviour.
Moon's real motivation behind wooing India
The Koreans have a clear objective in wooing India. They perceive India, the world's third-largest consumer market in terms of purchasing power as "the next China" minus the tricky issues that plague Korea's ties with Beijing: its biggest trade partner. ROK is actually in a bit of a soup. China is the biggest importer of Korean goods. A quarter of South Korea's entire exports of $500 billion goes to China with the US in a distant second position.
In the first five months of 2018, China remained the biggest export destination for South Korean goods (accounted for 26.5 percent of exports), followed by the US at 11.4 percent, according to a report in Nikkei Asian Review which quotes data from Korea International Trade Association.
This gives China the opportunity to wield trade as a tool to achieve political goals. Given Beijing's penchant for coercive diplomacy, it was hardly a surprise it employed a series of steps last year to squeeze bilateral trade (it denies the charge). Beijing was miffed at Korea letting US THAAD missile defence system be installed on the Peninsula. Seoul's economy took a hit as automobile, retail and tourism sectors were badly affected. For instance, in the second quarter of 2016, Hyundai's China sales plunged 64 percent compared to a year earlier.
To add US-China trade war and Trump's unpredictable behaviour on trade to the mix, it is evident why Moon is now keen to diverse the trade portfolio and end the Korean economy's lopsided dependence on China, which gives Beijing crucial diplomatic edge. It is here that India comes in. It is poised to be the fifth-largest economy in the world and is already the fastest-growing among large economies. India is also slated to become the world's single-largest market by 2030.
Upgrading bilateral ties through trade
ROK wants to lift bilateral ties with India (and Association of Southeast Asian Nations) to the level of its engagement with the 'big four'. Yonhap news agency quoted trade minister Kim Hyun-chong as saying, "The Moon Jae-in government is building a cooperative relationship with India and Asean… Now we need a turning point in our economic cooperation".
The country hopes to implement this "turning point" by focusing on facilitation of trade (creating and upgrading shipping and distribution networks) and investment (mostly in large manufacturing such as shipbuilding and major infrastructure projects). This ties well with India's hunger for infrastructure and need to develop transportation networks.
India-Korean relationship, even when it lacked political thrust, remained robust chiefly due to intense engagement in the private sector. About 500 Korean businesses operate in India and they are doing well. LG, Hyundai, Samsung products are popular among Indians. Samsung's mobile unit in Noida is being expanded. It will employ 70,000 people and will apparently have world's largest production capacity. Hyundai has production lines in Chennai from where it exports to Europe.
In an interview to The Times of India, President Moon outlined how India's demographic strength, talent pool, progress in science and software and huge market complements Korea's strengths in applied tech, advanced manufacturing and capital. He felt that both countries can together usher in the "fourth industrial revolution" through cooperative projects and formation of a Future Strategy group.
This formation seems to have found thrust during Moon's meeting with Modi as it was part of the 11 agreements signed between the two sides on Tuesday. The Future Strategy Group seeks cooperation in development of cutting-edge technologies in the areas of Internet of Things (IOT), Artificial Intelligence (AI), big data, smart factory, 3D printing, electric vehicles, advance materials and affordable healthcare. The aim is to develop greater commercialisation to reap benefits of the fourth industrial revolution.
Other notable agreements include a joint statement on 'Early Harvest Package' that pledges to rationalise levies on 11 tariff lines in a bid to upgrade the Comprehensive Economic Partnership Agreement (CEPA): A free-trade agreement signed in 2010 which has come to symbolise some of the problems in bilateral trade.
Trade deficit, the sore point
The India-Korea free-trade pact spiked bilateral commerce but after an initial promise failed to live up to expectations. Bilateral trade still hovers around the $20 billion mark though former prime minister Manmohan Singh envisaged trade worth $40 billion by 2015.
Part of the problem lies in the fact that India runs a $12 billion deficit and there is huge domestic pressure on Modi not to liberalise the economy further because it may serve to extend the gap. The issue is that India exports raw materials and imports electronic and manufactured items, leading to a lopsided trade.
As a report in Business Standard outlines, "Any move by India to widen the CEPA runs the risk of further angering domestic exporters, where the claim is that the pact has disproportionately helped Korean counterparts. India's export to South Korea was $4.4 billion in 2017-18, annual growth of 5.2 percent. Import from Korea was four times larger at $16.4 billion and rose 30 percent in FY18."
One of Moon's stated objectives was to expand the score so that more tariff lines are opened. During negotiations leading to the signing of agreement, Koreans reportedly pushed for reduced duties on 17 items. But India, it seems, did not budge.
"The South Koreans had offered to include 17 items in the early harvest programme. India, however, was not keen on some items on the list as early lowering of tariffs on the items could hurt the domestic industry. The two sides then settled on 11 items," Hindu Business Line quoted an official as saying.
India's inability to exploit a free-trade pact to its advantage is not an exclusive issue with Korea but a systemic problem that needs greater attention. It has discouraged India from opening up its market further and chasing the mirage of a "balanced trade": A euphemism for admitting that its economy isn't efficient enough.
Not enough on strategic cooperation
Beyond the economic engagement, where unfortunately the bilateral ties lie cornered, Moon's visit allows India to formally hitch Moon's New Southern Policy with Modi's Act East Policy. It also gives India the chance to stress on the "special" nature of the strategic partnership because both can rev up their relationship without incurring any costs and diversify it in the fields of greater defence cooperation where Korean firms are eager to exploit India's growing hunger for arms.
This cooperation can also resonate in the geopolitical arena where India and ROK have more to gain from peace and prosperity in their neighbourhood instead of instability in balance of power caused by China's assertive rise. The disruption caused by North Korea on the Peninsula and Pakistan in the subcontinent provides yet another area of convergence of interests.
Both nations have the chance not only to stress on keeping the Indo-Pacific region free, open and inclusive for unimpeded trade and commerce, they may also collaborate their security interests to impart greater stability to the region. It remains to be seen if any such declarations are made before Moon departs from India.
Find latest and upcoming tech gadgets online on Tech2 Gadgets. Get technology news, gadgets reviews & ratings. Popular gadgets including laptop, tablet and mobile specifications, features, prices, comparison.
Business
In an effective Atal Tinkering Lab, the traditional rules of classrooms don't apply. The teacher becomes a facilitator gently nudging students while focussing on practical applications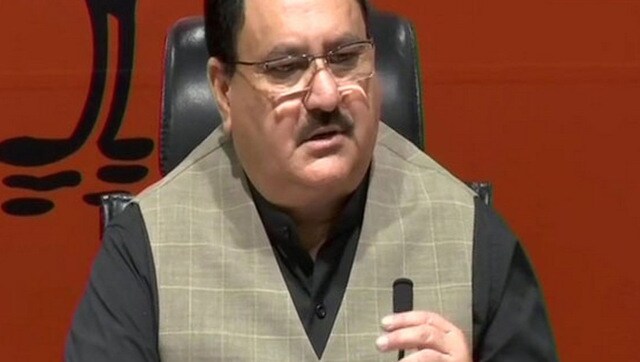 Politics
This is not the first time Nadda has gone after Rahul, or indeed the Gandhi family, but things seem to have escalated in the past few weeks.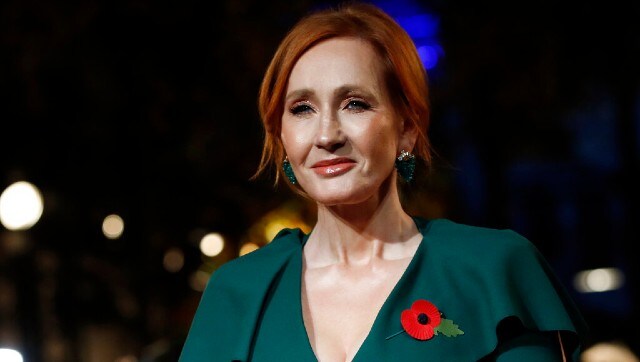 World
Recently, 150 writers artists and academics wrote an open letter arguing against ideological conformity amid a debate over so-called cancel culture — where prominent people face attack for sharing controversial opinions