Myanmar appoints panel to probe Rohingya abuses
YANGON (Reuters) - Myanmar has established a commission of inquiry to probe allegations of human rights abuses in conflict-torn Rakhine state, authorities said on Monday, as the country faces growing calls for accountability over accusations of ethnic cleansing against Rohingya Muslims. The four-person commission will be comprised of two local and two international members – Filipino diplomat Rosario Manalo and Kenzo Oshima, Japan's former ambassador to the U.N – the Myanmar President's Office said in a statement. Manalo, 82, a former undersecretary of foreign affairs, will chair the commission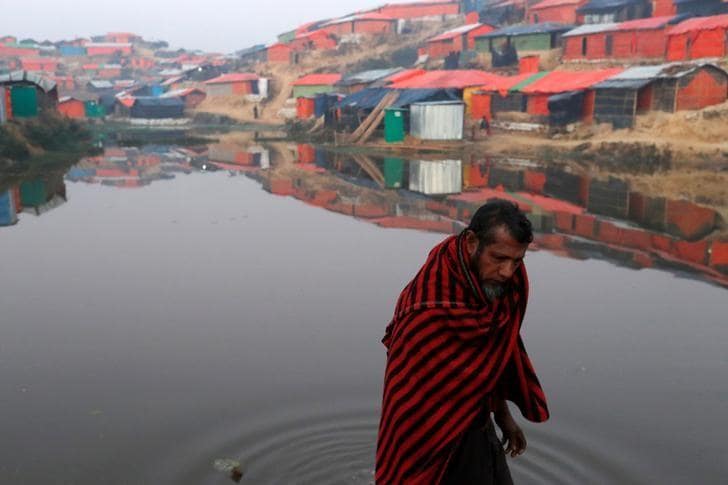 YANGON (Reuters) - Myanmar has established a commission of inquiry to probe allegations of human rights abuses in conflict-torn Rakhine state, authorities said on Monday, as the country faces growing calls for accountability over accusations of ethnic cleansing against Rohingya Muslims.
The four-person commission will be comprised of two local and two international members – Filipino diplomat Rosario Manalo and Kenzo Oshima, Japan's former ambassador to the U.N – the Myanmar President's Office said in a statement. Manalo, 82, a former undersecretary of foreign affairs, will chair the commission.
The two local members are lawyer Mya Thein and Aung Tun Thet, an economist and former UN official. Aung Tun Thet was last year appointed by de facto leader Aung San Suu Kyi to a key role in Myanmar's response to the Rakhine crisis, and in April told a Bangladesh newspaper that Myanmar had "no intention of ethnic cleansing".
"The Independent Commission will investigate the allegations of human rights violations and related issues, following the terrorist attacks by ARSA," the office of President Win Myint said, referring to the Arakan Rohingya Salvation Army, a Rohingya armed group.
More than 700,000 Rohingya fled Myanmar's western Rakhine state after a military crackdown that started in August last year in response to attacks by ARSA on security posts. Myanmar has rejected accusations of ethnic cleansing and dismissed most accounts of atrocities, blaming Rohingya "terrorists".
The statement on Monday called the panel "part of its national initiative to address reconciliation, peace, stability and development in Rakhine."
The commission is one of several formed in recent months to address the situation in Rakhine state, which the UN has termed a "textbook example of ethnic cleansing".
(Reporting by Simon Lewis and Poppy McPherson; Editing by Hugh Lawson)
This story has not been edited by Firstpost staff and is generated by auto-feed.
Find latest and upcoming tech gadgets online on Tech2 Gadgets. Get technology news, gadgets reviews & ratings. Popular gadgets including laptop, tablet and mobile specifications, features, prices, comparison.
World
By Guy Faulconbridge and Kate Holton LONDON (Reuters) - Rich countries could be back to close to normal by late 2021 if a COVID-19 vaccine works, is ready soon and distributed properly at scale, Microsoft founder Bill Gates said on Tuesday. "By late next year you can have things going back pretty close to normal - that's the best case," Gates, 64, told The Wall Street Journal CEO Council. "We still don't know whether these vaccines will succeed," Gates said.
World
By Rupam Jain (Reuters) - Taliban and Afghan government-backed negotiators have agreed on a broad code of conduct to advance the intra-Afghan peace talks in Qatar, even as key differences between the two warring sides remain, three official sources told Reuters on Tuesday.
World
MOSCOW (Reuters) - Russian rights groups on Tuesday called on the authorities to stop using home searches as a tactic to intimidate opponents after a journalist set herself on fire following a police raid of her apartment last week. Irina Slavina, editor-in-chief at a small news outlet in the city of Nizhny Novgorod, self-immolated in front of the local branch of the interior ministry in Nizhny Novgorod last Friday after blaming Russian authorities for her death in a Facebook post