Move to help U.S. farmers shows Trump's commitment to tariffs
By David Shepardson and Steve Holland WASHINGTON/KANSAS CITY, Mo. (Reuters) - The Trump administration on Tuesday said it would pay up to $12 billion to help U.S.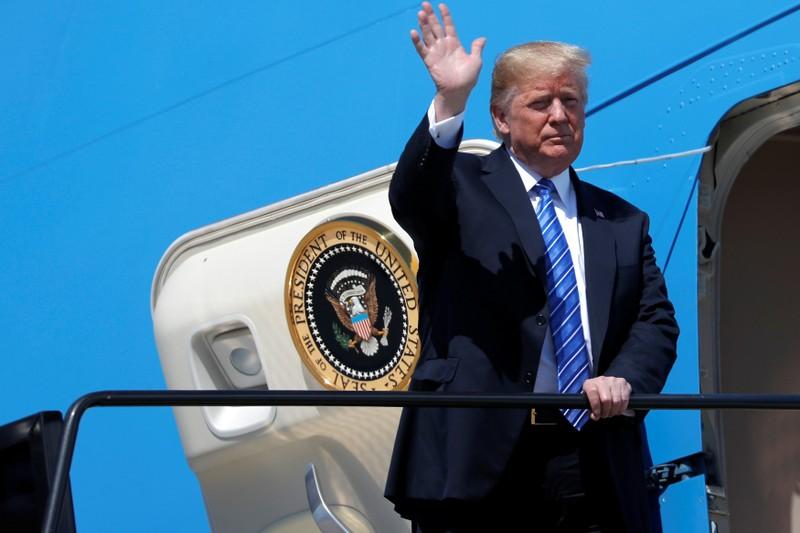 By David Shepardson and Steve Holland
WASHINGTON/KANSAS CITY, Mo. (Reuters) - The Trump administration on Tuesday said it would pay up to $12 billion to help U.S. farmers weather a growing trade battle with China, the European Union and others, a clear signal the president is determined to stick with tariffs as his weapon of choice in the conflict.
The move to cushion the blow for a politically important constituency - rural and agricultural states that supported U.S. President Donald Trump by wide margins in the election but have been targeted by China's retaliation to his trade tactics - was met with broad criticism by many farmers and farm-belt lawmakers.
Trump's trade policies have become central in several rural-state U.S. Senate races ahead of congressional elections in November, as Democrats there try to keep hold of several seats that Republicans have targeted.
The president, speaking at an event in Kansas City on Tuesday, aggressively reaffirmed his support for tariffs and pledged that ultimately, "farmers will be the biggest beneficiary."
"Just be a little patient," Trump said.
To that end, the relief package is intended to serve as only a temporary boost to farmers as the United States and China negotiate over trade issues, officials said.
"This obviously is a short-term solution that will give President Trump time to work on a long-term trade policy," said Sonny Perdue, the secretary of the U.S. Department of Agriculture.
The aid will be financed through the USDA's Commodity Credit Corporation and thus will not require congressional approval, Perdue said.
The CCC has broad authority to make loans and direct payments to U.S. growers when prices for corn, soybeans, wheat and other agricultural goods are low.
The administration's action appeared to divide Republicans.
Kevin Cramer, a U.S. representative trying to unseat Democrat Senator Heidi Heitkamp in North Dakota, praised the move.
"Great to see [Trump] providing aid to farmers impacted by retaliatory tariffs," Cramer wrote on Twitter.
But other Republicans were troubled by what they view as the kind of widespread government-assistance programme their party has traditionally opposed.
"This trade war is cutting the legs out from under farmers and the White House's 'plan' is to spend $12 billion on gold crutches," said Senator Ben Sasse, a Nebraska Republican who frequently criticizes the president, a fellow Republican.
"Tariffs are taxes that punish American consumers and producers," Kentucky Republican Senator Rand Paul wrote on Twitter. "If tariffs punish farmers, the answer is not welfare for farmers — the answer is remove the tariffs."
Democratic Representative Jackie Speier of California, a major agricultural state, on Twitter accused Trump of trying to "placate the farmers that voted for you" with a $12 billion payment.
Later this week, Trump will visit Iowa and Illinois, two other farm-belt states, as he seeks to shore up support for Republican candidates in those regions.
SHORT-TERM BOOST?
Farmers have been a particular target in the current clash over trade policy as other countries seek to retaliate for Trump's duties on Chinese goods as well as on steel and aluminium imports from the European Union, Canada and Mexico. Those affected economies have in turn targeted U.S. agricultural products, including soybeans, dairy, meat, produce and liquor.
The United States exported $138 billion in agriculture products in 2017, including $21.5 billion of soybeans, the most valuable export. China alone imported $12.3 billion of U.S. soybeans last year, according to the USDA.
The size of the direct payments to farmers as a result of trade shortfalls would be unprecedented, said Scott Irwin, an agricultural economist at the University of Illinois.
"We have never compensated farmers directly on such a large scale for retaliatory tariffs," Irwin said.
The news lifted shares of farm equipment companies on the prospect that farmers will have more money to spend on tractors and other farm gear.
Deere & Co jumped 3.1 percent, while Caterpillar Inc gained more than 1 percent and AGCO Corp rose 0.6 percent.
Soybean futures <0#S:>, hit hard by China's retaliatory tariffs, rose 1.2 percent and hit their highest in two weeks as traders bet farm aid would improve demand, reducing a current surplus supply.
Still, Blake Hurst, a corn and soybean farmer and president of the Missouri Farm Bureau, said that unless the White House's policies change, the U.S. agriculture industry will continue to suffer.
"The payments will be helpful to farmers facing overdue loans and angry bankers, but are completely insufficient if they mean that tariffs and the trade war will last for the foreseeable future," Hurst said. "They are a very temporary bandage to a self-inflicted wound."
(Reporting by Ginger Gibson, Susan Heavey, Roberta Rampton, David Shepardson in Washington; Michael Hirtzer, Thomas Polansek, Caroline Stauffer, Mark Weinraub in Chicago, and Steve Holland in Kansas City.; Writing by Susan Heavey and James Oliphant; Editing by Tim Ahmann, Marguerita Choy and Frances Kerry)
This story has not been edited by Firstpost staff and is generated by auto-feed.
Find latest and upcoming tech gadgets online on Tech2 Gadgets. Get technology news, gadgets reviews & ratings. Popular gadgets including laptop, tablet and mobile specifications, features, prices, comparison.
World
By Guy Faulconbridge and Kate Holton LONDON (Reuters) - Rich countries could be back to close to normal by late 2021 if a COVID-19 vaccine works, is ready soon and distributed properly at scale, Microsoft founder Bill Gates said on Tuesday. "By late next year you can have things going back pretty close to normal - that's the best case," Gates, 64, told The Wall Street Journal CEO Council. "We still don't know whether these vaccines will succeed," Gates said.
World
By Rupam Jain (Reuters) - Taliban and Afghan government-backed negotiators have agreed on a broad code of conduct to advance the intra-Afghan peace talks in Qatar, even as key differences between the two warring sides remain, three official sources told Reuters on Tuesday.
World
MOSCOW (Reuters) - Russian rights groups on Tuesday called on the authorities to stop using home searches as a tactic to intimidate opponents after a journalist set herself on fire following a police raid of her apartment last week. Irina Slavina, editor-in-chief at a small news outlet in the city of Nizhny Novgorod, self-immolated in front of the local branch of the interior ministry in Nizhny Novgorod last Friday after blaming Russian authorities for her death in a Facebook post