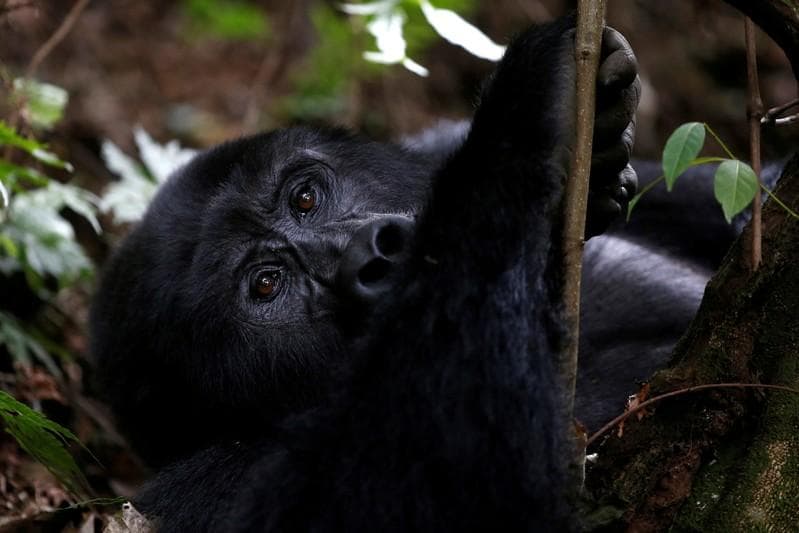 GOMA, Congo (Reuters) - Central African mountain gorillas came off the 'critically endangered' species list on Thursday following a rare and dramatic recovery in numbers over the past decade.
A survey this year found numbers had jumped to 1,000 individuals, from 680 in 2008, enabling scientists to reclassify them as 'endangered'.
"Even though the rise of the mountain gorilla population is fantastic news, the species is still in danger and conservation efforts must go on," Liz Williamson, primate specialist for the International Union for Conservation of Nature (IUCN) said.
The IUCN classifies species according to how much under threat they are, and numbers for most high-profile ones are falling.
The legendary 'silverback' gorillas -- which roam forest-cloaked volcanoes of the Western Rift Valley where Rwanda, Congo and Uganda meet -- have drawn thousands of tourists willing to pay hundreds of dollars to see them. Their habitat also supports other species found nowhere else, including golden monkeys.
But they are limited to two protected areas: the Virunga Massif, spanning all three countries, and Uganda's Bwindi national park. Both are surrounded by farmland where a growing human population threatens encroachment.
They are also under threat from poachers, civil unrest and diseases, including the Ebola virus.
"The biggest threat to the mountain gorilla population would be a new and highly contagious disease, because that would be very hard to control," Williamson told Reuters.
Andrew Seguya from the Greater Virunga Transboundary Collaboration said the rising number of gorillas also means a need to expand their habitat and to raise more money for the communities in the area.
"While the downlisting ...shows our efforts are working, we must not sit back, we must do a lot more," Seguya said.
(Reporting by Fiston Mahamba; Writing and additional reporting by Juliette Jabkhiro in Dakar; Editing by Tim Cocks and John Stonestreet)
This story has not been edited by Firstpost staff and is generated by auto-feed.
Firstpost is now on WhatsApp. For the latest analysis, commentary and news updates, sign up for our WhatsApp services. Just go to Firstpost.com/Whatsapp and hit the Subscribe button.
Updated Date: Nov 16, 2018 03:05:38 IST