Most children, parents separated at U.S.-Mexican border reunited: court filing
By Tom Hals (Reuters) - About 1,400 children of some 2,500 separated from their parents at the U.S.-Mexican border have been reunited with their families, the U.S. government said in a court filing on Thursday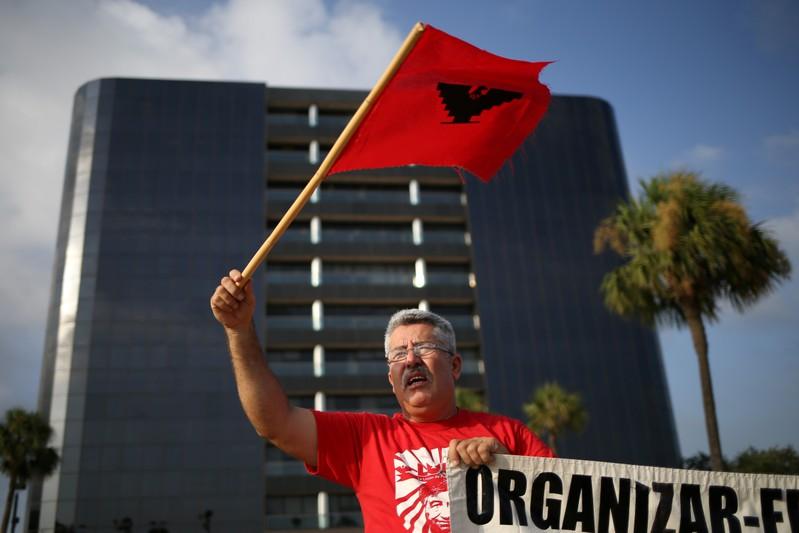 By Tom Hals
(Reuters) - About 1,400 children of some 2,500 separated from their parents at the U.S.-Mexican border have been reunited with their families, the U.S. government said in a court filing on Thursday.
Government lawyers said 711 other children were not eligible for reunification with their parents by Thursday's deadline, which was set by a federal judge in San Diego. In 431 of these cases, the families could not be reunited because the parents were no longer in the United States.
The parents and children were separated as part of President Donald Trump's "zero tolerance" policy toward illegal immigration. Many of them had crossed the border illegally, while others had sought asylum at a border crossing.
The American Civil Liberties Union, which brought the case against the government, said in Thursday's court filing that data showed "dozens of separated children still have not been matched to a parent."
ACLU attorney Lee Gelernt accused the government in a statement of "picking and choosing who is eligible for reunification" and said it would "hold the government accountable and get these families back together."
In a call with journalists after the court filing, U.S. Department of Health and Human Services official Chris Meekins said it was awaiting guidance from the court about how to proceed with the children of 431 parents no longer in the United States. The Office of Refugee Resettlement is an agency of department.
The government did not say in the call or in its court filing how many of those parents were deported.
One immigrant, Douglas Almendarez, told Reuters he believed that returning to Honduras was the only way to be reunited with his 11-year-old son.
"They told me: 'He's ahead of you'," said Almendarez, 37, in the overgrown backyard of his modest soda shop several hours drive from the Honduran capital of Tegucigalpa. "It was a lie."
The ACLU said the government has not yet provided it with information about the reunifications of children aged 5-17 with their parents, including the location and timing of them.
"This information is critical both to ensure that these reunifications have in fact taken place, and to enable class counsel to arrange for legal and other services for the reunited families,' it said.
LOST IN 'BLACK HOLE'
Immigration advocates said the government's push to meet the court's deadline to reunite families was marred by confusion, and one said children had disappeared into a "black hole."
Maria Odom, vice president of legal services for Kids in Need of Defense, said two children the group represented were sent from New York to Texas to be reunited with their mother. When they arrived, they learned their mother had already been deported, Odom told reporters during a conference call.
Odom said her group does not know where the children, aged 9 and 14, have been taken.
It was an example, she said, "of how impossible it is to track these children once they are placed in the black hole of reunification."
The U.S. Department of Homeland Security did not immediately respond to a request for comment.
An outcry at home and abroad forced U.S. President Donald Trump to order a halt to the separations in June. U.S. Judge Dana Sabraw in San Diego ordered the government to reunite the families and set Thursday as the deadline.
Sabraw has criticized some aspects of the process, but in recent days, he has praised government efforts.
The ACLU and government lawyers will return to court on Friday to discuss how to proceed.
(Reporting by Tom Hals in Wilmington, Del.; additional reporting by Loren Elliott in McAllen, Texas, Nate Raymond in Boston and Callaghan O'Hare in San Antonio; writing by Bill Tarrant; editing by Grant McCool)
This story has not been edited by Firstpost staff and is generated by auto-feed.
Find latest and upcoming tech gadgets online on Tech2 Gadgets. Get technology news, gadgets reviews & ratings. Popular gadgets including laptop, tablet and mobile specifications, features, prices, comparison.
World
OTTAWA (Reuters) - Canadian Prime Minister Justin Trudeau on Friday said he will continue to stand up against China's "coercive diplomacy" and its human rights abuses in Hong Kong and Xinjiang after being rebuked by Beijing for similar comments earlier this week. "We will stand up loudly and clearly for human rights all around the world, whether it is talking about the situation faced by the Uighurs, whether it is talking about the very concerning situation in Hong Kong, whether it's calling out China for its coercive diplomacy," Trudeau said in a news conference. (Reporting by Steve Scherer and Julie Gordon, Editing by Franklin Paul)
World
By Caroline Pailliez PARIS (Reuters) - Solene Tissot, a 19-year-old student in Paris, will obey the curfew imposed to fight COVID-19, but she has one request for her country's leaders: don't blame young people for the second wave of the virus. "There's been this kind of assigning guilt to young people," she said on Friday, hours before the new curfew was to come into force in Paris and major French cities. "I reject that." After a lull over the summer, the rates of transmission of coronavirus are going up in many parts of Europe and officials have identified social interactions between young people as a source of the resurgence.
World
By Adrian Portugal and Eloisa Lopez MANILA (Reuters) - Jailed Philippine activist Reina Mae Nasino wanted to hold her three-month-old daughter for the last time before she was laid to rest on Friday but she could not. Heavily armed prison officials guarding her refused to uncuff her despite pleas from her family and human rights supporters, who have decried what they described as inhumane treatment of Nasino and other mothers in Philippine jails.