More than 82,000 peopel flee California wildfire
More than 34,500 homes were threatened and 82,640 people were under evacuation warnings in California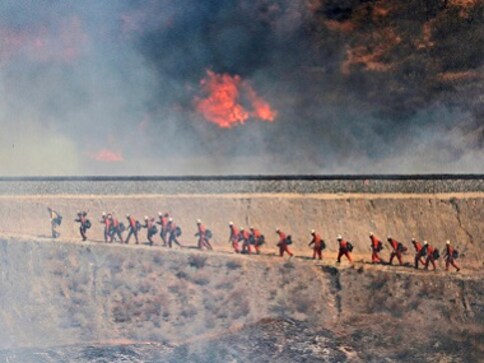 Los Angeles: A fire raging east of Los Angeles spread rapidly on Wednesday, posing a threat to more than 82,000 people and prompting the governor of California to declare a state of emergency.
More than 1,300 firefighters were battling the giant blaze and more were on the way, but as of early Wednesday they had been unable to contain the inferno. It is still unclear what caused the fire.
"We have very, very dry brush, thick fuel, it helps move it along very quickly," Lynne Tolmachoff, spokeswoman for state firefighting agency Cal Fire, told AFP. "It is very dangerous to the public and also to the firefighters."
Governor Jerry Brown declared a state of emergency for San Bernardino County, just 60 miles (100 kilometers) east of Los Angeles, where the so-called Bluecut Fire was quickly growing. It began around 10:30 am (1730 GMT) Tuesday and has already burned through 30,000 acres (more than 12,000 hectares), according to the multi-agency Inciweb information site. More than 34,500 homes were threatened and 82,640 people were under evacuation warnings.
"There is imminent threat to public safety, rail traffic and structures in the Cajon Pass, Lytle Creek, Wrightwood, Oak Hills and surrounding areas," Inciweb said.
"Please follow the evacuation instructions, as this is a very quickly growing wildfire."
Among the equipment already deployed were 152 fire engines, eight air tankers plus two Very Large Air Tankers (VLATs), and eight helicopters, including night flying helicopters.
The inferno has claimed one high-profile victim so far: the Summit Inn, an old-fashioned diner on the world-famous Route 66 that counted celebrities like Elvis Presley and Clint Eastwood among its clientele. There was little left than the sign, hanging above the smoldering ashes.
Two firefighters were slightly injured after being surrounded by flames. They were treated at a hospital and released, and were back on the line fighting the blaze, Inciweb said.
The wildfire poses "imminent threat to public safety, rail traffic and structures," according to the website.
Several area roads were closed, as was the Mountain High ski resort in Wrightwood, which hosts hiking and other outdoor activities in warmer months.
Tolmachoff said it was rare to have so many people evacuated. Some are holding out.
"We do have people who chose not to evacuate. They cause trouble," she said. California is in its fifth year of a record drought and parts of the state are sizzling in a heatwave with temperatures topping 104 degrees Fahrenheit (40 Celsius).
Photos
The world has a new ugliest dog — Mr Happy Face, a Chinese crested-Chihuahua mix. The contest featuring dogs with crooked faces and hairless bodies returned after a two-year hiatus
World
Wildfires broke out early this spring in multiple states in the Western US, where climate change and an enduring drought are fanning the frequency and intensity of forest and grassland fires
Photos
Over 300 people have been evacuated from their homes after a wildfire flared up over the weekend in forest land northeast of Los Angeles. A team of over 700 fire personnel are fighting to bring the blaze under control