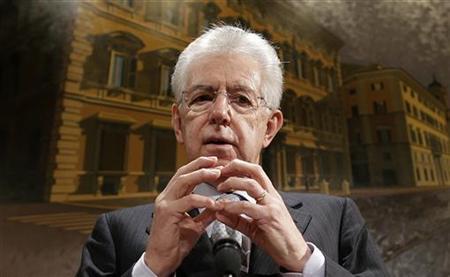 ROME (Reuters) - Outgoing Italian Prime Minister Mario Monti said on Friday that he would lead a coalition of centrist parties who support his European and reform-minded agenda in the parliamentary election in just two months time.
The announcement clarifies Monti's involvement in the upcoming vote, after he said on Sunday that he may be willing to seek a second term if a credible political force backed his reform agenda.
"The traditional left-right split has historic and symbolic value" for the country, but "it does not highlight the real alliance that Italy needs - one that focuses on Europe and reforms," Monti said after a meeting with centrist politicians.
He said he was willing to accept "being named as leader of the coalition".
Monti, whose status as Senator for life means he does not have to stand for election to parliament himself, said that the formation could win a "significant result" in the election, scheduled for February 24-25.
(Reporting by Steve Scherer and James Mackenzie.)
Updated Date: Dec 29, 2012 01:30 AM