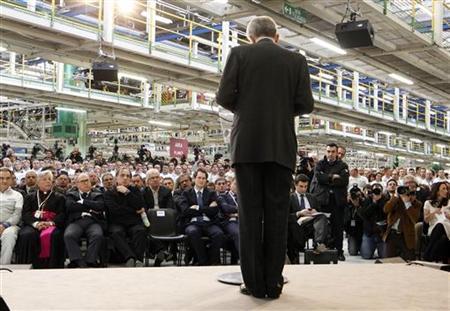 ROME (Reuters) - Italian caretaker Prime Minister Mario Monti indicated in a newspaper interview published on Sunday he would probably not stand in a February election but would try to convince the winner to complete the reforms his government has begun.
Monti, who is expected to end weeks of speculation about his political future when he holds a news conference at 1000 GMT, told La Repubblica daily he would use it to present a list of reforms that the next government should urgently enact.
Asked if he would run as the candidate for prime minister for a centrist alliance, as has been widely speculated, he replied: "I still don't know, but something inside me says no".
The interview was conducted on Saturday.
The former European Commissioner said he was aware that President Giorgio Napolitano, who appointed him to lead an unelected government to save Italy from financial crisis a year ago, would prefer if he did not run in the February 24-25 election.
Monti also expressed doubts about the electoral appeal of the centrist parties that hope to use his name, and said he was worried about the likely policy platform of the centre-left coalition that is expected to win the vote, because it may veer too far to the left.
Talking about the centre-right, Monti said he would "never" ally himself with Silvio Berlusconi, his predecessor as prime minister.
He said he believed Berlusconi's share of the vote would rise to around 20 percent from its current level of about 16 percent, despite "the damage he did to the Italian economy and the credibility of the country".
While Monti did not clarify his own role in the election, saying he planned to "sleep on it", he confirmed on Saturday night that he would "propose a programme that I believe should be carried out in the first 100 days of the next government" at Sunday's news conference.
Much of his proposed programme will include proposals to complete reforms that he himself tried to adopt, but which were watered down or killed off by the broad left-right coalition that backed him in parliament.
The programme will call for better legislation against corruption, deregulation to enhance competition, a downsizing of the bloated political apparatus, welfare reform, and "above all" investment in education and research, Monti said.
PRESSURE NOT TO STAND
While numerous European leaders and Italy's business elite have called for his economic agenda to continue, polls show ordinary Italians - weary of tax hikes and spending cuts - are less enthusiastic.
A centrist group headed by him would probably come a distant third or even fourth in the election, which is expected to be won by Pier Luigi Bersani's centre-left Democratic party (PD). One survey published this week had 61 percent of its respondents saying he should not stand.
Both the PD and Berlusconi's centre-right People of Freedom party (PDL) also insist Monti should stay out of the race. If he were to run he would therefore face attacks from both sides of the political spectrum.
If Monti merely sets out policies he favours, it would be up to the parties to either sign up to them or reject them, and he would still be free to step into the fray later on, depending on opinion polls, if he chose to do so.
During his 13 months in office the former economics professor did much to repair Italy's international reputation and pushed through reforms of the pension system, the labour market, and of parts of the service sector.
However, many analysts said his reform efforts were too timid to significantly improve the prospects of a chronically sluggish economy.
Italy, the euro zone's third-largest economy, has been in recession since the middle of last year, consumer spending is falling at its fastest rate since World War Two, and unemployment has risen to a record high above 11 percent.
Output is set to contract by more than 2 percent this year and post another, smaller fall in 2013. Despite Monti's austerity, the public debt topped 2 trillion euros for the first time in October and is forecast to keep climbing through 2013.
(Reporting By Gavin Jones; Editing by Andrew Osborn)
Updated Date: Dec 23, 2012 15:00 PM