#ModiInUSA: It's not all hype and hoopla, PM seeks tangible results
Prime Minister Narendra Modi arrives in Washington on Monday all set to galvanise the US relationship that had begun stagnating in the UPA's second term
Washington: Prime Minister Narendra Modi arrives in Washington on Monday all set to galvanise the US relationship that had begun stagnating in the UPA's second term. It will blend pageantry with politics; the White House is looking to institutionalise defense and economic cooperation and cement ties before turning the relationship over to the next US president.
During his three-day visit (6 to 8 June), Modi will press the White House to deliver on New Delhi's bid to become a member of the 48-nation Nuclear Suppliers Group (NSG), which would help India access nuclear fuel and technology. Chinese opposition to India's membership into the elite club has an unambiguous Pakistan angle. Days after India made a formal application to be a part of the NSG, Pakistan pulled a copycat move. Modi's ongoing five-nation visit includes three NSG member countries — US, Switzerland and Mexico. These stops are aimed at winning support for India's application.
Modi is meeting heads of powerful Washington think-tanks on Monday to lobby support for India's NSG bid and calm American nuclear hawks.
The Americans are pleased that Modi has resolved the rift over India's nuclear liability legislation and progress has made in negotiations with Westinghouse for the supply of nuclear reactors. "Getting us into the NSG would help facilitate nuclear trade with us," Foreign Secretary S Jaishankar said bluntly at a news conference, while pressing the US to use its diplomatic muscle to help.
"Countries that feel what we are doing is the right thing and if they take it upon themselves to articulate their positions and talk to others, then this is what friends do for each other," added Jaishankar.
India's full court press to become a member of the NSG, also hinges on first becoming a member of the Missile Technology Control Regime (MTCR), another elite club of 34 countries that control trade in missile and space technology.
"There has been a rapid pace of progress... It's possible we could get an announcement regarding India's MTCR bid during the prime minister's visit to Washington," said a senior Indian administration official.
MTCR membership will help India export hi-tech missiles to other countries and buy Predator drones from the US.
Modi will address a joint meeting of the US Congress on 8 June. He was denied this opportunity in September 2014. The address comes at a crucial time when the India-US Defence Technology and Partnership bill is moving through Congress. Since the US and India are not treaty allies, the US Senate and House of Representatives have both introduced legislation to institutionalise the India-US security partnership.
"Today, the Congress is very much at the heart of our relationship with the United States," Jaishankar said, adding, "It has been very supportive of India."
The legislation seeks to elevate India to the same status as American allies in the North Atlantic Treaty Organisation, as well as its other major treaty partners like Japan, Australia, New Zealand and Israel, for the purpose of arms-sales notifications. Both China and Pakistan have taken note of the move as many countries have sought and been denied this status.
The Indian military is considering purchasing major weapons systems from American companies. The countries are also holding talks on the supply of F-16 and F/A-18 fighter jets for the Indian Air Force.
After attending a lunch and reception at the US Congress followed by an Indian community reception, Modi will travel to Mexico on Wednesday afternoon before returning to India on Thursday. He will meet Mexican president Enrique Peña Nieto, becoming the first Indian prime minister to visit Mexico in three decades. Rajiv Gandhi had visited Mexico in 1986.
Make no mistake, there's huge US support for India, but human rights issues continue to torment Modi. A congressional commission is set to examine India's record during Modi's trip, a move that is bound to embarrass the government.
"Normally in India we would want to not embarrass somebody when he's our guest — but I guess each society is different," Indian Ambassador to the US Arun Singh said last week in Washington.
"We don't believe any society has the right to preach to another society about what it should and should not do."
Modi has sidestepped the brouhaha linked to his decade-long US visa ban to score a straight-A in striking up a strong relationship with President Barack Obama, whose eight-year term ends in January. Since Modi was elected in May 2014, the two have met six times — an unusually high tally for an Indian prime minister and US president whose countries are not formal allies. The two will have a working lunch at the White House on Tuesday to focus on trade, energy and global security.
Later on Tuesday, Modi will address the 41st Annual Leadership Summit in Washington organised by the US India Business Council (USIBC). Modi's track record in Gujarat for stimulating investment and slashing through cumbersome regulations has raised high expectations among US investors. USIBC has identified over $41 billion dollars slated for investment from its members over the next three years.
Foreign direct investment from the US into India dropped in the year ending 31 March, 2014 to $800 million from a peak of $1.9 billion four years earlier on the back of slow growth and the Congress government's willful inertia.
However, building a stronger relationship with the US will test India's diplomatic skills because of the constant US pressure to open up India's economy. US business leaders will tune into Modi's speech listening for clues about big-bang reforms. They want India to make regulatory changes, introduce legal structures that suit US corporate interests and tighten intellectual property provisions especially in the pharmaceutical sphere.
On Tuesday evening, Modi will meet a delegation of American business leaders, including Jeff Bezos, the chief executive of Amazon.com, with trade and investment in India on the agenda.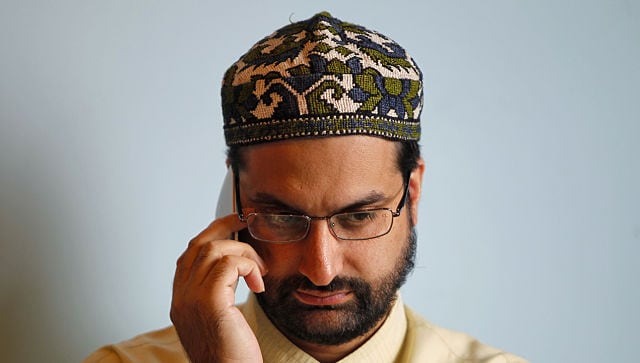 Politics
Despite the talks, in Kashmir the curbs persist on separatist leaders, with some of them who are lodged in New Delhi's Tihar Jail even complaining of being denied medical attention
World
As Germany readies to elect its next Chancellor, the question that many analysts have is whether EU's most powerful economy will vote for change, or stick with Merkel's policies
World
Putin delivered an annual address replete with threats against the West but, despite tensions with Ukraine, stopped short of announcing new military or foreign policy moves